One Cancer Hospital Will Stop Paying the Trump Organization
Harvard's Dana-Farber Cancer Institute has said it will not host its annual gala at the president's Mar-a-Lago property. Though it won't say why.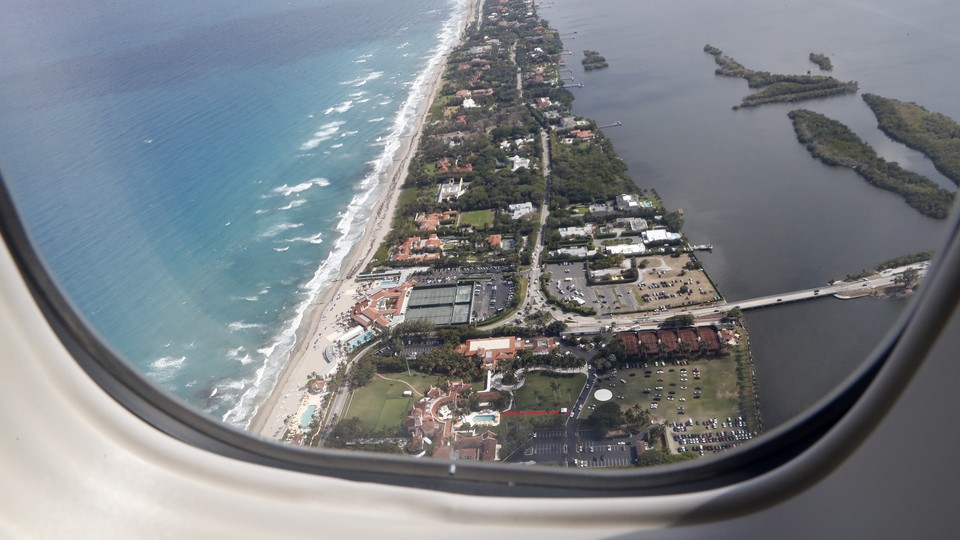 "Ladies and gentlemen … we did not plan this."
A voice boomed out of ballroom speakers as the crowd broke into applause and unleashed its phones to capture the moment. President Donald Trump had just burst into a gala at his Mar-a-Lago property, in a pendulous red tie, an American flag on his lapel. He was waving to the crowd in all directions. This was in February. Trump proceeded to greet the organizers who had rented the Palm Beach ballroom on behalf of a renowned Boston hospital, the Dana-Farber Cancer Institute.
For a ticket price of $1,250, the annual Discovery Celebration had promised an "elegant evening of fine dining and dancing," peak-status socializing, and music from "hit man" David Foster. (Last year it was James Taylor, so this could seem like a step down, but Dana-Farber assured guests that Foster has won 16 Grammys.) And it's really not about that. Primarily, ticket-buyers receive the satisfaction that proceeds fund medical research that could play a part in treating cancer—in the form of lucrative products for the pharmaceutical and medical-device industries.
An appearance by the President of the United States wasn't listed in the gala billing. Though hope for such an appearance was implied by his presence at a Red Cross gala earlier that month, and Mar-a-Lago promises on its website to pair "the lavish Palm Beach lifestyle" with "the sophistication of the Trump name."
The president does not often appear at events hosted at his "winter White House," but even the prospect of a drop-in seems to be beneficial to the Trump Organization. The Washington Post reported last week that since inauguration day, such events have seen increased revenues for almost all of the 45 held by groups paying to rent the venue.
The one exception is the cancer hospital, Dana-Farber, which is the only charity that the newspaper found reporting a decrease in attendance from a Mar-a-Lago event a year prior. The hospital confirmed to me that it raised $2.2 million and 501 people attended. The same event last year saw more than 600 people, though earnings were only 2-percent greater.
This month Dana-Farber announced that it will not host its 2018 gala at the venue, choosing to leave the reasons unstated. Earlier this year I wrote about a protest movement against this gala, in which thousands of patients and doctors and medical students express everything from concern and outrage to hopelessness at the statement being made by the fact of their institute doing business with the Trump Organization. At the time, the president had just unilaterally banned travelers from several Muslim-majority countries, a move that affected doctors and patients of the cancer institute.
In the time since, the movement's grievances have only mounted. Trump has worked to pass a health-care bill that would mean millions of people lose insurance coverage and jeopardizes the lives of people with "pre-existing conditions." Even as the bill sits in Congress, Trump is allowing the current insurance marketplaces to collapse. His tax-reform proposal would slash Medicaid and multiple social programs that keep people safe and well.
Insofar as there is a central ethic of the medical profession to "do no harm," many doctors see it as an obligation to speak and act to prevent looming systemic harm. The hospital's decision to host the event at another venue has the appearance of moving away from the controversies associated with Trump, or at least not actively supporting his businesses (in what could be perceived as an endorsement or an attempt to curry favor).
But the hospital has avoided saying anything even potentially meaningful on the subject. The CEO of Dana-Farber, Laurie Glimcher, declined to talk with me for this story. She alluded earlier this year, "Because this event has become such a lightning rod for some, in the future we will avoid controversial venues."
This was of little consolation to the thousands of patients, doctors, and donors who have lost faith in the institute for its lack of principles. Several Dana-Farber patients pointed out to me that the hospital could likely expect a flood of support and donations if it were to stand publicly for health equity and justice for its community by not doing business with the Trump Organization. Yet the director of media relations told me this week, "We won't be providing anyone to comment further."
The most recent recorded comment actually suggests that the protests and ethical concerns had nothing to do with the decision. The local Palm Beach Daily News reported that a spokesman for DFCI said,"February has a three-day weekend, and we were fiddling with the idea of using that Saturday. Then we decided to stick with our usual day, but by that time Mar-a-Lago had given away the date to Cleveland Clinic. There wasn't another Saturday night available so we went to The Breakers."
The reporter for that story declined to share with me the name of the anonymous spokesperson. Cleveland Clinic has committed to doing business with the Trump Organization again this year despite protests from doctors and patients similar to those in Boston.
Even if the possibility of a Trump appearance were adding some value to these events, and that value was being fully and purely passed on to effective charitable causes, the benefit might be less than what it costs American taxpayers to send the President to Mar-a-Lago for even one weekend.
Still, some of the physicians and patients who protested and lost faith in their hospital are taking heart. "They should've never gone in the first place," said George Karandinos, a medical student at Harvard who led the protest movement. He called the statement about the scheduling conflict "cowardly." Nonetheless, the event is moved. Dana-Farber is among a handful of the many patrons who will forego paying money to the Trump Organization. To him, "It's clear that there was some impact here."