Making Primary Care Trans-Friendly
The medical knowledge needed to treat transgender people is not particularly complex, but patients still often struggle to find doctors who are prepared to treat them.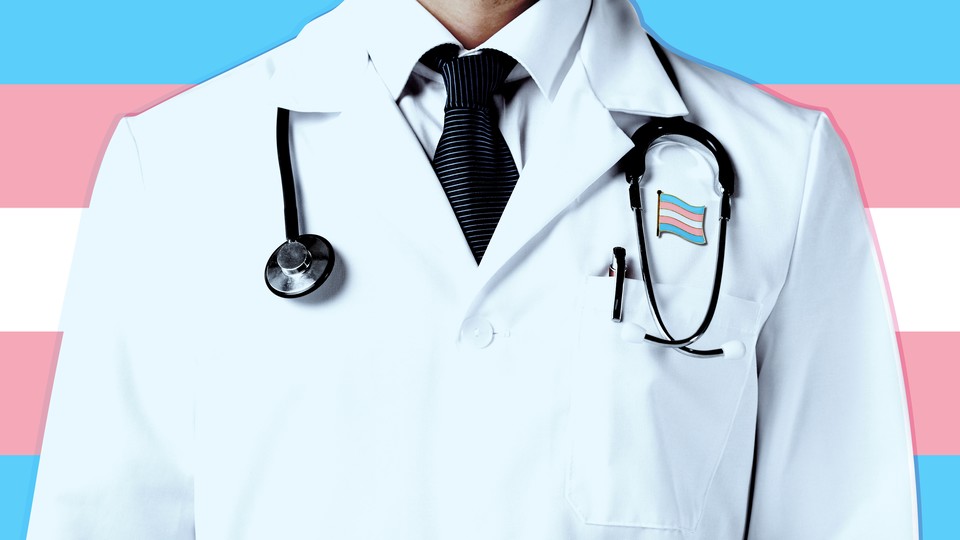 Two days after the 2016 presidential election, Isabel Lowell appeared on a panel at the Georgia Academy of Family Physicians annual meeting in midtown Atlanta. As a family physician who sees transgender patients, Lowell was leading a full day of training on providing trans-competent care. When not speaking, she sat in the back of the room next to her wife and new baby.
The mood of the room was grim, but lightened when another panelist wistfully described her fantasy: a multidisciplinary health center dedicated to transgender health, where patients would visit for a day-long lineup of appointments with reproductive, preventive, mental-health, and surgical specialists, all focused on transgender issues.
Inwardly, Lowell bristled. "I used to think that was the gold standard," she said afterward. "Transgender patients could just go [to these clinics] and get everything they need. I think it's wonderful in theory, but … it lets everyone else off the hook. It makes it this special 'other' thing that you have to go to a special center for."
Transgender care should be primary care, she thinks. It should require no special center, and unless a procedure is needed, no specialists.
"Any doctor should be able to do this," she said.
The medical knowledge needed to provide transgender-affirming care is not particularly complex—"it's about as difficult as managing menopause," says Madeline Deutsch, the clinical leader of the University of California, San Francisco (UCSF) Center of Excellence for Transgender Health and and the author of the center's transgender-care guidelines.
Yet physicians often perceive transgender care as hopelessly enigmatic. Although there are few published studies of provider perspectives on transgender care, physicians responding to a 2016 Canadian study were fretful, scared they would offend patients by using the wrong language, or fail to catch side effects of hormones: "There's this fear that run of the mill problems aren't run of the mill," said one study participant. "What if there's something related to something I'm not aware of, in terms of their hormonal status, in terms of the medications they're taking? … I have a lot of anxiety seeing these people, not because of who they are, but because I feel I'm not well educated, I'm not well prepared about what the potential concerns are."
Many physicians are poorly prepared to care for transgender patients. Eighty percent of gynecologists and 81 percent of endocrinologists—both among the specialists most frequently consulted on sex hormone prescription and monitoring—have not received training on the care of transgender patients.
This has the effect of keeping trans people away from the doctor's office. Although transgender populations have high rates of HIV, mental illness, smoking, and drug and alcohol abuse, nearly a quarter of transgender people report having avoided seeking health care in the past year due to fear of mistreatment. A Lambda Legal survey published in 2011 found that almost 90 percent of transgender people felt there weren't enough health-care professionals adequately trained to care for people like them. In another survey, access to a provider knowledgeable about transgender health issues was the most commonly reported barrier to care.
Not all transgender people desire "medical transition"—hormonal or surgical therapy to achieve the physical traits of the gender with which they identify. In a 2015 study conducted by the National Center for Transgender Equality (NCTE), 22 percent of transgender people did not aspire to take hormone therapy. Twenty-seven percent of trans men didn't want or weren't sure if they wanted chest reduction, or "top" surgery, and 55 percent of trans women didn't want or weren't sure if they wanted vaginoplasty, or "bottom surgery."
And sometimes, providers focus on someone's trans identity way too much. In 2015, writer Naith Payton wrote about the "trans broken arm": "'In the five minutes it takes … to grill me on gender stuff and write it all down, the orthopod has squandered a quarter of the time they've got to fix my broken arm,'" a transgender patient told Payton.
"The more a person's trans status is blamed for a person's unrelated health problems, the less likely they are to bring it up—even when it is relevant," Payton writes.
For patients who do want hormone therapy, initiating and monitoring treatment is "kind of cookbook," says Lowell, and tailoring reproductive counseling and preventive care to transgender patients is also relatively straightforward. She says most primary-care physicians could acquire the necessary skill set in a day of training or as she did, by reading the standards of care published by the World Professional Association for Transgender Health and just doing it, occasionally consulting with more experienced doctors by phone when more complex issues arise.
Craig Sineath, a second-year medical student at the Emory University School of Medicine, did an elective rotation through Lowell's Atlanta clinic late last year. He was surprised at the simplicity of hormone-therapy management. "A lot of people think transgender people need to get hormone replacement therapy from a specialized endocrinologist," he says, but "as second-year medical students, we had the tools to be able to do it ourselves."
Although the work of caring for transgender patients may not be particularly specialized, many transgender people in the U.S. have difficulty finding doctors, especially in rural areas.  Jaemon McLeod grew up an hour-and-a-half south of Atlanta in Barnesville, Georgia, surrounded by cattle, cotton, sorghum, and corn. He has been seeing a doctor one county over since he first decided to medically transition in 2006. He found his doctor through an online transgender message board, where hers was the only name that popped up when he typed in "endocrinologist" and "Georgia."
Since transitioning, he says he has been turned away from emergency rooms and has been refused prescription testosterone refills at pharmacies. Once, while having lunch in a university cafeteria in Macon, he overheard a group of pre-med students joke about the prospect of "accidentally" administering a fatal overdose of anesthetic during surgery on a transgender patient.
Central Georgia can be a scary place to be transgender: Although he is broad and bearded, McLeod says he didn't go anywhere without a shotgun in his truck for the first two years after transitioning. Yet he has no intention of leaving the state anytime soon—he wants to stay close to his doctor.
In state-specific data from the NCTE survey, 33 percent of transgender Georgians reported having a transgender-related negative experience with a health-care provider, and 26 percent said they didn't see a doctor when they needed to due to fear of mistreatment—numbers similar to national averages.
And those numbers likely understate the issue, says James Parker Sheffield of the Health Initiative, a non-profit LGBTQ health care access organization in Georgia. People in rural areas, he says, are often not reached by the focus groups, data collectors, and internet surveys that count sexual minorities—even if they are openly transgender, which many are not. The true experience of rural transgender people is hard to find in statistics.
The invisibility of rural populations—and the reduced health-care access that goes with it—is hardly limited to transgender people. In 2014, the Centers for Disease Control and Prevention reported that rural areas have about 25-percent fewer primary care physicians per capita than do large metropolitan areas. Residents of rural areas also have lower per-capita income and more transportation difficulties that keep them from reaching health-care providers.
In Georgia, 14 percent of the state's population is uninsured, compared with 9 percent nationally, in part due to the state's rejection of Medicaid expansion under the Affordable Care Act. The state's hospitals are widely spaced out and it has relatively few clinics serving the rural population (about 13 clinics per 100,000 people, compared with 30 per 100,000 nationally), and there is little public transit in rural areas.
So while access to health care is difficult for both transgender people and rural dwellers, it's particularly bad for trans people in rural areas, says Sheffield. Georgia law does not protect transgender people from job discrimination, and many are unemployed—11 percent (by self-report), compared with about 6 percent of all rural residents in 2015—resulting in even lower access to transportation and health care. But at least as great a barrier as financial concerns, he says, is the fear of mistreatment or humiliation by medical professionals or their support staff.
A trans man himself, Sheffield says from the moment he makes a health-care appointment, he feels uncertainty and often, confusion. "You know that you're going to be handed a form on which you need to mark your gender," he says. "I have a full beard. My driver's license has an 'F' on it. I work for a health organization, and I have no idea how to complete those forms. And I don't know what's going to happen when they see the 'F'."
The ramifications of mismatches between a person's outward presentation and the gender listed on their identity documents can include everything from being refused service by medical personnel to being refused insurance coverage for "cross-gender" health care.
With so much hanging in the balance, as well as a growing awareness of transgender identity, nationwide demand for health-care providers who provide culturally and medically competent care to transgender patients is increasing. Although there is little available data on the unmet needs of the estimated 1.4 million transgender Americans, "everyone who provides trans care has plenty of business," says Lowell.
After her residency, Lowell moved to Atlanta and joined the department of family medicine at Emory University. With the assistance of a sympathetic administrator and input from a trans woman experienced in local health care, she started a clinic finely tuned to meet the needs of transgender patients.
Her first clinic in mid-2015 was booked solid, and in February 2017, she was booking new patients as far out as April or May. Although she is not listed on any of the transgender-competent provider databases online, her clinic is almost always full. "Getting an appointment with you," one of her patients said when I visited, is "like getting concert tickets."
Although it's clear Lowell is proud of what she's built, it's also clear she doesn't want the care she provides to be a limited resource. "Making [transgender care] primary care just means that any transgender patients anywhere in the country can go to their own doctor," she said. That day at the midtown Atlanta hotel was her biggest effort yet to teach family doctors from all over the state how to care for transgender patients.
Lee Woodall was one of those family doctors. His clinic is on the southern edge of Barnesville, just a few miles from where Jaemon McLeod lives. In his clinic, Woodall and two partners see patients of all ages, including several of McLeod's family members. He also cares for residents at four nearby nursing homes and prisoners at the county jail, and functions as the county medical examiner.
He went to Lowell's session mostly because it was something he knew nothing about. He has only one patient he knows to be transgender, and he thinks she comes over from the next county to see him. He's only ever seen her for issues unrelated to gender—colds, coughs, and the like, he says.
The training changed his thinking about caring for transgender people. Before, "I would have always thought 'Oh, we need to send them off to somebody who knows what they're doing.' But the idea that you don't really have to know a whole lot to do it, that it's just like anything else, was affirming," he says, and "gave me the confidence that sure, it's not a big deal. It's just a matter of doing it."
Over lunch in downtown Barnesville, he says he doesn't think any doctors he knows would prescribe hormone therapy, although he admits he might be underestimating his colleagues. Any reluctance among his colleagues, he says, is probably rooted in religion. The Southern Baptist Convention has a large presence in these parts, he says. It's hard for its constituents—even for doctors—to ignore its opposition to "all cultural efforts to validate claims to transgender identity."
Woodall has been reading the writings of Friar Richard Rohr, a progressive Franciscan priest. He borrows one of Rohr's metaphors, of our worldviews as boxes that are always with us. The beliefs we acquire through life go into the box. Challenging someone's worldview can feel like telling them their box is full of crap.
"If you realize you're holding the wrong box, where do you go?" he asks. He laughs and sticks his fork in a piece of fried okra, but it is clear he is not making a joke—and that he doesn't know the answer.
"Some qualitative formative work has focused on understanding physicians' need for transgender medicine education," wrote the authors of a recent review article, "without a thorough understanding of physicians' barriers to providing care." While Woodall thinks one of those barriers is religion, Lowell says at least as important is the reluctance of many established doctors to learn things outside their comfort zone. "I think it's less about bias or prejudice and more about fatigue," she says. "I think if I were to educate them about any non-mainstream thing, they'd be like, 'Ugh, no, I'm in my rut.'"
When it comes to changing the landscape of transgender care, says Lowell, the real bang for the buck is in educating trainees—medical students and residents. At the University of Connecticut medical school, from which Lowell graduated in 2010, she got "the hour of LGBT" health training. (A school spokesperson says that it was actually four hours.) It was really only LGB, Lowell says, with little mention of transgender health. And the focus was less on medical knowledge and more on cultural competency, she says, essentially instructing students, "don't be a jerk when you're talking to people."
In a 2009-2010 study of 132 U.S. and Canadian medical schools, 40 institutions said they included content on gender transition in their curricula. According to the Association of American Medical Colleges, which in 2014 published a report on changing curricula to teach students about the needs of sexual minorities, that number increased to 73 of 134 schools' 2015-16 curricula.
Although the numbers aren't entirely comparable due to different data-gathering methods, they reflect real trends, says Jesse Ehrenfeld, the director of the Program for LGBT Health at Vanderbilt University. He notes increasing numbers of presentations at medical education conferences and publications in the health-professions education literature—"signals out there that are very clear that there's a growing interest and demand for delivery of content in this area."
In Atlanta, Lowell is one of the leaders in educating medical trainees about transgender care. On a damp January Monday, she maneuvers around a section of soaked ceiling tile that has fallen on the floor of her clinic's nursing station. The previous weekend, biblical rains tore through the middle of Georgia, along with two dozen tornadoes that killed 12 people across the state. The storm's edges extended beyond northern Atlanta, and the rains have breached her clinic's roof.
A third-year medical student is working with her for the day. Between patients, Lowell gives the student a short talk about gender dysphoria in puberty. During the next encounter, she asks the student to obtain the patient's history; in the next, the student leads the encounter.
In late 2016, Lowell supervised five medical students in Emory's first transgender health elective. Since starting her transgender clinic, she has supervised 30 family residents, most of whom have cared for at least one transgender patient during their training. About 70 percent of those doctors are expected to practice in-state after graduation, potentially implementing what they learned about transgender care in their own practices.
In addition to increasing trans-competency among graduating medical students, providing resources to educate and support experienced doctors who provide care for transgender patients is critical, says Madeline Deutsch of UCSF.
Consider diabetes, she says: If the only provider in a rural area knew nothing about diabetes but was willing to prescribe a medication and then "wing it," she says, "people would say, 'That's kind of concerning, and we need to make sure this person has the tools [to do a good job.]' It's not rocket science, but it is science."
National programs such as the Transgender Health ECHO project at the Fenway Institute—are growing, but there is not yet a program that offers formal credentials in transgender care. Deutsch is not convinced credentialing would improve practice quality, and says demystifying the medical needs of transgender patients is a higher priority.
At the University of Connecticut, things have changed since Lowell was a student. The four hours of LGB have been expanded with a brand new curriculum: case-based learning sessions and discussion groups now include transgender patients.
Sineath, Lowell's medical student, thinks trans-health materials should be integrated into all curricula, perhaps especially at schools where it hasn't been requested.
"The people who are passionate about it are going to get exposure to it," he says. "It's important that medical schools push getting exposure to it for people who aren't passionate about it, so it changes the culture."