The Link Between Opioids and Unemployment
A new study finds that as the jobless rate rises, so do drug overdoses.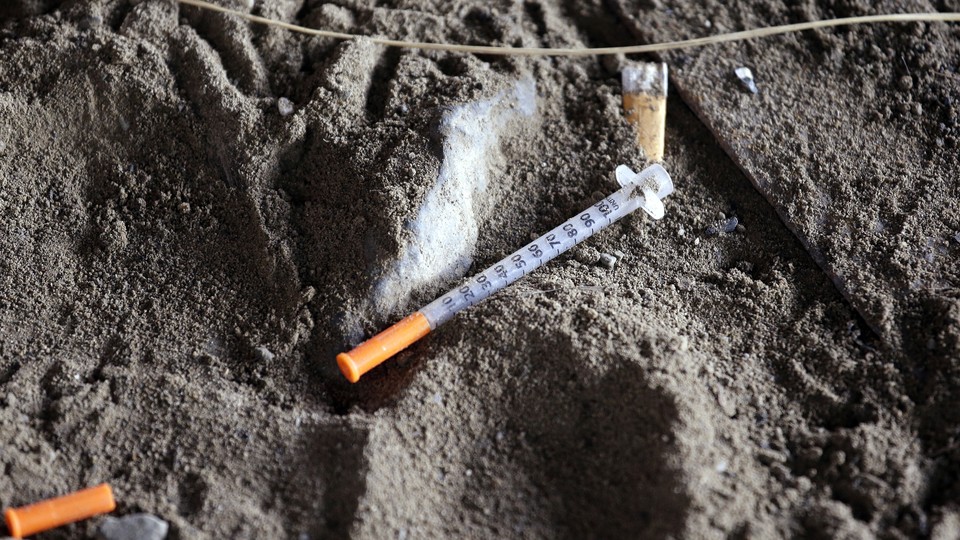 In 2015, more Americans died from drug overdoses than from car accidents and gun homicides combined. That's according to a startling interactive story published by The New York Times recently, which also noted that since 1990, drug-overdose deaths have increased by 500 percent.
A new study suggests unemployment might be one of the factors behind that dramatic rise. The paper, published by NBER last week, finds that as the unemployment rate increases by one percentage point in a given county, the opioid-death-rate rises by 3.6 percent, and emergency-room visits rise by 7 percent.
Rather than more people getting injured when jobs are scarce, the authors suspect that the increased use of painkillers is a "physical manifestation of mental-health problems that have long been known to rise during periods of economic decline." Depression and pain are twin agonies, in other words: Not only does depression make people more sensitive to pain, they note, opioids have been shown to help relieve depressive symptoms.
This isn't the only study that has linked joblessness with painkiller use. In another recent paper, the Princeton University labor economist Alan Krueger found that nearly half of "prime age" men who aren't in the labor force take pain medication daily. And past studies have found that the unemployed are more likely to use illegal drugs than full-time workers.
These studies lend support to the idea that many opioid overdoses are "deaths of despair," as the Princeton economists Anne Case and Angus Deaton call them—deaths brought on by joblessness, hopelessness, and both physical and emotional pain.
Europeans also suffered joblessness during the recession, but they aren't overdosing at American levels. Most European countries have stronger social-safety nets, which might soften the trauma of unemployment, as well as socialized health-care systems, in which prescription records tend to be centralized.
In a recent Brookings paper, Case and Deaton are careful to note that pure financial strain doesn't explain the full "despair deaths" picture. Rather, overdoses, suicides, and alcohol abuse are all driven by what they call "cumulative distress," or the overall "failure of life to turn out as expected."
This paper shows that joblessness can be an element of those dashed hopes—even if it's not the only one.