The Geography of Medical Debt
The prevalence of unpaid medical bills varies widely by state, but it affects the South disproportionately.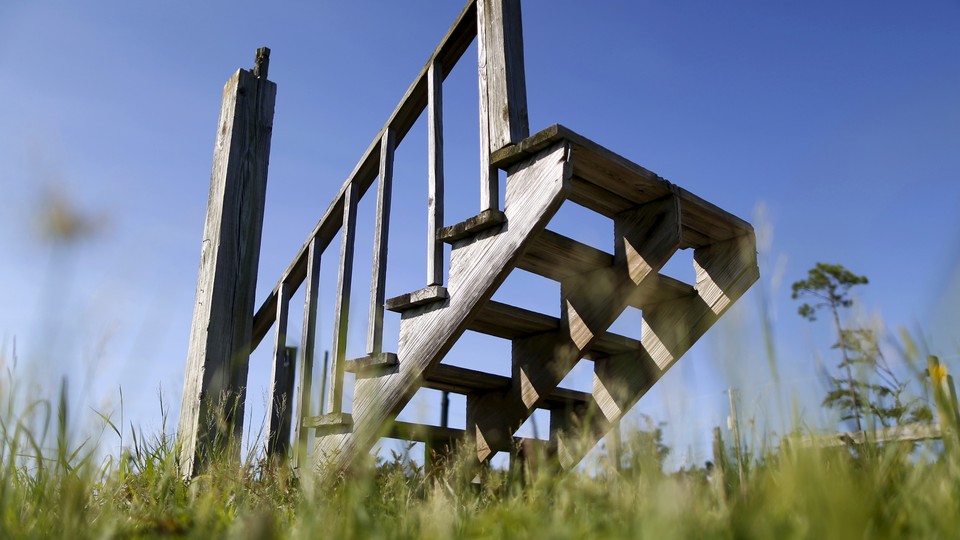 Nearly one in four American adults under the age of 65 has medical debt, according to the results of a new study by the Urban Institute, and southerners are hit hardest by past-due doctors' bills.
The study authors, Michael Karpman and Kyle J. Caswell, found that eight of the ten states with the highest rates of past-due medical debt were in the South: Mississippi, Arkansas, West Virginia, South Carolina, Kentucky, Oklahoma, Alabama, and Georgia. The rate was lowest in Hawaii, at 6 percent of adults, and the highest was Mississippi, at 37 percent. Nationwide, African-Americans and people aged 25 to 34 were most likely to have past-due doctors' bills.
---
Share of Adults Ages 18 to 64 Reporting Past-Due Medical Debt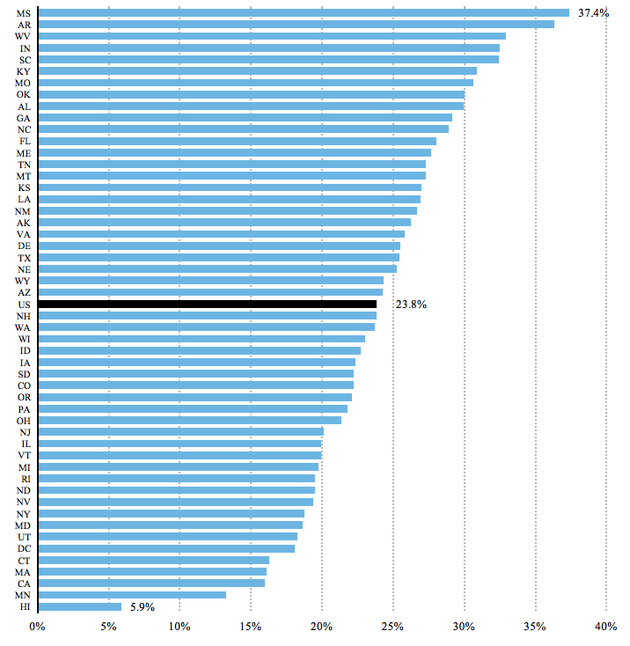 ---
Why the geographic disparity?
Insurance coverage is clearly a big factor. The percentage of Americans who have past-due medical debt has declined by 20 percent since 2012, the authors write, tracking with the implementation of the Affordable Care Act. When the researchers controlled for demographic variables like age and education, the geographic differences didn't go away. Many southern states did not expand Medicaid under the Affordable Care Act, which could explain the high rates of debt in states like Mississippi and Alabama. (Other studies have found Medicaid expansion did reduce unpaid bills.)
According to this report, the rate of past-due medical debt correlates with each state's uninsured rate:
---
Medical Debt and Uninsured Rates Among Adults, by State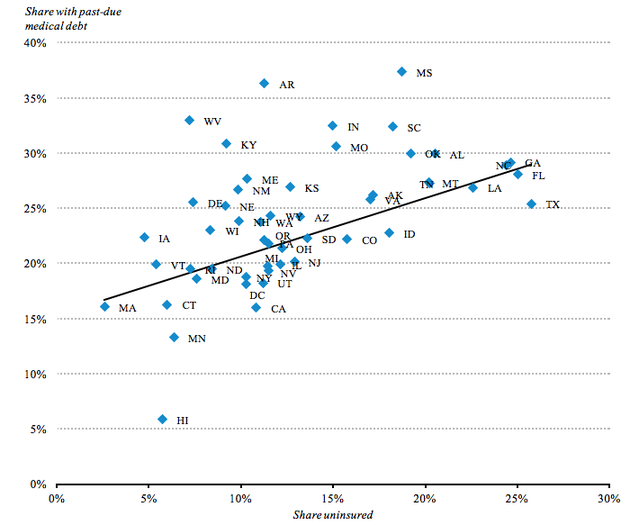 ---
Still, there seems to be more to it than having an insurance card. Among insured adults, the report finds, 23 percent still had medical debt, compared to 31 percent of uninsured people. And several of the most-indebted states, such as Arkansas and Kentucky, did expand the Medicaid program.
How to account for these insured, yet nonetheless indebted people? Insured people might be struggling to pay their bills because of high deductibles, co-pays, and services that aren't covered by their plans. They might have little savings or have fallen victim to balance billing and other forms of surprise medical bills. They could be carrying debt from before they became insured—though another study also released by the Urban Institute found most people were insured at the time they incurred their medical debt.
Finally, differences in state insurance regulations, like rules cracking down on the aforementioned balance billing, could be playing a role, as could differences in how frequently people go to the doctor or get medical treatments. (Southern states tend to have higher obesity rates than Northern ones, for example.)
Another study released by the Institute today found that being able to pass a "financial knowledge" quiz was correlated with not having medical debt—but having a "formal financial education" was not. Because of that, the authors recommend doctors and employers talk with people about how their insurance works, rather than assume patients will have learned all about deductibles and co-pays in high school or college.
This study highlights a common criticism of Obamacare—and the overall health-care system—from both the right and left: People might be able to afford an insurance card, but they might still end up slammed with bills they can't pay or don't understand.
However, it's worth noting that so far the Republicans' Obamacare replacement plans have not addressed the drivers of medical debt laid out in these studies and others. People might be struggling to pay their bills because of high deductibles and low savings, for example, but several GOP plans promote health-savings accounts and high-deductible plans. Some individuals might struggle to pay surprise bills because their incomes are too low, but the tax credits promoted by Republicans so far would not be weighted by income. (They would also not be geographically weighted, as my colleague Vann Newkirk points out, so in fact these geographic disparities in debt could grow worse.) Finally, the Republicans' replacement proposal would leave more insurance regulation to the states, so whether people were protected from unexpected medical costs would depend, in part, on whether their state wanted to protect them from it.