The Silent Victims of the GOP Health-Care Proposal
"Children are the largest single group of beneficiaries on Medicaid—and they don't vote."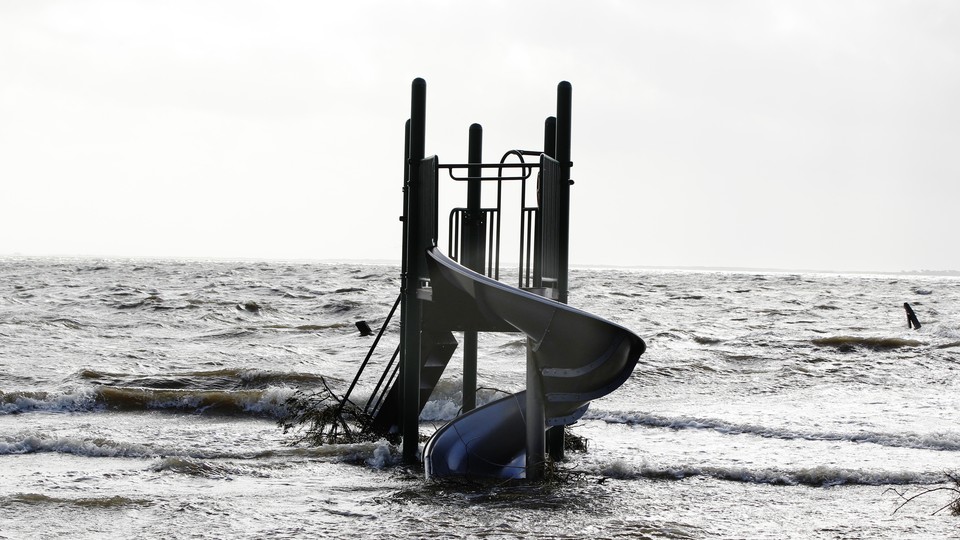 Good news first, okay? Most children in the United States are healthy. And the overwhelming majority of them have health insurance. More than 95 percent of American children are covered.
This is a 21st-century success story, one that health-care policy experts attribute to the Affordable Care Act, Medicaid, and the Children's Health Insurance Program. Since 2008, the number of uninsured kids in the country has been cut in half. Since 2014, when the ACA was implemented, uninsurance among children dropped 20 percent.
The bad news is that the significant gains in coverage for kids in recent years appear poised for a reversal. That's according to several pediatricians and health policy experts, who described the GOP health-care proposal as particularly damaging to American children.
"This is not politics for us," Steve Allen, the CEO of Nationwide Children's Hospital in Columbus, Ohio, wrote in an essay last week. "This is fear that the youngest, most vulnerable population in the United States will be denied health care they need. The voices of more than 30 million children are not being heard."
The problem, many health-care experts say, is the GOP bill's $880 billion reduction in federal funding for Medicaid, the government's health insurance program for the poor.
"There are incredibly high stakes for children in not only the current health-care debate but in debates that lie very shortly ahead—on the future of the Children's Health Insurance Program and, more importantly, Medicaid," said Joan Alker, the executive director of the Georgetown Center for Children and Families, a nonpartisan health-care policy and research center. Part of the reason the Affordable Care Act was so important for kids, Alker told me, is because it enabled their parents to get insurance, "and a healthier parent is a better parent."
The bill that Republicans put forth to replace the ACA would drive up the number of people without health insurance by 24 million in the next decade, and save  $337 billion in federal deficits over the same period, according to the Congressional Budget Office's estimates. Reductions in coverage would "stem in large part from changes in Medicaid enrollment—because some states would discontinue their expansion of eligibility, some states that would have expanded eligibility in the future would choose not to do so, and per-enrollee spending in the program would be capped," the CBO's March 13 report said. By 2026, an estimated 52 million people would be without insurance, compared with the 28 million who would remain uninsured that year under the current law.
It's "no surprise that the massive cuts proposed in the bill are coming out of Medicaid and not Medicare—even though candidate Trump [said] he wouldn't cut either of these programs," Alker told me. "Children are the largest single group of beneficiaries on Medicaid and they don't vote."
"There has been very little oxygen in the debate focused on children," she added. That's despite the fact that nearly 40 percent of all American children are covered through Medicaid or CHIP. An even larger percentage of children with special health-care needs rely on such programs for access to care. "Medicaid is something that most American families may need at some point for one reason or another except for those at the very top," Alker said. It's "the nation's largest health insurer for children and pregnant women."
Part of the problem with restructuring Medicaid is that uninsured parents often have uninsured children—even if those children are eligible for coverage. "In the years preceding ACA implementation, two-thirds of uninsured children were eligible but not enrolled in Medicaid or CHIP," wrote Tricia Brooks in a blog post for the Georgetown Center for Children and Families. "In fact, 84 percent of children had the same insurance status as their parents according to a 2011 GAO study."
In that same study, researchers reviewed more than a dozen previous studies examining the link between a parent's coverage status and a child's insurance status. Despite methodological differences, every single one showed "significant associations."
That helps explain why policy experts believe millions of children could lose coverage under the new plan. A December report by the Urban Institute, a nonpartisan think tank based in Washington, estimated a partial repeal of the ACA in the context of budget reconciliation would result in 4.4 million children losing coverage. The institute hasn't yet released an estimate for the new plan. *
"When you pull back eligibility for Medicaid or CHIP, you do expect higher uninsurance among kids," said Genevieve Kenney, the co-director of the institute's Health Policy Center.
"The other thing that I always keep in mind when I'm studying children and their well-being is that how their parents are doing matters," she added. "If the parents are going without care the they need—think about untreated depression. And think about the financial dimension of this, too. If parents now are experiencing much larger out-of-pocket costs associated with meeting their health-care needs, that adversely affects the budget for the family."
In other words, just making sure that kids are eligible for coverage isn't enough. They have to enroll. And insurance has to be affordable enough that paying for it doesn't stretch families too thin. That's why many policy experts are concerned about giving states the flexibility to implement cuts to Medicaid. Flexibility, in this case, could mean new enrollment caps, or rules about work requirements, or other measures that reduce participation in programs like Medicaid. Governors can't implement Medicaid cuts without "direct cutbacks in the health-care that the 70 million Americans on Medicaid rely upon," Alker wrote in a blog post.
Widespread insurance coverage actually drives down costs over time, Racine says, if you look at the opportunity cost associated with foregoing preventative care like vaccines, or delaying a doctor visit when something seems off, or relying on the emergency room in lieu of going to a primary care doctor.
"It's not so much the cost of the intervention, it's the cost of the absence of the intervention you have to compare it to," said Andrew D. Racine, a pediatrics professor at the Albert Einstein College of Medicine and a researcher at the National Bureau of Economic Research. "If you vaccinate little Johnny, not only are you protecting little Johnny but you're protecting his grandmother because he cannot communicate that disease to her. So she gets a benefit that she doesn't have to pay for—and society doesn't have to pay for. Then you look at the benefits of little Johnny getting covered by Medicaid down the line. He is more likely to do well in school, to graduate, to go to college, to have a higher income."
There's abundant evidence to support the idea that Medicaid has significant downstream effect on its enrollees' lives. Medicaid was founded in 1965, and has been studied closely ever since. The National Bureau of Economic Research has found, for instance, a direct connection between expanding health insurance coverage for low-income children and an increased rate of high school and college completion.
"What happens to children who have Medicaid over time? All of those benefits, no one is willing to pay for, because they're externalities," Racine told me. "Because of that, we under-invest in Medicaid. We should be paying more money for Medicaid, not less."
Dramatically restructuring Medicaid may save hundreds of billions of dollars in direct costs over the next decade. But the doctors and policy experts who understand the complexities of the program say the longer term costs that stem from those cuts will be much greater—monetarily, and socially. The good news, they say, is that this isn't a done deal yet. But the bad news may still turn out to be catastrophic.
---
* This article originally mischaracterized the Urban Institute's estimate. The institute studied a partial repeal of the ACA in the context of budget reconciliation in December, but has not yet released an estimate about the new bill. We regret the error.