Doctors, Nurses, and Hospitals Oppose the New Health-Care Bill
Professional organizations are speaking up.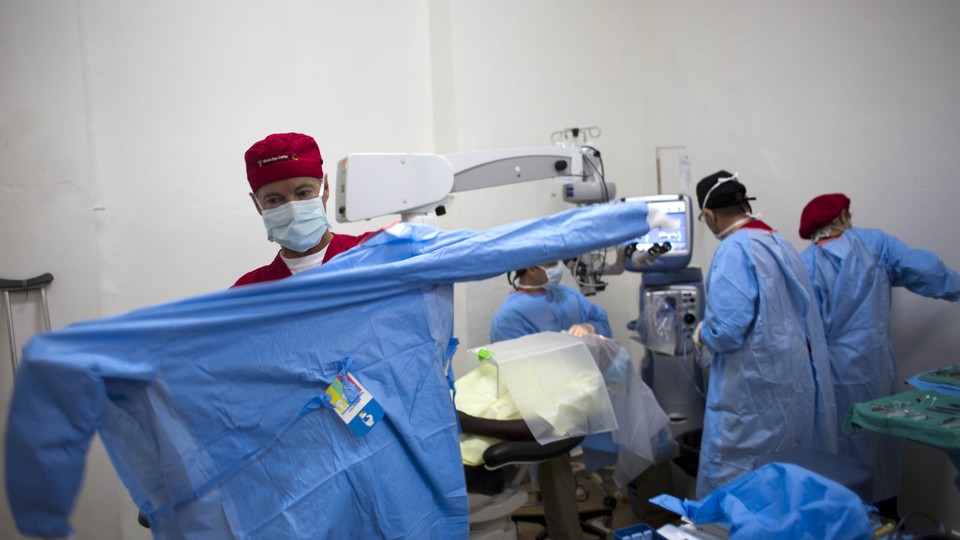 The last 48 hours have seen torrents of opposition to the newly proposed health-reform bill, the American Health Care Act. Professional organizations that have spoken against it now include: the American Nurses Association, American Medical Association, American Academy of Pediatrics, American Academy of Family Physicians, Association of American Medical Colleges, American Hospital Association, and Children's Hospital Association, among other physician groups and all major hospital groups.
The doctors of the American Medical Association target their critique on the phasing out of Medicaid expansion and elimination of subsidies for low-income Americans. The new bill replaces the latter with a flat tax credit based on age. The system, the doctors warn, would mean many people are left with inadequate coverage.
Influential patient-advocacy groups like the AARP are also adamantly opposed to the bill, concerned that it "raises premiums and weakens Medicare," shrinking health-care coverage for the people represented by the organization. Even though the proposed tax credits would grow in old age, they appear to be far from sufficient to cover the cost of many health-insurance plans.
Yet against the lengthening political odds presented by this opposition—and the idea that this opposition means that the bill is indeed seriously flawed—President Trump has given no indication of pause. According to The New York Times, "He said he was prepared to pressure holdout senators by holding the kind of stadium-style rallies he led during his presidential campaign."
This stands in contrast to the relatively lengthy deliberation that went into drafting the Affordable Care Act in 2009. At that time, President Obama and his team talked and negotiated extensively with interested parties—among them care providers, patient groups, and hospitals—to shape and scope the bill in a way that garnered not just the necessary political support, but met the needs of as many of these parties as possible. Support from the American Medical Association, among others, was consequential in the eventual passage of the law. If the new Republican bill has failed in this, applying pressure to senators would do little to rectify the fundamental inadequacies.
Trump's hope for the bill's passage may be founded in the idea that other influential industries will lend their support. Though pharmaceutical and insurance corporations stand to lose revenue if people are uninsured, they also stand to save much in tax cuts. Under the AHCA, insurance companies would pay around $145 billion less in taxes over the coming decade. Some of that would come in the form of writing off enormous CEO salaries. In the cases of Aetna and Cigna, for example, annual CEO compensation has soared to over $17 million. Under the ACA, insurance-company executives could be paid whatever the corporation deemed appropriate, but the amount that could be exempt from taxation was capped at $500,000.
On Wednesday, the insurance-industry group America's Health Insurance Plans did caution Republicans against paring down Medicaid. Though competition imposed by the ACA has not benefited the bottom lines of some insurers, Medicaid expansion has.
Meanwhile pharmaceutical companies would pay some $25 billion less in taxes, and medical-device manufacturers some $20 billion. These losses in revenue for the government do not bode well for federal health programs and consumer-protection oversight. The idea that such tax cuts will incentivize corporations to invest more in innovation is undermined by the already enormous profit margins in these sectors—meaning that the money for innovation is available should that become a higher priority. As it is, pharmaceutical companies profit enormously from capitalizing on research done at federally subsidized academic medical centers.
In these industry sectors, support will be based on profit maximization to shareholders. But sustainable, innovative health-care reform requires collaboration with country's physicians, nurses, and patient-groups, which are guided also by humanist ethical codes. In this case, those groups have spoken.