Editor's Note:
This article previously appeared in a different format as part of The Atlantic's Notes section, retired in 2021.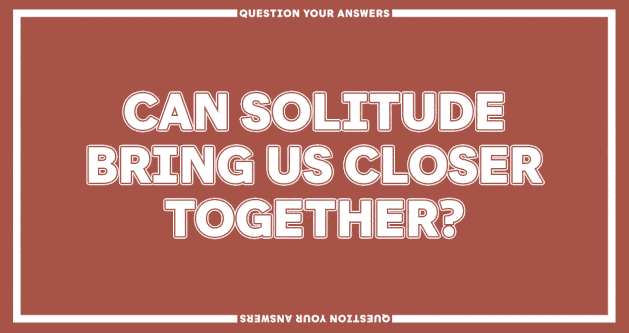 Henry David Thoreau is something of a poster child for solitude. In his essay "Walking," published just after his death in our June 1862 issue, Thoreau made the case "for absolute freedom and wildness … to regard man as an inhabitant, or a part and parcel of Nature, rather than a member of society":
We should go forth on the shortest walk, perchance, in the spirit of undying adventure, never to return, prepared to send back our embalmed hearts only as relics to our desolate kingdoms. If you are ready to leave father and mother, and brother and sister, and wife and child and friends, and never see them again—if you have paid your debts, and made your will, and settled all your affairs, and are a free man—then you are ready for a walk.
Thoreau himself was "a genuine American weirdo," as Jedediah Purdy recently put it, and solitude suited him: His relentless individualism irritated his friends, including Atlantic co-founder Ralph Waldo Emerson, who described Thoreau's habit of contradicting every point in pursuit of his own ideals as "a little chilling to the social affections." Emerson may have had Thoreau in mind when, in our December 1857 issue, he mused that "many fine geniuses" felt the need to separate themselves from the world, to keep it from intruding on their thoughts. Yet he questioned whether such withdrawal was good for a person, not to mention for society as a whole:
Thoreau in his second and final photographic sitting, August 1861 (Wikimedia)

This banishment to the rocks and echoes no metaphysics can make right or tolerable. This result is so against nature, such a half-view, that it must be corrected by a common sense and experience. "A man is born by the side of his father, and there he remains." A man must be clothed with society, or we shall feel a certain bareness and poverty, as of a displaced and unfurnished member. He is to be dressed in arts and institutions, as well as body-garments. Now and then a man exquisitely made can live alone, and must; but coop up most men, and you undo them. …

When a young barrister said to the late Mr. Mason, "I keep my chamber to read law,"—"Read law!" replied the veteran, "'tis in the courtroom you must read law." Nor is the rule otherwise for literature. If you would learn to write, 'tis in the street you must learn it. Both for the vehicle and for the aims of fine arts, you must frequent the public square. … Society cannot do without cultivated men.
Emerson concluded that the key to effective, creative thought was to maintain a balance between solitary reflection and social interaction: "The conditions are met, if we keep our independence, yet do not lose our sympathy."
Four decades later, in our November 1901 issue, Paul Elmore More identified a radical sympathy in the work of Nathaniel Hawthorne, which stemmed, he argued, from Hawthorne's own "imperial loneliness of soul":
Hester Prynne, the lonely protagonist of Hawthorne's The Scarlet Letter (Wikimedia)

His words have at last expressed what has long slumbered in human consciousness. … Not with impunity had the human race for ages dwelt on the eternal welfare of the soul; for from such meditation the sense of personal importance had become exacerbated to an extraordinary degree. … And when the alluring faith attendant on this form of introspection paled, as it did during the so-called transcendental movement into which Hawthorne was born, there resulted necessarily a feeling of anguish and bereavement more tragic than any previous moral stage through which the world had passed. The loneliness of the individual, which had been vaguely felt and lamented by poets and philosophers of the past, took on a poignancy altogether unexampled. It needed but an artist with the vision of Hawthorne to represent this feeling as the one tragic calamity of mortal life, as the great primeval curse of sin … the universal protest of the human heart.
Fast-forward a century, and what More described as "the solitude that invests the modern world" had only gotten deeper invested—while "the sense of personal importance" gained new narcissistic vehicles in the form of social-media tools that let us "connect" online while keeping our real, messy selves as private as we choose. Which is not a bad thing: In some ways, the internet looks like the perfect way to achieve Emerson's ideal balance between independent thought and social engagement.
In our May 2012 issue, however, Steven Marche wondered if the rise of social media is making us lonely:
A considerable part of Facebook's appeal stems from its miraculous fusion of distance with intimacy, or the illusion of distance with the illusion of intimacy. Our online communities become engines of self-image, and self-image becomes the engine of community. The real danger with Facebook is not that it allows us to isolate ourselves, but that by mixing our appetite for isolation with our vanity, it threatens to alter the very nature of solitude.

The new isolation is not of the kind that Americans once idealized, the lonesomeness of the proudly nonconformist, independent-minded, solitary stoic, or that of the astronaut who blasts into new worlds. Facebook's isolation is a grind. What's truly staggering about Facebook usage is not its volume—750 million photographs uploaded over a single weekend—but the constancy of the performance it demands. More than half its users—and one of every 13 people on Earth is a Facebook user—log on every day. Among 18-to-34-year-olds, nearly half check Facebook minutes after waking up, and 28 percent do so before getting out of bed. The relentlessness is what is so new, so potentially transformative. Facebook never takes a break. We never take a break.
The same year, Brian Patrick Eha also noted the changing nature of solitude—particularly the kind of solitude achieved by wearing headphones in public. "We are each of us cocooned in noise," he wrote, "and can escape from one another's only when immersed in our own." For both Marche and Eha, the problem with technology is not its tendency to isolate people so much as the way it works to prevent us—through a sense of connection or simply through distraction—from fully experiencing that isolation and all it entails.
And as the author Dorthe Nors explained in 2014 for our By Heart series of writer interviews, a full experience of isolation has serious benefits:
Doug McLean

The artistic process unfolds in the lonely hours. That's when the work happens. You have to control the creative energy that you've got. You have to discipline yourself to fulfill it. And that work only happens alone.

Solitude, I think, heightens artistic receptivity in a way that can be challenging and painful. When you sit there, alone and working, you get thrown back on yourself. Your life and your emotions, what you think and what you feel, are constantly being thrown back on you. And then the "too much humanity" feeling is even stronger: you can't run away from yourself. You can't run away from your emotions and your memory and the material you're working on. Artistic solitude is a decision to turn and face these feelings, to sit with them for long periods of time.
For Nors, like for Hawthorne, solitude not only enables personal reflection, but also grants access to some deeper, more universal strain of human feeling. That's the same lesson that Nathaniel Rich, writing in our latest issue, took from the story of Christopher Knight, who spent 27 years living utterly alone in the woods of Maine:
Since his arrest in April 2013, Knight has agreed to be interviewed by a single journalist. Michael Finkel published an article about him in GQ in 2014 and has now written a book, The Stranger in the Woods, that combines an account of Knight's story with an absorbing exploration of solitude and man's eroding relationship with the natural world. Though the "stranger" in the title is Knight, one closes the book with the sense that Knight, like all seers, is the only sane person in a world gone insane—that modern civilization has made us strangers to ourselves.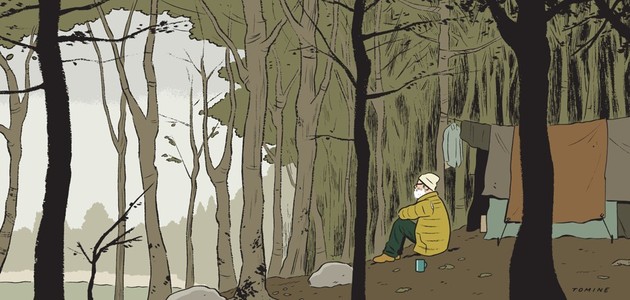 Yet a total withdrawal from civilization can't be the answer—nor, at a political moment when empathy and understanding seem ever-more-urgently needed, can walling yourself off from other people's ideas be wise. In February, Emma Green offered this critique of a new book by Rod Dreher, a conservative Christian thinker who calls for like-minded members of his faith to withdraw from public life into communities of their own:
Dreher wrote The Benedict Option for people like him—those who share his faith, convictions, and feelings of cultural alienation. But even those who might wish to join Dreher's radical critique of American culture, people who also feel pushed out and marginalized by shallowness of modern life, may feel unable to do so. Many people, including some Christians, feel that knowing, befriending, playing with, and learning alongside people who are different from them adds to their faith, not that it threatens it. For all their power and appeal, Dreher's monastery walls may be too high, and his mountain pass too narrow.
So, tell us about your experience: How do you incorporate solitary reflection into a 21st-century lifestyle? Can you see communitarian benefits in spending more time on your own—or, on the other hand, point to what society loses when more people spend more time alone? Please send your answers (and your questions) to hello@theatlantic.com.