The Value of Immigrant Doctors
A series of recent journal articles highlight the crucial role foreign-born doctors, some of whom are threatened by Trump's immigration orders, play in the U.S. health-care system.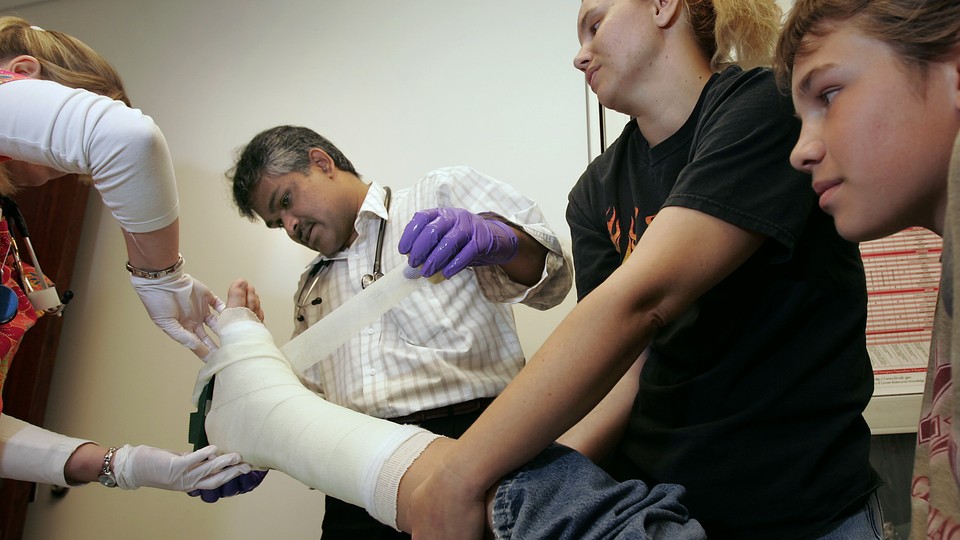 Immigrants from seven majority-Muslim countries have a reprieve—for now at least. A federal judge in Washington blocked President Trump's travel ban Friday night.
That means that among other visa-holders, the 260 medical-school graduates from the affected countries who had applied for medical residency slots in the United States are temporarily able to travel to the U.S. and interview for positions.
But their future is uncertain: The ruling could still be overturned on appeal, which would keep them from returning to the U.S. to actually start their medical training. The future of undocumented doctors already in the U.S. is also uncertain. When he campaigned, Trump promised to deport undocumented people who came here as children—sometimes called "Dreamers"—who have in recent years been given work permits under a 2012 Obama program called Deferred Action for Childhood Arrivals. Trump has since eased his stance, but his pick for attorney general, Alabama Senator Jeff Sessions, has tried to end DACA in the past. As the The New York Times put it last week, "What the president has in mind for DACA is an open question."
In a recent video, my colleague Jeremy Raff reported on the tension this state of affairs creates for undocumented medical residents and young doctors, who have spent years working 80-hour weeks for a pittance with the goal of one day caring for American patients:
When I wrote about this issue last week, some readers shrugged off the prospect of undocumented doctors and those from majority-Muslim countries getting booted from the U.S. "More jobs for American doctors," as one reader put it to me on Twitter.
That's an interesting argument, and there are certainly combinations of policies that could make it so all or most of the health-care providers working in the U.S. are American-born. But a series of recent studies suggests we might want foreign-born doctors here, after all. These international doctors perform slightly better than American physicians, the papers argue, they are more likely to serve in less-desirable areas where doctors are needed, and the diversity they bring helps their teams perform better.
About a quarter of all doctors in the U.S. are foreigners, and they're largely from India, the Philippines, and Pakistan. In 2015, about 6 percent of international medical graduates hailed from the seven majority-Muslim countries covered by Trump's executive order.* They pass the same exams as American doctors, and they compete for a limited number of American residency slots—the post-graduate apprenticeships that doctors must complete to be able to practice in the U.S.
When foreign doctors finish their residency, they have two options: They can return to their home countries to work for two years, and then come back. Or they can get a waiver and stay in the U.S., but only if they practice for at least three years in an area where there aren't enough primary-care doctors. (Why aren't there enough American doctors in the U.S.? It's complicated, but there aren't enough residency slots, and American doctors don't tend to like the country life.) Syria, one of the countries on the banned list, alone supplied 165 of these shortage-area doctors in 2015.
When these foreign doctors do stay to practice in the U.S., though, they take good care of their patients, according to a study published recently in the journal BMJ. The authors, who are with Harvard Medical School, examined the mortality rates of hospital patients cared for by American and foreign medical graduates. The care by the international graduates did cost about $47 more. The international graduates had slightly higher readmission rates, but this was driven by differences in the hospitals, not the doctors themselves. Interestingly, though, the patients treated by foreign doctors were slightly less likely to die. Specifically, for every 250 people treated by American doctors, one would still be alive if they had had a foreign doctor instead.
Jack Tu, a professor of medicine and health policy at the University of Toronto who was not involved with the study, said the study was well-done, but that the results might not be that clinically significant. Still, he said, at the very least, patients treated by foreign doctors don't seem to do worse than those treated by American doctors.
Why are the foreign doctors so good? They might have already done a residency training in their home country, study author Yusuke Tsugawa explained. What's more, "they usually have to pass licensure exams in their own country when they graduate from local medical schools," he said, "and it is difficult for them to prepare for both local and U.S. licensure exams at the same time."
Furthermore, it's harder to get into an American residency program as a foreign doctor than as an American. Only about half of international graduates "match" with a program, compared to 94 percent of U.S. grads. That means foreigners who actually get to become doctors here have to be extraordinarily motivated and prepared. "I think we are selecting the best and brightest from the world," Tsugawa said. "That is why they deliver high-quality care."
Foreign doctors continue to do well as they progress through their careers, contributing to the robust exchange of ideas that leads to medical breakthroughs, as a group of American doctors argued in the The New England Journal of Medicine last week. "Patient care depends on good decision making, a process that can be derailed by bias and strengthened by diverse teams," they write. "Training in internal medicine, in particular, requires the ability to manage complex and often conflicting information and to incorporate disparate viewpoints." They pointed out that 40 percent of the doctors promoted to associate or full professor at Harvard Medical School over the past three years were born in another country.
In fact, as two other physicians, Ahmad Masri and Mourad Senussi, also wrote in NEJM recently, becoming an American doctor as a foreigner is about as extreme of a "vetting" process as you can get.
Last year, 9,206 doctors from 130 countries received visa waivers to work in areas with shortages of medical providers in the U.S., they write. Six of the 10 top countries sending these doctors to the U.S. had majority Muslim populations.
"Physicians with J-1 waivers are filling clinical jobs in areas of need," Masri and Senussi write. "An executive order … may lead to further shortages of physicians in areas that are already in dire need."
As they put it, that's a fact not lost on American patients, regardless of their political affiliation: "As one of our patients put it, 'I voted for Trump, but there is no way I'm going to let him take you away, doctor!'"
---
* This article originally stated that about 6 percent of residents hailed from the seven majority-Muslim countries covered by the order. In fact, about 6 percent of international medical graduates did. We regret the error.