Milo Yiannopoulos and the Myth of the Gay Pedophile
The journalist's comments suggest gay men enjoy sex with children—an idea that has been widely debunked.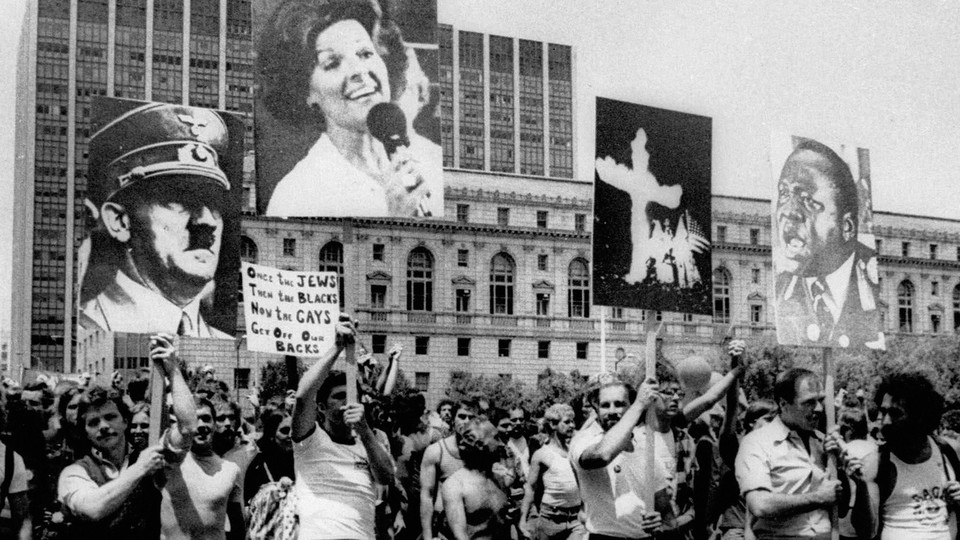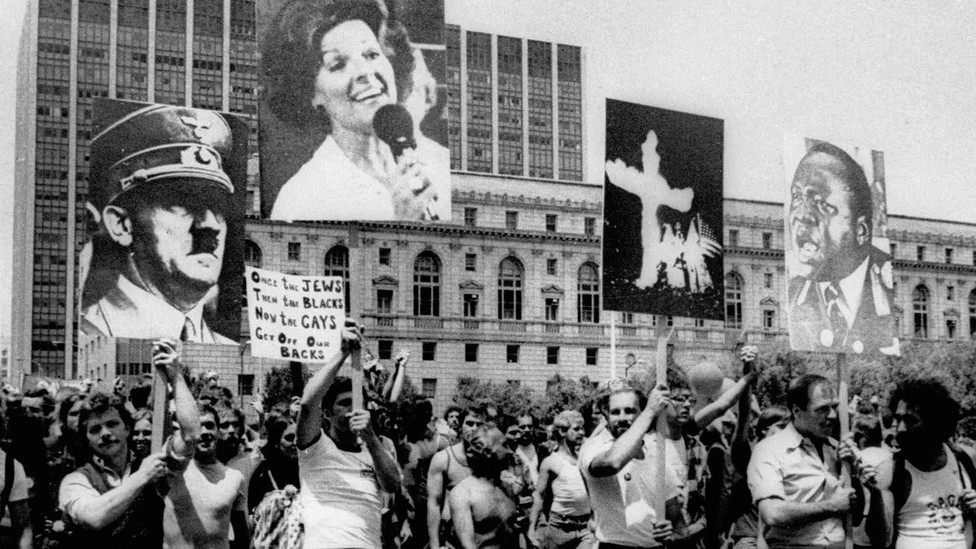 In the comment that cost him his book deal and speaker slot at the Conservative Political Action Conference, the Breitbart journalist and right-wing provocateur Milo Yiannopoulos defended "relationships in which those older men help those young boys to discover who they are."
In the video, a clip of an old podcast episode that was tweeted this weekend by the group Reagan Battalion, Yiannopoulos says he isn't defending pedophilia, before adding that "in the gay world, some of the most enriching ... relationships between younger boys and older men can be hugely positive experiences." (Yiannopoulos later blamed "sloppy phrasing," saying when he was 17 he was in a relationship with a 29-year-old man. The age of consent in the U.K. is 16.)
Among the many reasons Yiannopoulos's comments are being criticized, as Vox's German Lopez points out, is that he lends support to a claim, made by some anti-gay activists, that many gay men harbor a secret desire to molest children. For example, a 2002 document that's still live on the website of the Family Research Council reads that "Male homosexuals commit a disproportionate number of child sex abuse cases." It calls those who don't acknowledge this fact "homosexual apologists."
The suspected (and widely debunked) link to child molestation has been used to suggest that gay people shouldn't be allowed to work with children. In 2005, just 49 percent of poll respondents told Gallup they think gay people should be allowed to be clergy members, and just 54 percent said they should be elementary-school teachers.
Prior to the 1970s, gays in the U.S. were primarily painted by their opponents as "sexual perverts," deviants who were mentally or morally flawed in some way. The think-of-the-children angle, meanwhile, was spearheaded by Anita Bryant, a Christian singer who successfully lobbied for the repeal of a 1977 Miami ordinance barring anti-gay discrimination. Bryant claimed that if gays were granted equal status in society, they would molest children in schools or recruit them to their lifestyle, according to news reports at the time. "The ordinance condones immorality and discriminates against my children's rights to grow up in a healthy, decent community," Bryant told reporters that year.
The name of Bryant's advocacy organization underscored her point: Save Our Children.
The incident is now considered, by some, to be the beginning of organized, conservative-Christian opposition to gay rights. "Back in 1977, there was no organized religious right, per se. Anita Bryant was a pioneer," Fred Fejes, a Florida Atlantic University professor, told the Miami Herald in 2007.
Today, most mainstream researchers say there's little basis for Bryant's argument. Psychologically, pedophilia is considered distinct from sexual orientation. Both gay and straight people are attracted to other adults, while pedophiles target children. Pedophiles can be fixated, meaning they are only attracted to other children, or regressed, meaning they prefer adults but will pursue children under stress or when adults aren't available. Even if in some contexts, such as the Catholic priest sex-abuse scandal, the victims and perpetrators were disproportionately likely to be of the same gender, most researchers say the motivating factor wasn't sexual orientation. Instead, it was the perpetrators' pathological attraction to children and their access to children of a certain gender—altar boys, in the priests' case. "The important point is that many child molesters cannot be meaningfully described as homosexuals, heterosexuals, or bisexuals (in the usual sense of those terms) because they are not really capable of a relationship with an adult man or woman," writes Gregory Herek, an emeritus professor of social psychology at the University of California at Davis, on his blog.
Herek described a number of studies in which scientists tried to find a link between homosexuality and pedophilia—and came up short:
Dr. Carole Jenny and her colleagues reviewed 352 medical charts, representing all of the sexually abused children seen in the emergency room or child abuse clinic of a Denver children's hospital during a one-year period (from July 1, 1991 to June 30, 1992). The molester was a gay or lesbian adult in fewer than 1% of cases in which an adult molester could be identified – only 2 of the 269 cases (Jenny et al., 1994).

Some Canadian researchers observed how homosexual and heterosexual adult men responded to slides of males and females of various ages (child, pubescent, and mature adult). All of the research subjects were first screened to ensure that they preferred physically mature sexual partners. In some of the slides shown to subjects, the model was clothed; in others, he or she was nude. The slides were accompanied by audio recordings. The recordings paired with the nude models described an imaginary sexual interaction between the model and the subject. The recordings paired with the pictures of clothed models described the model engaging in neutral activities (e.g., swimming). To measure sexual arousal, changes in the subjects' penis volume were monitored while they watched the slides and listened to the audiotapes. The researchers found that homosexual males responded no more to male children than heterosexual males responded to female children (Freund et al., 1989).
In conclusion, Herek writes, "The empirical research does not show that gay or bisexual men are any more likely than heterosexual men to molest children." Writing on the Catholic priest sex-abuse scandal in the William & Mary Journal of Women and the Law, Nicole Travers similarly concludes that "pedophilia has nothing to do with sexual orientation."
Nevertheless, the child-molestation question still makes its way into important policy discussions about gay rights. As late as 2010, Family Research Council president Tony Perkins was quoted citing the link between homosexuality and pedophilia as a reason not to repeal Don't Ask, Don't Tell. In Russia, "protecting children" was the stated purpose of a 2013 law banning "gay propaganda."
Perhaps it's just another sign of the upside-down nature of the current political moment that what got Yiannopoulos booted from a conservative gathering, in the end, was exploiting a myth that a religious conservative invented decades ago.