Anatomy of a Cheese Recall
The Listeria contamination tied to an Indiana cheese factory reveals some of the complexities of the U.S. supply-chain.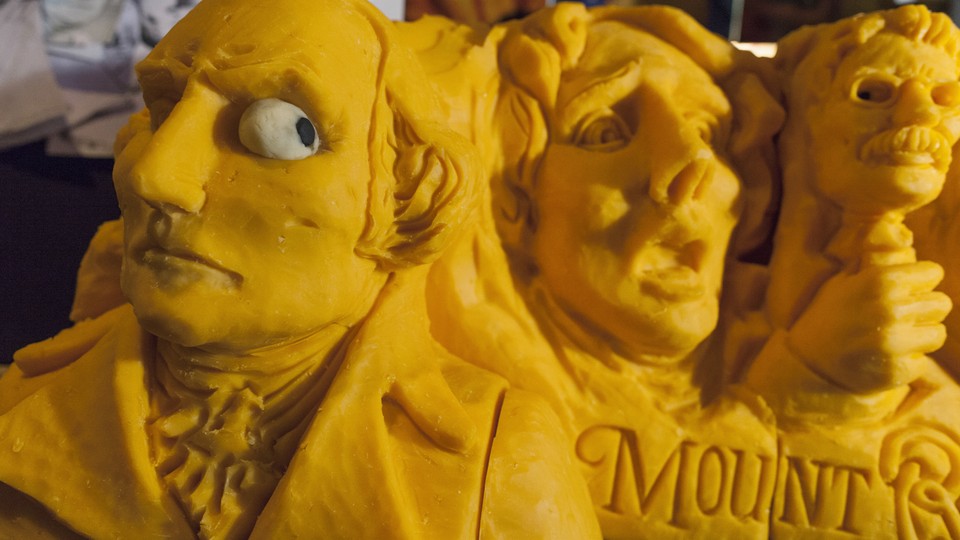 These are chaotic times for Americans. The nationwide cheese recall, I mean. (What did you think I was talking about?)
Several well-known cheese brands—including Sargento, Meijer, Santino, Amish Classics, Country Fresh, and Guggisberg—have issued recalls of Colby, pepper jack, shredded taco, and cheddar cheeses among concerns about listeria contamination at a cheese factory in Indiana. No illnesses have yet been reported.
Listeriosis, the foodborne illness that the Listeria monocytogenes bacteria causes, is a particular danger for those with weakened immune systems. In pregnant women, listeria can cause premature labor, miscarriages, and stillbirth. Listeria is an especially resilient bacteria—unlike many other germs, it can keep growing in a cool fridge.
The danger of an infection is part of why cheese sellers have voluntarily recalled their products in this case. But, as is often the case, the recalls have trickled out over the course of the past week. The timing raises questions about how food safety is handled and discussed among manufacturers, suppliers, distributors, and regulators—and further questions still about how long it takes for consumers to be notified of possible contamination.
For cheese eaters, the questions are straightforward: Where did the contaminated cheese come from? And how do I know if the cheese I have in my refrigerator is safe to eat?
The answers aren't always easy to find.
This recall began with Deutsch Kase Haus, a cheesemaker in Indiana that sells cheese to various companies which then package the cheese under different brand names. Deutsch Kase Haus issued a voluntary recall for products made at its factory between September 1, 2016 and January 27, 2017.
"But we are a business-to-business provider, so we do not label anything under our brand," Mark Hubbard, a spokesman for Deutsch Kase Haus told me, "which means we have a number of customers that fall under that product—and each of those customers are the ones that actually initiate their own recalls that are put up on the FDA website."
In other words, it's up to Deutsch Kase to notify its customers, like Sargento, of the possible contamination—then it's up to those brands to communicate next steps to the the U.S. Food and Drug Administration and the public. ( The FDA is inspecting the plant as part of a coordinated effort with the Indiana Board of Animal Health on the investigation, Peter Cassell, a spokesman for the FDA, told me.)
In some cases, brand-name companies will expand the recall to other products of theirs, in case the contamination spreads from, say, compromised cheese, to other products processed or packaged in the same facility. Once a food recall is issued, each company that's been affected has to then look at how contamination may have spread through its own plant. So more and more products may be pulled into the recall over time. And since each company has its own protocols to follow, they end up issuing their recalls on different timelines. That's why "it's important for consumers to periodically check back to the FDA website" to see how recalls change in scope, Hubbard told me.
All of this becomes more complicated still as supply chains grow longer and longer, and as agriculture and food companies consolidate. The globalization of food supply chains makes widespread outbreaks more likely, and in some ways more difficult to track. Already there are nearly 50 million foodborne infections in the United States each year—and they cause about 250,000 hospitalizations and 3,000 deaths, according to a 2012 paper published by the Institute of Medicine. "Changes in the globalization of the food trade have important implications for food safety," the paper's authors wrote. Mitigating the increased risks associated with a longer, globalized supply-chain will require "robust capacity for public-health surveillance."
Such surveillance could involve cheap sensors, smart labels, real-time database sharing, temperature-reading packaging, and other tools to change the way people are notified of spoiled or recalled food.
The current cheese recall was initiated, Hubbard told me, out of "an abundance of caution." It's still possible, officials hope, that no illnesses will occur as a result. For now, operations at Deutsch Kase are "suspended entirely," while the FDA investigates, Hubbard said.
"You have to be very careful, and you have to go beyond what you think could be happening," Hubbard said. "It's good that word is getting out. We want people to be cautious."