The Shadow Network of Anti-Vax Doctors
Both mainstream and alternative doctors help patients avoid or delay vaccines. Trump's rhetoric might empower them further.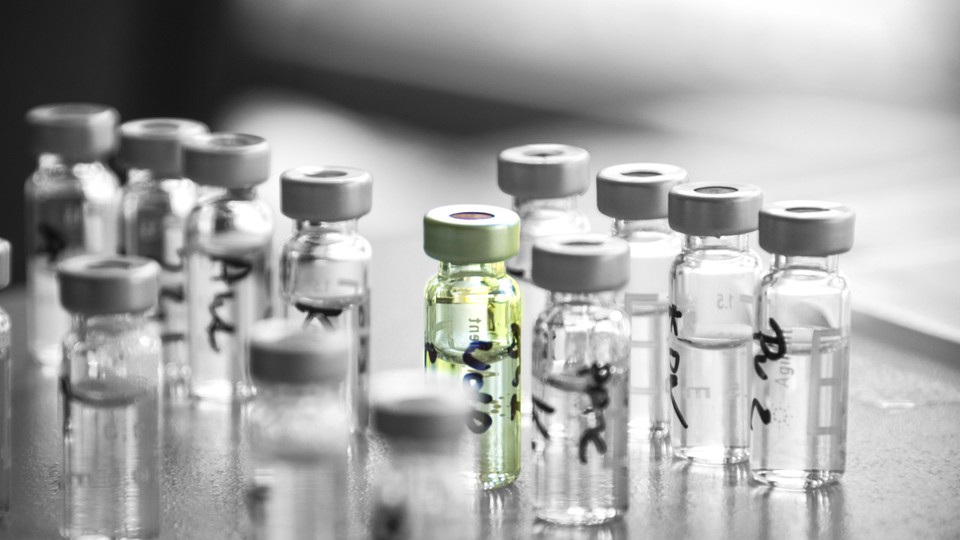 When Andrew Brandeis encounters patients who are skeptical about vaccines at his family-practice clinic in San Francisco, he doesn't toe the typical pediatrician party line—that the standard vaccine schedule is a must-do. Instead, he might help the patient delay or space out their child's shots beyond the recommendations of public-health agencies, if they so desire.
"The earlier you introduce a vaccine to a kid, there is evidence suggesting various adverse reactions," he said. He believes early administration of the Hepatitis B vaccine is linked to allergies, asthma, and multiple sclerosis—something doctors and health agencies vehemently deny. "The parents might say, 'I'm just going to wait on that one,' I'd say that's okay."
He doesn't actively promote this delay strategy, and he said he administers more vaccines than he avoids. Still, his own 2-year-old daughter is unvaccinated, since as Brandeis sees it, "the risks outweigh the benefits."
The prospect of his child wheezing away with a Victorian-era infection is not his biggest fear. "Measles isn't going to kill your kid anymore. This isn't the late 1800s when sanitary conditions were horrible," he said. Besides, he added, "kids are supposed to get sick; they're supposed to get childhood illnesses, it's what builds the immune system." (Mainstream medical groups counter that obtaining immunity from inoculations is not deadly; meanwhile, spreading a communicable disease can cause many deaths.)
Brandeis is one of a sizable number of doctors who allow their patients to avoid or delay vaccines if they are concerned about their health effects. It's unknown how many of these physicians there are, but dozens of names—some even organized by state—come up on earthy mommy blogs and other web communities. "We are hoping to find a pediatrician/pediatric group in the … area who is an MD, but open-minded to alternative medicine, as well as less aggressive vaccination schedules," wrote one California parent on the Berkeley Parents Network in December.
These doctors—and patients who seek them out—could be emboldened if President-elect Donald Trump goes through with the appointment of Robert F. Kennedy, an environmental activist and vocal vaccine skeptic, to lead a commission "on vaccine safety and scientific integrity," as was reported last week. Trump met with Kennedy in Trump Tower on January 10, and Kennedy later told his environmental-group colleagues that he would be taking a leave to chair the vaccine commission. (Trump's team said later that no decision had been made yet.)
It wouldn't be Trump's first flirtation with the anti-vaccine community. "You take this little beautiful baby and you pump—I mean, it looks like just it's meant for a horse and not for a child," he said last year about the vaccine schedule. "We had so many instances, people that work for me, just the other day, 2 years old, a beautiful child, went to have the vaccine and came back and a week later got a tremendous fever, got very, very sick, now is autistic."  In August, Trump met with British researcher Andrew Wakefield, who concocted the vaccine-autism connection in 1998 and whose work has been widely discredited as fraudulent.
"Anti-vaccine beliefs track closely with lack of confidence in the government," Arthur Allen, the author of Vaccine: The controversial story of medicine's greatest lifesaver, told Politico's Pulse Check podcast recently. "We're in the middle of the perfect situation for [anti-vaccine beliefs] to rise."
* * *
Brandeis is a naturopathic physician, or ND, a type of alternative medicine specialist who uses herbs, supplements, and lifestyle counseling alongside standard medical treatments. Most NDs get thousands of hours less formal training than do traditional family doctors, and 20 states license them to practice. Brandeis says other than the focus on holistic health, his practice resembles that of any other family physician—except that he doesn't accept insurance.
Brandeis told me he has no opinion on Robert F. Kennedy or Trump's vaccine commission, but "I'm looking forward to seeing if any new science is exposed. It's really hard to get to the bottom of this one."
By contrast, most mainstream doctors say the vaccine question is beyond settled: Vaccines are some of the safest and most important preventive-health measures around. There is no evidence they cause autism or any other health problem. Meanwhile, measles killed 130,000 people in 2015 and can cause brain damage that lingers for years.
What's more, unvaccinated people don't just threaten their own health. Outbreaks are more likely to occur during dips in the percentage of a population that's immune. And some people—like the immune-compromised or elderly—can't receive certain vaccines, but they are still susceptible to getting sick if an outbreak occurs. A paper published in JAMA last year found that vaccine refusal was associated with an increased risk of measles among both the fully vaccinated and vaccine-refusers.
A high vaccine uptake rate protects the vaccinated and unvaccinated alike. As pediatrician Aaron Carroll demonstrates in this video, not one child under the age of one died from the chicken pox between 2004 and 2007, even though the chicken pox vaccine is not given to children that young. They simply benefitted from the so-called "herd immunity" of older kids who were vaccinated.
"People say it's fine for you to choose what your child has," said Kathryn Edwards, the chair of pediatrics at Vanderbilt University, "but in some ways, you're choosing what other children are exposed to."
Vaccine hesitancy is already on the rise among patients. About 87 percent of pediatricians have encountered parents who have refused a vaccine, according to a 2013 survey from the American Academy of Pediatrics, and pediatricians said the percentage of parents refusing one or more vaccines had increased from 9 to 17 percent over the past seven years.
Vaccines worked so well, Edwards said, that people have forgotten the agony of infectious disease.
"It's a little like the Maytag repair man," she said. "We had such a wonderful product, so the diseases are gone, so people don't worry about them. They worry more about adverse events."
And yet, doctors are some of the most important persuaders of vaccine-wary parents. One study in Pediatrics found that 80 percent of parents said their decision to vaccinate was "positively influenced by their primary care provider." In a position paper, the American Academy of Pediatrics recommends doctors try a "presumptive delivery strategy," presenting vaccines as the standard and leaving little open to debate. For more reluctant patients, pediatricians might show patients pictures of their own, immunized, children, or use motivational interviewing—asking questions with the goal of challenging the patient's assumptions. The AAP paper even leaves open the option for doctors to dismiss patients who won't immunize.
An informal survey of dozens of American pediatricians conducted by Slate's Brian Palmer in 2015 found about half turn away children who haven't been vaccinated, either because they were worried about infecting other patients or because they felt it was a sign the doctor-patient relationship wasn't going well. The ones who didn't reject anti-vaxers began each visit with questions like, "Can we talk about vaccines today? Is there anything I can tell you that would help you feel more comfortable?"
---
Reasons for Vaccine Refusals in 2006 and 2013
---
Naturopathic and alternative medicine doctors, meanwhile, are more likely to nurture patients' anti-vaccine views. Children who saw alternative practitioners had a lower uptake of the flu shot; only half of patients who saw a Canadian naturopathic practice in 2010 were fully vaccinated; and in 2004 only 13 percent of Canadian NDs would advise full vaccination. Children in Washington state were less likely to be vaccinated if they received naturopathic care, and they were more likely to have a vaccine-preventable disease. Parents who refused or delayed vaccines are more likely to say that their decision was influenced by a complementary or alternative medicine practitioner.
Through a Google search, I found what purports to be a position paper on vaccines that was posted to the website of the American Association of Naturopathic Physicians. Seemingly updated in 2011, the paper reads, "All physicians and institutions providing care for children and adults should respect the responsibility and freedom of patients, parents and guardians to decide whether or not to proceed with the immunizations or the recommended immunization schedule within the range of options provided by state law." A spokeswoman for the AANP had no comment on the paper or its authorship, and today the organization's website simply says, "A task force of the AANP is revising the profession's position paper on vaccination."
Britt Hermes, a former naturopathic doctor who now advocates against alternative-medicine practitioners, says NDs are overwhelmingly anti-vaccine. During her studies at Bastyr University, a naturopathic medical school and Brandeis's alma mater, she met one naturopath who promoted elderberry syrup as a substitute for the flu shot, she said.
"My pediatrics course at Bastyr trained us to deliver alternative vaccination schedules and taught that delaying childhood immunizations was a reasonable choice for any child," Hermes wrote in an email. "My pediatric course also required a writing assignment on a vaccine preventable disease and a discussion of the risks and benefits of immunization. The Vaccine Book by [vaccine skeptic] Dr. Bob Sears was listed twice on my course syllabi."
Alternative schedules— vaccines spread out over a longer period of time—are a common middle-ground between mainstream doctors and anti-vaxers, but most medical organizations say they are unproven and risky, since children can still contract diseases while waiting to receive their shots.
A representative of Bastyr University said the school now refers NDs-in-training to the CDC as a "resource on immunizations." "As advocates of preventive medicine, we believe vaccines are a scientifically sound and effective method of preventing infectious diseases," the university said in a statement. "We recommend immunizations to protect children and adults from adverse consequences of infectious disease."
However, Bastyr's statement also suggested immunizing can have downsides, adding "students are trained to discuss the safety, benefits, and risks of vaccines to all patients." It provided links to the websites of several Bastyr graduates, now running their own practices, who give patients "informed choice" over vaccines and help them "navigate through vaccine information and alternative vaccination schedules."
Not all naturopathic physicians oppose vaccines. Matt Brignall, a naturopathic doctor and clinical instructor at Bastyr, said he teaches the conventional, CDC-approved vaccination schedule in his courses. He would like to see a tightening of vaccine exemption rules, does not advocate alternate schedules, and opposes Trump's purported choice of Kennedy to study vaccines. "Note that this type of fake inquiry is likely to increase the public perception of risk, leading in turn to further drops in vaccine coverage rates," he told me via email.
And yet, it's not just naturopathic doctors who doubt vaccines. Earlier this month, Daniel Neides, a medical doctor and director of the Wellness Institute of the Cleveland Clinic, wrote a column for the news site Cleveland.com that questioned the safety of vaccines, saying they come "at the expense of neurologic diseases like autism and ADHD." After a PR firestorm, the Cleveland Clinic disavowed the column and said it would stop selling homeopathic treatments in its gift shops. (Neides declined to comment further.)
Jay Gordon, a board-certified pediatrician in Santa Monica, California, estimates that about 90 percent of his patients are not on a typical vaccine schedule. "I get vaccines," he said, "but I don't believe that the vaccine schedule that we have now is the best way of doing it."
He said that he would, after a discussion, support a patient who didn't want to vaccinate at all, though he realizes the patient would be contributing to the erosion of herd immunity. "One reason the risk [of infectious disease] is small is because of vaccines, and I don't want things to change overnight," he said. "I don't want to abandon all vaccines, and I don't like the anti-vaccine agenda."
"It gives me the luxury of being disliked by both ends of the spectrum," he added.
* * *
The Kennedy news sparked worries among some doctors that Trump will wrench responsibility for vaccines away from the CDC and hand the reigns to a pseudo-scientific panel, or that he will dismantle programs that protect vaccine makers from frivolous lawsuits.
In the meantime, he risks shaking the public's trust in a vaccination schedule that has saved millions of lives and allowed Americans to live 30 years longer. As the recent wave of anti-vaccine alarm has shown, confidence in vaccines works similarly to herd immunity. It takes a universal acceptance of fact, and a rejection of conspiracy theories, to get every parent's buy-in.
Last week, Kennedy told reporters, "Everybody ought to be able to be assured that the vaccines that we have ... [are] as safe as they possibly can be."
But doctors say even the hint that patients need such "assurance" is toxic. After all, people question vaccines because authority figures raise questions about them. Patients don't question whether it's the right choice to eat apples, because doctors and politicians have never suggested that the jury is still out on fruit.
As Daniel Summers, a pediatrician in New England, wrote in the Washington Post recently, "The mere creation of the commission, meant to investigate a question that has already been asked and answered many times over, is ominous."