How Activists Are Protecting Reproductive Rights Under Trump
Taking a page from the anti-abortion lobby, pro-choice groups are pushing proactive legislation at the state level.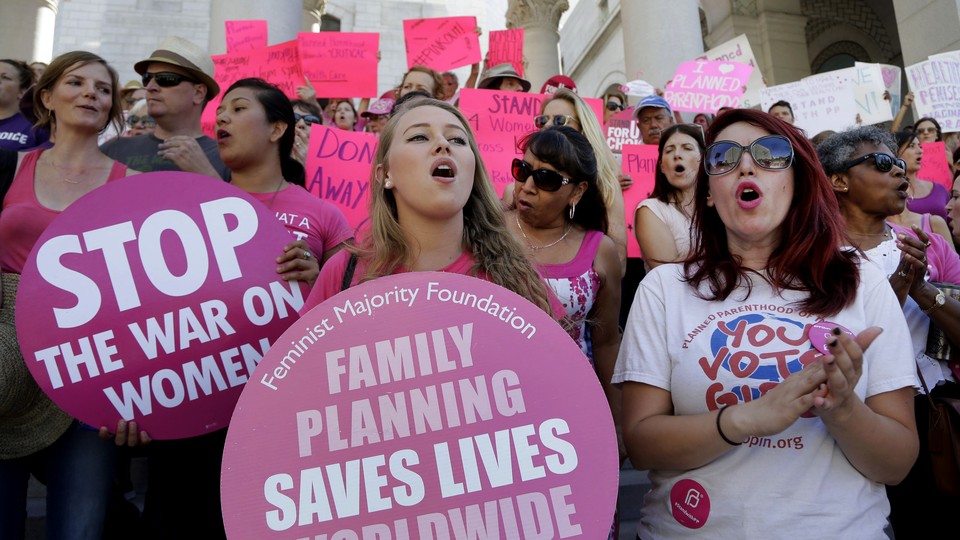 In deep-red Kentucky, a reproductive-rights group is urging Democratic state legislators to introduce a resolution that declares, in a very blue-state manner: "abortion is health care."
"Abortion shall be recognized as an essential component of women's health care," the model legislation reads.
In Republican-dominated Arizona, meanwhile, State Senator Katie Hobbs plans to introduce a bill that would allow more insurance plans to cover abortions and would help rape victims access emergency contraceptives. The measure is another brainchild of the same reproductive-rights group, the Public Leadership Institute.
The Institute hopes to see introductions of these pro-choice and pro-contraception bills—many of them authored with PLI's help—in 18 states in the coming weeks. It and other pro-choice groups are steeling themselves against a federal government that's solidly pro-life. The majority-Republican Congress hopes to de-fund Planned Parenthood, President Donald Trump has said women who get abortions should be punished (he later walked it back), and Trump is expected to appoint a pro-life conservative justice to the Supreme Court soon.
In response, pro-choice groups are looking to the states—and mirroring their opponents, who have passed some 300 restrictions on abortion in the states in the past five years.
"The [pro-life] opponents are engaging in some incredibly distasteful behavior to try to achieve their means," said Gloria Totten, the founder of the Public Leadership Institute. "We have to arm progressive policymakers with bills that will help mainstream some of these issues. We are not going to let you cut this service off, and marginalize and villainize [abortion] and the women who decide to have this procedure."
Abortion foes have long used bills pre-written by lobby groups to enact abortion restrictions in the states. To name just one example, in 2015 Arkansas enacted HB 1578, based on Americans United for Life's "Women's Right to Know Act," which requires doctors performing abortions to describe "the probable anatomical and physiological characteristics of the unborn child."
Just like Americans United for Life, the Public Leadership Institute uses a "playbook" of model pro-choice bills, which it hands over to advocacy groups and legislators. Some of their ideas strike aggressively at the other side. One bill would force crisis pregnancy centers to state plainly that they don't provide abortions or other medical services—a blow to the organizations, many of which attempt to imitate abortion providers in an effort to persuade women to keep their babies.
Americans United for Life spokeswoman Kristi Hamrick acknowledged the similarity between the two, saying via email, "imitation is the sincerest form of flattery, meaning that pro-life legislators and advocates nationwide should be flattered by the abortion industry's backhanded acknowledgment that protecting life at the state level has been effective."
Nan Little Kirkpatrick, from the Texas Equal Access abortion fund in Dallas, said PLI's help was instrumental for her tiny, mostly volunteer staff. "I know how to get the people out, but writing a resolution is not really in my wheelhouse," she said. PLI said it wants to get the "Abortion is Health Care" resolution introduced in Texas, as well.
In Minnesota, Representative Erin Murphy on Monday introduced the "Comprehensive Contraception Coverage Act," which would enshrine insurance coverage of birth control in state law. Murphy said she worries the Affordable Care Act will be repealed by the Trump administration, taking the law's free access to birth control with it. (The contraceptive bill is not from PLI's playbook. However, PLI believes Minnesota lawmakers will introduce another of its bills this month.)
PLI and other pro-choice groups, Murphy said, "bring together the legal research, policy work, and on-the-ground strategies and organizing in order to move people to support legislation like this." A coalition of abortion-rights groups lobbied for the introduction of a similar contraception-coverage bill in New York recently.
In addition to PLI's work, the Center for Reproductive Rights, famous for litigating the Whole Woman's Health Supreme Court case that struck down abortion restrictions in Texas last year, is convening a gathering of progressive state legislators this June to discuss pro-choice legislation. In Virginia, the group pushed for the "Whole Woman's Health Act," which prohibits the enforcement of any abortion restriction that doesn't have a legitimate health benefit.
Leaders from CRR and PLI said their opponents had beat them to the state-by-state proactive legislation game. After abortion was legalized under Roe v. Wade, pro-choice groups at first celebrated, then remained constantly on the defensive, fighting off abortion restrictions in courts. "It's a little bit of a frog in boiling water," said Kelly Baden, the interim senior director of U.S. policy and advocacy at CRR. "We had the right to abortion, so we stepped back and our opponents took that as a sign to start organizing at the state and local level."
Baden and Totten realize many of their bills will face an uphill battle in the current political climate. But they hope that with each new bill introduction, the idea of radically pro-choice policies will seem more normal. The point is "to build a movement that supports the effort," Baden said. "People need something to rally for, and not just to rail against."