Trump Strikes at Abortion With a Revived Foreign-Aid Rule
The president has reinstated a contentious policy that blocks funding to international family-planning organizations unless they agree not to promote abortion.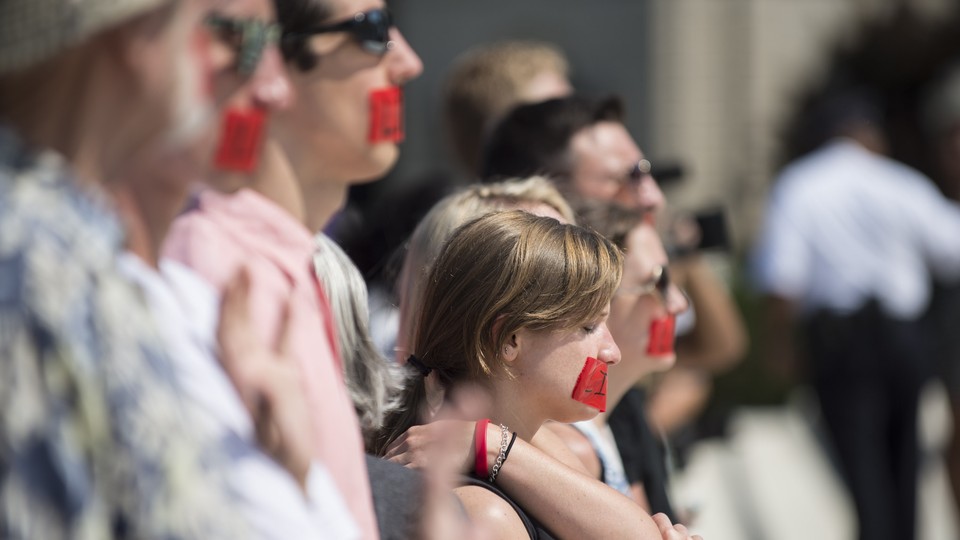 On Monday, just days after hundreds of thousands of women marched on Washington, as well as in hundreds of cities around the nation and the world, to call for, among other issues, the protection of women's reproductive rights, President Donald Trump signed off on the first anti-abortion policy of his term.
It was expected: Almost immediately upon entering office, every new administration since 1984 has repealed or reinstated, according to its party's position on abortion rights, a rule that prohibits foreign organizations that receive U.S. family-planning funds "from providing counseling or referrals for abortion or advocating for access to abortion services in their country."
This rule, known as the Mexico City policy, blocks U.S. family-planning assistance to these groups, even if their abortion-related activities—including information, referrals, or services—are conducted with non-U.S. funds. Opponents to the restriction have dubbed it the "Global Gag Rule" because it hinders communication between health-care providers and patients.
Originally put in place by Ronald Reagan, the Mexico City policy followed two other pieces of legislation that curbed funding for abortions. The Helms Amendment, passed quickly after the Roe v. Wade decision in 1973 and sponsored by Republican Senator Jesse Helms of North Carolina, prohibits the use of U.S. foreign aid for abortion services. The next move to restrict abortions came in 1976 with the Hyde Amendment, which prevents any taxpayer dollars from covering elective abortions in the United States.
Jennifer Donnally, a historian who studies abortion rights, offered context on the period when these policies were first implemented. In the decade following the Roe decision, the anti-abortion community splintered on what approach to take. As some activists pushed for the Human Life Amendment to reverse Roe, others began focusing on locating and restricting funding at all levels of government, from state and federal budgets to foreign-policy assistance. Soon, going after funding "became a core strategic goal as well as something that they were gaining victories on," Donnally says.
She further explains that Ronald Reagan, running for a second term in 1984, found himself the target of activists' frustration over his Supreme Court appointment of Sandra Day O'Connor, who had voted as a state senator for a preliminary bill to decriminalize abortion. One of Reagan's advisors, Alan Keyes, helped craft the policy and presented it at 1984 International Conference on Population in Mexico City in part to appease Reagan's anti-abortion supporters.
Now, the signing of the order is filled with symbolism. Always falling on or within days of the January 22nd anniversary of Roe v. Wade, it's become a way for the incoming president to signal to his party and supporters an initial commitment for or against abortion rights.
Stephen Phelan, of Human Life International, or HLI, a clergy-led anti-abortion group that the Southern Poverty Law Center labels extreme, said his organization sees the reinstatement of the policy as a "baseline" and would "like to see the Mexico City policy strengthened, as far as enforcement." He expressed concern that international aid groups violate the policy. While he has not been in direct contact with Trump's team, he said HLI is optimistic that the new administration is appointing people sympathetic to its cause.
Sneha Barot, who works at the reproductive-health research and policy center The Guttmacher Institute, said that the restriction interferes with doctor-patient relationships, because preventing caregivers from informing patients about reproductive choices can ultimately expose women to unsafe abortions. Barot summarized the policy's effect in a brief for Guttmacher: "Health providers have been forced to fire staff, reduce their services or even close their clinics altogether."
The policy can also lead to a "chilling effect," Barot explained in an interview. "We've seen in the past that NGOs are so afraid of the policy that they over-interpret it. … They self-censor activities that are permitted under the gag rule." Now that the policy is back in place, she said, foreign organizations are "in a really untenable position: accepting USAID money and not providing comprehensive services to their patients."
In New York magazine, the journalist Lisa Ryan recently reported on a set of studies that tracked the effect of the policy on abortion abroad. One, conducted by International Food Policy Research Institute in 2015, looked at the Mexico City policy's impact in Ghana. When the policy was in place, a number of clinics curbed services or closed completely. There was an upswing in unintended pregnancies, with 20 percent ending in abortion, explains Ryan.
Another, from Stanford University in 2011, showed "robust empirical patterns suggesting that the Mexico City policy is associated with increases in abortion rates in sub-Saharan African countries." The study's authors wrote of the unintended consequence the rule seems to have: "If women consider abortion as a way to prevent unwanted births, then policies curtailing the activities of organizations that provide modern contraceptives may inadvertently lead to an increase in the abortion rate."
As advocates for abortion rights brace for the fight to protect those rights in the United States, international foreign-aid groups now face what is likely the first step in a broader pullback by the Trump administration on family-planning support abroad.