The Post-Traumatic Psychology of Disaster Survivors
Victims may be at risk of developing PTSD, but the experience may also spur growth.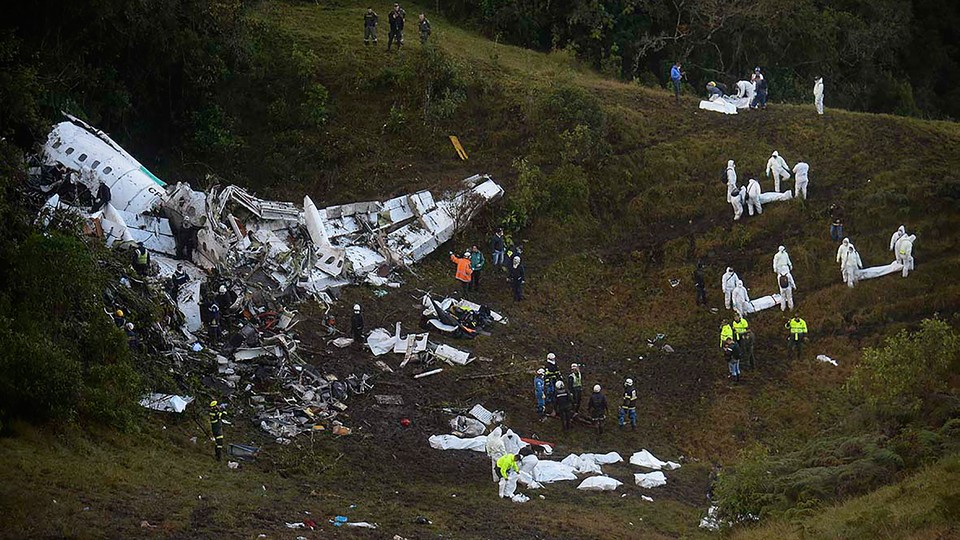 On August 16, 1987, 4-year-old Cecelia Cichan lost her parents and her brother in an airliner crash in Detroit. She doesn't remember the event, which claimed the lives of 156 people, but as she grew older, she began to wonder why her life was the only one spared. "I remember feeling angry and survivor's guilt. Why didn't my brother survive?" she says in CNN Films' Sole Survivors. "Why me?"
It's a common question among survivors of traumatic events—and one that may resurface among those who survived last week's airplane crash near Medellin, Colombia. The night of November 28, an airplane carrying members of Brazil's Chapecoense soccer team and a number of journalists crashed in the mountains in Colombia. Seventy-one people died. The team was on its way to compete in the Copa Sudamericana finals, one of the most important soccer tournaments in South America. It had been a huge feat for a team considered to be the underdog.
Six passengers survived the crash, three players, two crew members, and a journalist. These survivors may process the incident on a couple of different levels—mourning those who died in the crash, of course, but also grappling with having narrowly escaped that fate themselves.
To some degree, as was the case for Cichan, they could feel survivor guilt, which may be associated with post-traumatic stress disorder and depression, according to Russell Jones, a psychology professor at Virginia Tech. But the relationship is complicated. Individuals who have gone through a traumatic event might develop PTSD, depression, or survivor guilt—"or some combination of the three," Jones said.
The likelihood of dying in an airliner crash is slim. But when crashes do occur, organizations are equipped to respond. The National Transportation Safety Board Transportation Disaster Assistance Division, which assists victims and families in aviation accidents in the United States, helps address four areas of concern, according to Elias Kontanis, the acting chief of the TDA division: initial notification of involvement, victim accounting, access to information and resources, and personal belongings. The division also attempts to respond a flurry of questions that are common in the wake of accidents.  "Survivors will have different questions and concerns sometimes," Kontanis said. "A survivor may want to know how they got out of a vehicle or how they are rescued. That may be a strong focus for them."
Valerie Cole, the manager of disaster-health services and disaster mental-health at the American Red Cross, which works with the NTSB, added that "often times because of the trauma, the immediate response is confusion or the immediate response is not remembering exactly what happened." It differs on a case-by-case basis: For some survivors, the memory of the incident may be impaired, while others may remember it in detail. Responders are sensitive to this. In their first interactions with survivors, they'll work to attend to their basic needs, ensuring that they have food, shelter, and are in touch with family, Cole said. Meanwhile, the family members of victims may be seeking more information about their loved ones—where they are, what their status is—and the incident—how it happened and what comes next. Information is also shared with survivors if they're curious. And while responders may listen to survivors' stories of the incident, they do not "delve or probe" in an attempt to avoid solidifying memories which might harm their progress in the long run, Cole said.
Still, in the long term, survivors may become frustrated or severely depressed. And the "survivors" of a disaster aren't only the people who experienced it—the loved ones of those directly involved can also be affected. An individual doesn't have to witness an event first hand to be susceptible to PTSD, but they do have to know the person involved in the traumatic event, Jones said: "People that are injured, people that know individuals that were actually killed, people that were actually there at the time of the event are more likely to develop PTSD." A 2011 study on the 2007 Virginia Tech shooting found, for example, that students who could hear shots as a result of their close proximity to it and were aware of the incident, knew someone who was either killed or injured, or couldn't get in touch with someone during the shooting had high levels of post-traumatic stress, Jones said.
An example of the toll a traumatic event might take on someone not directly involved itself emerged shortly after the accident in Colombia. Chapecoense team member Alejandro Martinuccio, who did not travel to the country, told Argentina's La Red radio, "I was saved because I got injured." He added: "I feel profound sadness. The only thing I can ask is prayers for the companions who were on the flight."
These widespread effects can come from any kind of trauma, including a natural disaster or, in the case of a plane crash, a technological disaster. The latter may cause a greater likelihood of distress and anxiety among survivors and victims families because "it's often a man-made error or the event was preventable," Jones added.
But for some, surviving a disaster can actually make them happier and more well-adjusted. A 1999 study found that airplane crash survivors might be better off in the long term than travelers who fly frequently but have never been in a crash. The authors, Gary Capobianco and Thanos Patelis, examined two groups: one included 15 airplane crash survivors and the other consisted of eight people who had never been in an airliner crash. The participants responded to a series of questions regarding emotional distress.
"The psychological well-being of airplane crash survivors compared to air travelers who have never been involved in any type of aviation accident or crash was much better on all the levels measured. The crash survivors actually scored lower on several standardized measures of emotional distress than the flyers who hadn't been in an accident," the authors wrote.
As the 1999 study and others have shown, traumatic events may eventually result in positive change, otherwise known as post-traumatic growth. The term is defined by the Posttraumatic Growth Research Group at the University of North Carolina at Charlotte as a "positive change experienced as a result of the struggle with a major life crisis or a traumatic event." Two psychologists, Richard Tedeschi and Lawrence Calhoun, coined the term. They found that a survivor might experience a positive change in five ways: by finding increased inner strength, discovering new possibilities in life, developing deeper relationships, strengthening their sense of spirituality, or finding a greater appreciation of life. In Tedeschi and Calhoun's study, a majority of the trauma survivors surveyed reported positive change.
Survivors can experience post-traumatic stress and post-traumatic growth simultaneously, said Jim Rendon, the author of Upside: The New Science of Post-Traumatic Growth. "People go through something really traumatic, they have PTSD, post-traumatic stress symptoms that last for any certain amount of time, and then as they're struggling with those and hopefully after they're able to manage those symptoms to some extent, they start to be able to reflect on their experience," he said.