Abortion Privilege Under Trump
Under the new president, states might become a patchwork of abortion rights, and many women won't be able to afford to reach clinics in time.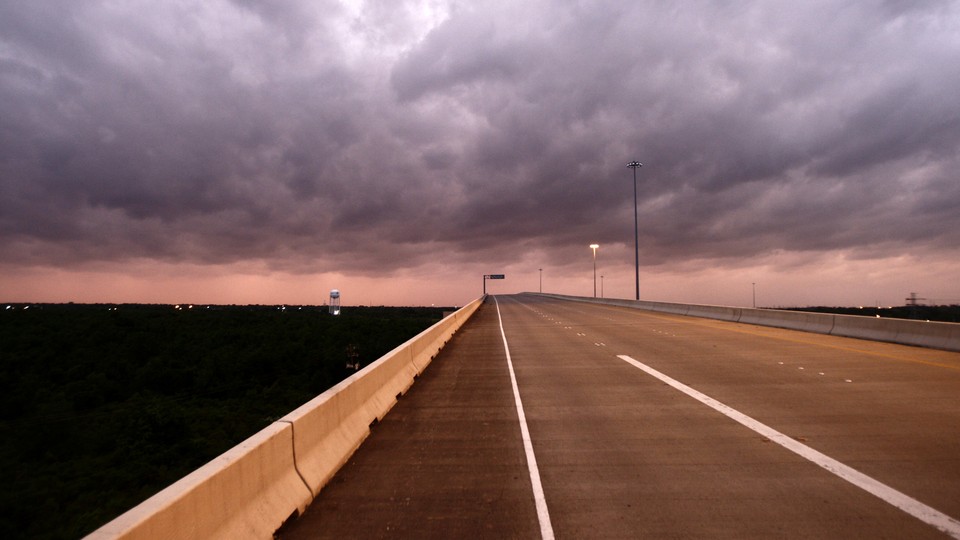 When asked by CBS's Lesley Stahl earlier this week about his vision for the Supreme Court and abortion rights, President-elect Donald Trump responded with a common pro-life wish:
"It would go back to the states," Trump said, if Roe v. Wade, the court decision that legalized abortion, were overturned.
"Yeah, but then some women won't be able to get an abortion?" Stahl asked.
"Yeah, well, they'll perhaps have to go, they'll have to go to another state," Trump responded.
The idea that each state should determine the legality of abortion for itself is a fairly standard pro-life stance. That's the goal of Americans United for Life, the lobbying group that wrote many of the abortion restrictions that have swept through state legislatures in recent years. Last year when I asked Dan McConchie, the group's vice president of government affairs, if he would be okay with a state opting for an outright abortion ban, he said, "Yes. It's the will of the people within that state to be able to act in that manner."
Let's leave aside the fact, that, as my colleague Peter Beinart and many others have pointed out, Trump doesn't stick to a coherent position on abortion. If we take him at his word that his goal is to use the Supreme Court to revert decisions about abortion back to the states, then some states will ban abortions, and some women will "perhaps" have to travel to other states for the procedure.
The simplicity of Trump's phrasing belies the logistical and financial nightmare that traveling for an abortion has been for many women in states with restrictive laws. There's no need to engage in hypotheticals to see how this would play out. In 2013, Texas passed tough restrictions on abortion clinics, which were struck down by the Supreme Court this summer. In the intervening years, the law caused the number of abortion clinics in the state to dwindle from 41 in 2012 to just 17 in 2015, and the distance to an abortion clinic for the average county to shoot up from 72 to 111 miles.
A University of Texas group called the Texas Policy Evaluation Project began tracking women's experiences in trying to get an abortion under these conditions. Late last year, the researchers found between 100,000 and 240,000 Texas women had, over the course of their lifetimes, induced their own abortions—mostly by taking an abortifacient pill, but also by other means, including "getting hit or punched in the abdomen."
In March, the team found women whose nearest clinic had closed had to travel nearly four times as far for an abortion, 85 miles on average. Women living in an area with a closed clinic spent more and were more likely to say it was "somewhat or very hard" to get to their appointment. Women became less likely to get medical abortions, which are often safer and can be performed earlier in the pregnancy than surgical abortions.
Most recently, the TxPep researchers performed 20 interviews with women they met at 10 abortion clinics across Texas in 2014, before the abortion restrictions were struck down. The women faced steep hurdles at every turn, they found, from making the appointment, to getting to the clinic, to covering the logistics for the multiple visits the state's laws required. The majority had to make several calls before they could find an open clinic, and one woman had to drive 300 miles to the nearest doctor. Many had to ask friends or relatives for gas money. One had her van break down, forcing her to take a "combination of cab, city bus, and Greyhound bus," to the clinic. Half the women were already mothers, so they had to ask someone else to watch their kids while they traveled, violating their rights to medical privacy.
And this wasn't even a state that had outlawed abortions. It was just a really big state that made it so abortion clinics were much fewer and further between.
This isn't a Texas-specific phenomenon. When researchers asked women who sought abortions at 30 different clinics around the country, "Did anything slow you down and prevent you from getting to the [clinic] earlier in your pregnancy?" for a 2014 study, cost and distance were the top reasons the women cited. The procedure and related expenses cost, on average, a third of their monthly personal income. And compared to women who were able to terminate their pregnancies, women deterred from procuring an abortion because of its cost were more likely to be out of work, on government assistance, and living in poverty a year later.
According to the Guttmacher Institute, 19 states have laws on the books that, if Roe were overturned, would automatically ban or severely restrict abortion. Many of them are contiguous, such as the long stripe between Missouri and Louisiana, as well as both North and South Dakota.
So, yes, women will "perhaps have to go to another state" in a post-Roe world. But that's not a trivial consideration. One thing about which both critics and supporters of the idea agree is that the change would have real consequences: for the difficulty of obtaining abortions, for the likelihood that women will procure them, and for the lasting consequences of that decision.