Conflicted About Having Kids: Your Thoughts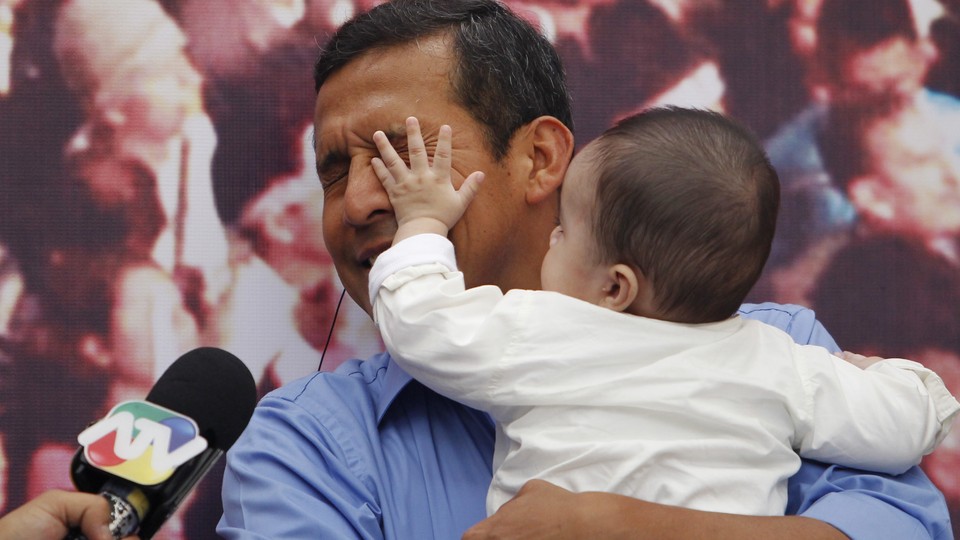 Editor's Note:
This article previously appeared in a different format as part of The Atlantic's Notes section, retired in 2021.
Many of you have responded to Olga's call for stories about why you decided to have kids or not. One mother writes, "I know what it's like to be undecided":
When I was 37, my husband and I had been trying to get pregnant for six years on and off. We were really on the fence—try fertility treatments, or just live an unencumbered child-free life? Both options seemed okay.

I'm afraid this sounds selfish, but more than legacy or any other reason, I wanted to know firsthand what it was like to be a parent. It felt like I'd be missing out on a huge part of the human experience if my husband and I chose not to have a child.

Anyway, we took the necessary fertility measures, had a baby, and being a mother to this little boy is so much better than I could have imagined. Sometimes I think about how close we came to giving up on parenthood and I can't believe it.
Of course, fertility measures can be costly and stressful, as our readers who have shared their experience with infertility can attest. If money was the deciding factor in your choice about parenthood, we'd like to hear about it.
For this next reader, it took some firsthand experience with childrearing to decide she didn't want any biological kids of her own:
I never really gave it much thought: I assumed I'd have kids some day when I was older and married, just like everyone else. When I started dating my now-husband, who has kids, I thought it would be fine—I had worked as a nanny and thought I was good with kids. But I wasn't, and it was horrible.

The never-ending stream of chores that somehow quadrupled when they came to visit was overwhelming. I was clearing breakfast while trying to make lunch and wash ridiculous quantities of clothes, while the TV blared cartoon music and someone would be shouting "Daddy, watch me do this!" I am not a crier, but several times during each visit, I went into a bathroom and allowed myself a quick three-minute sob fest.

It was exhausting, and it would repeat day after day. I enjoyed none of it; I just grimly set to get through the days. When they'd go home, I would burst out in tears from relief.

And they weren't bad kids! They were completely normal, well-behaved children who just needed to be taken care of by the adults. I have no illusions that my own kids would somehow be easier or better. Probably worse.

That's when I started thinking: I don't want this.
I can do it for a couple of weeks here and there, but I don't want this to be my life. My husband is older, and to put him through that again sounds cruel. Plus, even though we make good money, I can't fathom how we could pay $15K a year for school (public schools where we live are atrocious).

A child would absolutely decimate our lives and financial security. But more importantly, it would destroy my marriage. My husband and I have been happily married for almost 10 years now, and I know for a fact that our happiness and huge love are due to the fact that we have the time, energy, and desire to put each other first. To throw that away for a kid would be nuts.

As I age out of the whole possibility of kids, I am more and more confident that this is right for me, and us.
Have you broken off a relationship because you weren't ready to be a stepparent—or, conversely, have you built a lasting relationship with a former partner's kids? We'd like to hear from you. Here's one stepfather's story:
I was raised an only child by a single mother, and I never, EVER thought I would have kids. From an early age, I was burdened by the troubling statistics of the modern world, and it remains apparent to me that we are reaching peak population for our planet.  

But I met a young woman in my early twenties who had a child as a teen and was raising her daughter into an exceptional human being. I helped raise that girl, and it changed me. The nagging sense of existential dread I had was dissipated most easily in the presence of this young beacon of possibility.

I could have prioritized career or travel or any of the plethora of life-affirming goals, but I am not sure I would be as happy doing any of those things without sharing joy with others. Sharing is something you can do with anyone, but a wise mentor once told me that having a child is the closest thing you can do to reckon with your mortality. You are somehow brought closer to yourself than through any other relationship, including your spouse.

Now, I'm 32, with two boys of 6 and 1. I can't say I ever felt very confident in my decision to have kids. To this day, it remains a complicated feeling. But I don't regret it. I still believe the world is troubled, and that bringing life into it holds a burden for me that is hard to shake. But it also remains the most hopeful act I've ever made.  
One last reader for now, a 36-year-old stepmom of two, says the question of whether to have a baby is "on my mind a lot":
When I was younger, I thought I would definitely have kids. I saw it as inevitable. Then I met my now-husband and he already had kids. I thought this would be the perfect situation: half-time kids, no pregnancy. Win-win, right? Ha!

Even though I care about my stepsons and sincerely want the best for them, I don't enjoy when they spend time with us. I end up just hoping that we will get through their visits without fighting (kids and me and my husband and me). And now, I put premium value on the time I have with my husband alone.

I am concerned that by having a baby I will lose all the intimate and fun time I have with my husband now. And I'm terrified that introducing a new baby into this situation will create additional stress in an already stressful situation—that my stepsons, our new child, or all of them will feel marginalized at home.

And then I'm nervous about the physical changes that occur with pregnancy and giving birth. Two of my close friends just had very difficult and even dangerous pregnancies and deliveries.

If I put all of the above cons on a mental balance, it is equivalent to my fear of missing out on what it might mean to be a mother and all of the life experiences that come with that. I am fortunate to have a wonderful relationship with my mom and deeply want to have a similar experience with my own child. I feel truly conflicted.
If you're conflicted too, please send us a note: hello@theatlantic.com.