Tell Us: Why Did You Choose to Have Children?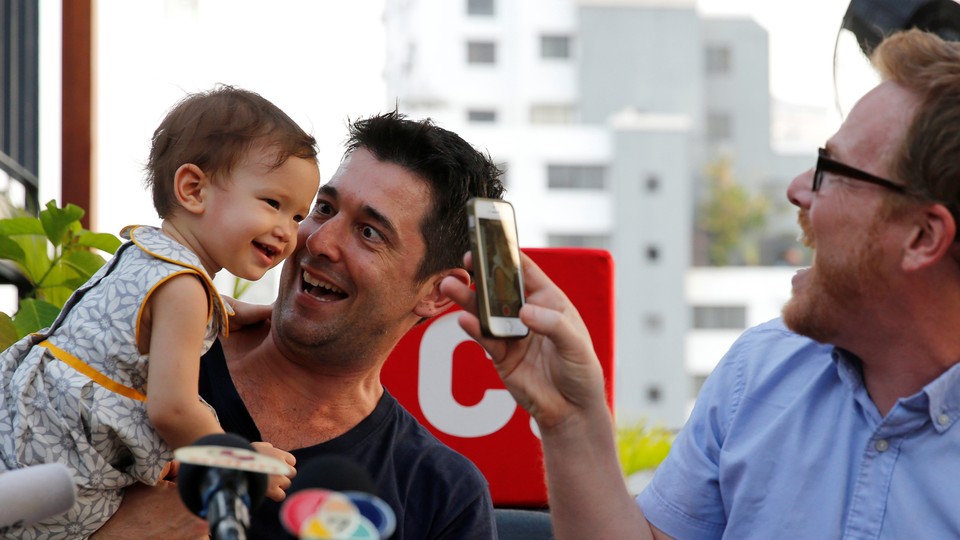 Editor's Note:
This article previously appeared in a different format as part of The Atlantic's Notes section, retired in 2021.
Just call me the Ken Bone of procreation. I am hopelessly undecided about whether to have kids, even though it's getting to be pretty late in the game, so to speak. My lists of pros and cons for both sides are equally lengthy—but something tells me the ultra-rational approach isn't the right one here. Because of my job, I know all the stats about parenthood; I've read all the studies; I've even sat in on parenting classes. I still have no idea.
Unplanned pregnancies are at their lowest level in 30 years, which means increasingly, parenthood is a choice people make. And it's one of the most important choices a person does make. The internet is filled with stories of people weighing the decision and concluding they are glad they had kids after all, or that remaining childless was ultimately best for them. (There's also a smaller number of people who admit they regret having kids.) But there's not as much out there about how people—those for whom parenthood was a choice—actually made that choice.
And so, like Bone, I stand before you, very torn, slightly nervous, and with an earnest question on my mind: What made you decide to have kids?
To begin a new reader discussion in Notes, we are interested in learning what ultimately made you throw the switch toward parenthood (or not). Was there a single moment that made up your mind, or was it something you gradually realized about yourself? Was it a partner's opposition that made the difference, or your family's insistence? Was it cost? Career plans? Or perhaps even a religious motivation? We're especially interested in hearing from people who were on the fence about having kids, but jumped off it.
(No need to send us stories of how cute your kids are—though we're sure it's true. For this discussion, unlike in actual parenthood, the choice is more important than the outcomes. And if pregnancy isn't a choice for you because of infertility, we are going to explore that issue as well, in an upcoming discussion. Update: It's here.)
So, how did you make the choice to have children? And if you're still weighing the decision, what major factors are you considering? Please send us your thoughts and personal experiences: hello@theatlantic.com.