How Real Is Reality-TV Therapy?
The benefits of counseling get murky when millions of viewers crowd the therapist's chair.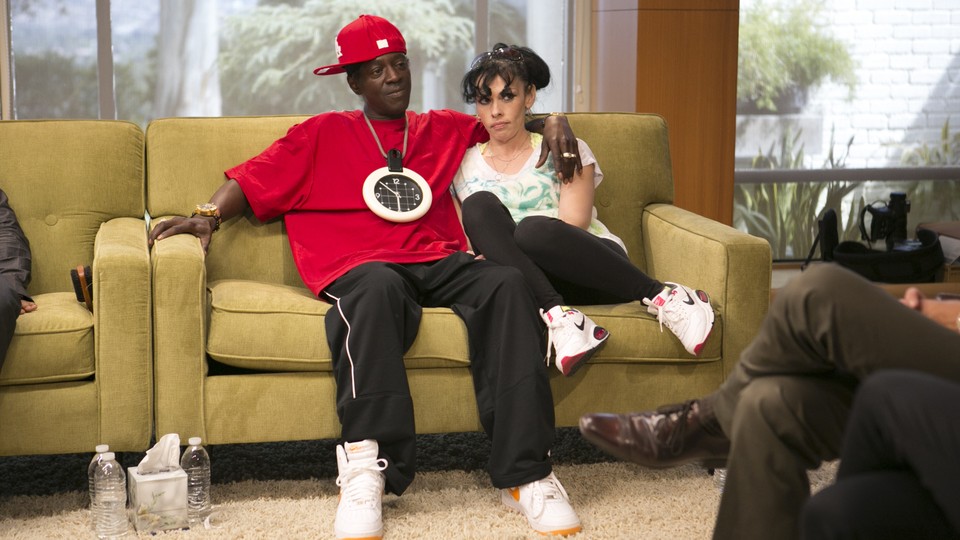 If there's a quintessential moment in reality-TV therapy, it's when DMX cried. Four years ago, in a session on VH1's Couples Therapy, the rapper shared that his mother never told him she loved him. "I just wanted to say 'Mommy,'"  said a 41-year-old man with five platinum albums. "I think a lot of people lose sight of the fact that no matter how strong you are, as a man, no matter how tough you are, we all need to be somebody's baby." Conveniently, his mother showed up on set for a tearful reunion that aired on the following week's episode.
DMX's journey was a mix of TV magic and that magical elbow grease, personal growth. Over ten episodes, the rapper and his then-estranged wife, Tashera Simmons, had the type of conversations that feel typical of couples in therapy: He never wanted to be married, she lost herself to the relationship, he struggled with monogamy. But if Simmons saw changes in her husband thanks to the series' host, the psychotherapist Jenn Mann, the viewer saw them too.
Every reality-TV show is supposedly an opportunity to watch human nature unfold onscreen, though there's no way to really be sure if your favorite Real Housewife would have flipped that table in anger without a camera present. When the crew follows these same volatile cast members behind their therapists' closed doors, viewers are treated to a whole new layer of ambiguous entertainment, with one problem: Therapy isn't entertainment. Can an emotional breakthrough still be trusted if it happens on camera? And if not, why are therapists letting anyone watch?
Similar to the classic set-ups on The Bachelor or The Real World, shows that bring a melting pot of cast members under one roof, Couples Therapy has 10 cast members—reality TV's usual assortment of B-list celebrities—who live together in a house for the duration of shooting. But instead of facing weekly challenges from the producer, hooking up with each other, or filling their days with actual jobs, their role is to work on themselves while people watch. The casts' days consist of individual, couple's, and group therapy, which can be scheduled or spur of the moment when an issue in the house (like when DMX tries to skip a session) calls for a counselor's intervention.
Kami Storck, a licensed psychotherapist who appeared on the show's recent spinoff, Family Therapy, believes the show's approach to counseling can teach the public the benefits of therapy. The intensive, rehab-like approach, she says, means "the amount of work you can get done in that short time is so beneficial." I wondered if after three-ish weeks of relentless on-camera breakthroughs, the housemates would choose to cut off care the moment they returned to their real lives with no potential audience in sight. According to Storck, cast members are instead set up with therapists in their hometowns, and some stars from her season, the show's first (which included Bam and April Margera, Michael and Dina Lohan, and Damon, Bobby, and Jeremy Dash), still reach out when they have good news to report.
Despite plot points like DMX's mother's miraculous appearance on the set, Storck says she decided to do the show because there's no extraneous pot-stirring. "There are activities that are set up, but there was no 'let's put this person with this person and watch them argue,'" she says. "It's not a game. If you're not here to get some work done and you're disturbing the process for everybody else, you're kind of not welcome."
Then again, displays of genuine emotional growth don't necessarily mean a reality-TV show has forfeited the reality-TV game. The Real Housewives of New York's Bethenny Frankel, the show's barking voice of reason, struggled through a failed talk show and a public divorce two seasons back. The show, in turn, began to televise sessions with her longtime therapist, Xavier Amador, which an anonymous insider last year hinted were at least as strategic as they were cathartic. "It's come down to what she talks about with her shrink in her therapy sessions that air," the tipster told New York Daily News. "Last year she made the show do a contracted four sessions with her psychiatrist and the point was to soften her image and bring out the violins."
RHONY's co-executive producer Lenid Rolov claims he used Frankel's sessions with Amador simply to add to the telling of her life story. As a producer, he says, he's working to tell Frankel's authentic story, of which therapy just happens to be a part. "Therapy, or anything medical," he says, "you let play out without interfering." Of course, they can't include an entire 50-minute session in a 60-minute episode. On his shows (Bravo's RHONY, The Real Housewives of New Jersey, NYC Prep), a full session is filmed and then trimmed until it "typically will be about 4 minutes." That explains why almost every on-screen therapy session I watched in preparation for this article included crying. Real Housewives editors are pretty much the best in the business, but you don't have to be a genius to choose the moment when your star reaches for the tissue box.
In using these therapy segments as part of their larger plotlines, some reality-TV shows are more successful than others. Caitlyn Jenner's segments with the family therapist Susan P. Langdon on I Am Cait worked as something of an explainer for what it means to be a transgender woman. In four seasons of Vanderpump Rules, the show about the employees at a restaurant in West Hollywood, more than half of the main cast all give therapy a shot. The women of Sister Wives role-play in a session that must not be helpful judging by the scene's ominous soundtrack. The segments, as with most reality television, never break the fourth wall. But it's challenging to forget the effect of the cameras when Jax on Vanderpump Rules takes a moment to mention his modeling career and his "rockstar lifestyle" before launching into his trouble with women.
Megan Costello, a Los Angeles-based therapist who has done behind-the-scenes consulting for the scripted show Parenthood, points out the importance of confidentiality for traditionally licensed therapists. "The idea that confidentiality shows up in everybody's code of ethics means it's pretty integral to having successful therapy," she says. "We're talking about this as foundational."
Reality stars have signed away this right. Rolov says there are "five or six layers" of network approvals before his shows are typically able to bring a therapist on. First, he explains, his shows attempt to work with a cast member's actual therapist. Often, the star isn't in treatment, so producers take over to find an appropriate match. "Anytime we do have a therapist that we work with, there's a series of guidelines from the networks, they have to approve the therapist, and there are background checks," Rolov says.
The peak of therapy on television came with Bravo's short-lived LA Shrinks. The premise is exactly as it sounds: Three counselors conduct sessions, deal with marital and parental drama, and attend therapy themselves. Asked if his on-camera patients seemed to heighten their problems for camera, one of the counselors, the psychologist Greg Cason, says it was his "biggest, biggest criticism" of the show. For Cason, a look into the patient's interior lives—not to mention his own—was enough to merit a series. "I feel like the drama can be had without trying to fake the drama," he says. "We had a crew and it was very evident."
But when there is naturally occurring drama, it has to be telegenic. Cason claims a patient who did make strides with "heavier" anger management issues ended up with much of her progress on the cutting-room floor.
The show did seem to yield positive results. "It was a very impactful time," Cason says. He lost a few patients in his own practice, but he gained some that sought him out because of the conflicts with marriage and a homophobic father that he worked through on air. Strangers emailed, called, and stopped him in public to say thank you. He had helped people, he says, this time "by example as opposed to by telling people what to do."
On-camera therapy is ideally about "authenticity and the real person whose story we're telling," as Rolov tells me. And it's true: These are real people who have worked through a lot of red tape and signed plenty of releases to bring personal thoughts into the public eye. Only the person on the couch can know if they're putting in the emotional elbow grease. But since a camera is rolling, everyone gets to judge. Which is exactly the goal of the reality star, therapist, producer, and crewmembers in the room.