Hoarding in the Time of Marie Kondo
When you're a hoarder, everything "sparks joy."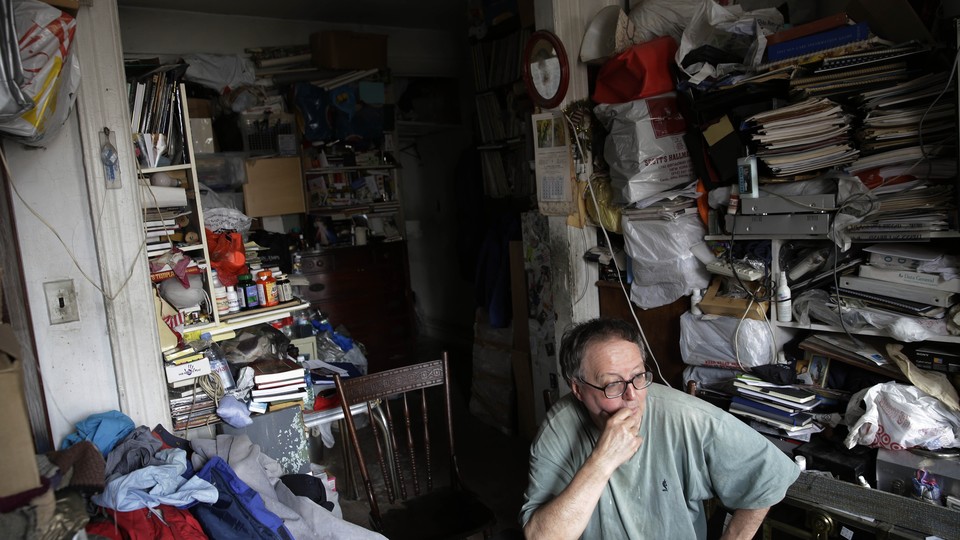 CHICAGO—It was Nordstrom's anniversary sale, and Marnie couldn't help herself. She ran to the shoe display, and, with a swooping bear hug, grabbed up an entire row of gemstone-hued Nikes.
Marnie is a self-identified hoarder, and she was here as part of an intervention of sorts. As she compulsively shopped, looking on were a group of other hoarders and psychologists.
Within seconds, Marnie had laced up a navy-blue pair of sneakers. A sales clerk wandered over. "Can I help you?" she asked, suspiciously.
The shopping expedition took place during the annual conference of the International OCD Foundation this July. Hoarding is one of the many manifestations of Obsessive-Compulsive Disorder, a mental illness that forces its sufferers to perform specific rituals or think disturbing thoughts repeatedly. In the case of hoarding, it's the uncontrollable desire to acquire and keep things.
The shopping-trip intervention was led by Robin Zasio, a psychologist who appears regularly on the Hoarders A&E series. With a flip of her slicked-back, platinum hair, Zasio led the hoarders from the conference hotel to a Magnificent Mile shopping mall. Zasio was there to offer advice on resisting their urges. Marnie was going to need it.
Zasio asked the group to weigh Marnie's excruciating choice. "How many say purchase?" she asked. "How many say don't purchase?"
The verdict, loud and clear, was "don't."
"Should I take a picture?" Marnie asked.
"That might be too much temptation," Zasio said.
After extracting Marnie from the shoe section, Zasio asked her how anxious she felt, on a scale from 0 to 10.
"It's a 9," Marnie said.
As soon as she had glimpsed the shoes, Marnie recalled later, she lit up. "Look at the colors! Oh my God, they're orange, and pink, and blue, and they're the exact colors that I love," she said, her voice still tinged with ecstasy. "It felt so delicious."
Marnie and others in this story asked me not to use their full names because they're worried their careers will suffer if their conditions are revealed. Marnie loves things—"beeeea-utiful" things, as she puts it. Not buying them "suuuucks." Had Zasio not intervened, she would have bought "three pairs, probably."
She has no idea how many sneakers she already has. "What difference does it make?" she said. "What a stupid question."
Minimalism has swept up middle- and upper-class Americans recently, depositing them neatly in an IKEA Trofast container. Women are paring down their wardrobes, adults are moving back into dorm rooms, and there are now four reality shows devoted to tiny houses. At the forefront of this movement is Marie Kondo, the Japanese organizing guru whose maxim is to throw out anything that has outlived its purpose. In the wake of the release of her book, The Life-Changing Magic of Tidying Up, Kondo's acolytes have stepped up their donations to Goodwill and Instagrammed photos of their underwear drawers. Spending time with the hoarders, however, reveals how difficult it is for the people who truly need Kondo-type interventions to live by them. The hoarders, who love things, seem baffled by the recent nationwide rejection of stuff.
To help explain her hoarding habit, Marnie showed me her phone, which displayed 11,944 unread emails. Not everyone swears by inbox zero, of course, but some of the emails were for local-event listings in New York.
She left New York 16 years ago.
Then there's the time she went to Israel and spent $400 on dead-sea face cream. "I could shop for skis," she said, "and I've never skied in my life."
She works a lot of hours. She stays up late at night online shopping. She showed me a photo of her L.A. home's back room, packed to the brim with boxes and bins. Two pink, unused Sephora makeup bags sit perched on the ledge of the stuff-mountain.
Recently her house flooded, and all the boxes had to be taken out, and it was startling to see just how many there were. "A hoarder's nightmare," Marnie called it. She started thinking maybe she needed a bigger house.
Then she started thinking maybe that's the exact wrong solution.
* * *
Three weeks before I met Marnie, she had hit her "bottom," to borrow a phrase from Alcoholics Anonymous. At a garage sale, she saw Bose headphones for $25 each. What a steal! She had two pairs of Bose headphones already. She bought two more anyway.
Now, she's ready for change. Her daughter wants to have her bat mitzvah in their house, and she wrote Marnie a letter about how the hoarding affects her:
Dear mom,

I love you so much. I really want you to learn to let go of things. It's hard to have friends over. It's scary to see the house get worse. I feel like every time it gets better, more boxes come in.
Marnie came to this conference to get help, and she's diligently avoiding dragging home tote bags or buying self-help books.
One book that hasn't proven useful to her, though, is Kondo's minimalist manifesto. The Life-Changing Magic and its sequel, Spark Joy, have together sold millions of copies, thanks in part to the 31-year-old author's unambiguous take on stuff: You don't need it. "You will never use spare buttons," Kondo writes. "You are going to read very few of your books again."
Marnie scoffed at Kondo's most famous tip, that one should throw away anything that doesn't bring joy.
"Everything fucking gives me joy!" she said.
The popularity of Kondo's method might have raised awareness of hoarding, said Elias Aboujaoude, the director of the OCD Clinic at Stanford University, but the approach also risks oversimplifying hoarding and its causes.
"While [Kondo's method] may be reasonable advice for the rest of us, a hoarder is driven by the following fear: 'What if I need it someday?'" Aboujaoude told me via email. "Therefore, while they acknowledge that a particular item is not currently giving them joy, they worry excessively about needing it in the future but no longer having access to it."
To hoarders, belongings are physical anchors in a stormy world. Hoarders might otherwise lead functional lives, but according to experts who spoke at the conference, many derive security from having their keepsakes always in view.
"People who hoard tend to live their lives visually and spatially, instead of categorically like the rest of us do," said Randy Frost, a psychologist and co-author of Stuff: Compulsive Hoarding and the Meaning of Things, in an interview with Fresh Air. They sort things by location, rather than importance. When he asked one hoarder where her electric bill was, she responded "on the left side of the pile, about a foot down."
Far from being dirty or disgusting, hoarders might actually be too careful. A common manifestation of OCD is scrupulosity, or an extreme fear of wrongdoing. For example, a highly religious person with OCD might have a fleeting, blasphemous thought one day—"What if God is actually terrible?"—and obsess for days about what thinking it means.
Similarly, Frost has noticed hoarders seem overly concerned with making sure their possessions land in good homes. They feel a sense of duty toward their things. Even donations that have been stuffed in bins can still be "rescued." During a presentation at the conference, Frost described a hoarder he met who felt guilty throwing away a glove with a hole in it. "It's fearing sin where there is none," he said.
Though Marnie wants to throw things out, she's preoccupied with making sure her items go to the truly needy. She mused about giving them to poor children or the disabled. At Goodwill, it's possible a rich person could claim it—and then it would be wasted.
While on the Nordstrom excursion, I also met Sara, a blonde, middle-aged woman who had flown in from Tennessee. She's very good at her job, she said, but not at avoiding clothes, jewelry, and housewares. "I would get bored and hit up [the furniture site] One King's Lane, and I didn't need anything," she told me. "Then once you have something, you feel like it's part of your identity."
Now, she has stuff piling on her couch and dining-room table, and a garage crammed with boxes. In her town, people are judgmental. "If they knew my house wasn't perfect, they're going to think very poorly of me," she said.
At the mall, she was briefly distracted by a $7,700 white dress covered in palm fronds. After stroking it lovingly, she let it go.
She's heard of Kondo, but she believes it's not an appealing approach for her generation, the Baby Boomers. Millennials "are more into experiences, they want to travel more," she said. "Our grandparents instilled, 'you gotta keep what you have.'"
* * *
Toward the end of the conference, I attended a support group called "Coming out of the hoarding closet," led by a young hoarder who identified herself as Susan C. Standing before the audience in a crisp, polka-dot dress, she explained how her hoarding problem was similarly driven by too much love. She's a chronic people-pleaser who would bring homemade cookies to all her doctors' appointments. She admires the textures, colors, and other little touches that make things beautiful. It's hard for her to toss old purchases—or their receipts.
These days, Susan turns down social engagements, because what if her friends offer to pick her up, and what if they want to come in and use the bathroom? They would see the mess. They would know. "I've been saving all these things," she told the audience, crying softly. "But the one thing that's really worth saving is yourself."
Susan asked the attendees to try to recognize their strengths, despite their disorder. Marnie raised her hand to say she is very creative, and a good writer. Susan pointed out that Monk, the detective from the eponymous TV series, was excellent at solving mysteries because of his OCD.
Marnie knew exactly what she was talking about.
That actor "had a garage sale recently," Marnie told the group. "I bought a bunch of his stuff."