The Link Between Natural Disasters and Domestic Abuse
Flooding in Louisiana has left victims of abuse even more vulnerable.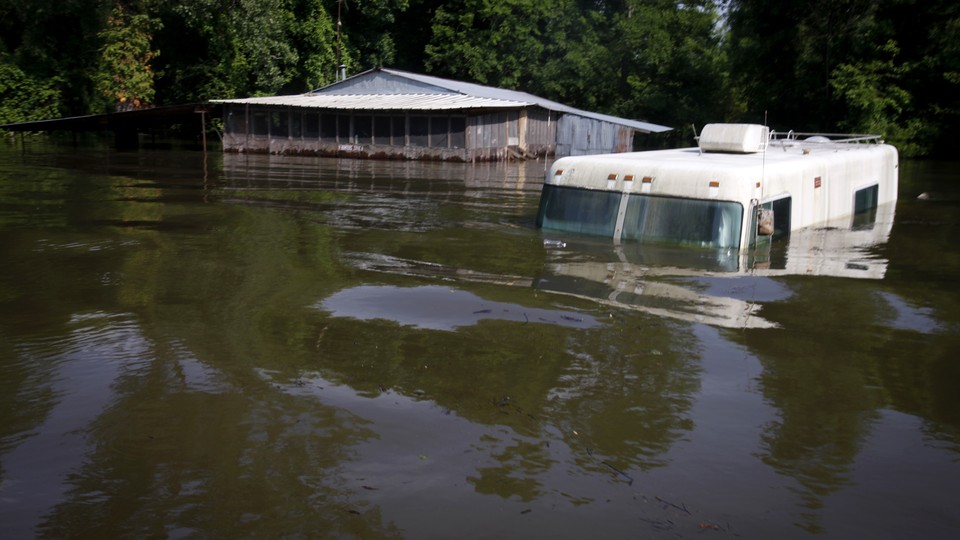 In June 2015, Angie left her abusive boyfriend and started living in her car with her son and pregnant daughter. Once the local domestic-violence shelter had an opening, the family moved there and then eventually into their transitional home, a trailer in an area just outside of Baton Rouge.
And then came the flood.
Last month, southern Louisiana suffered "the worst natural disaster to strike the United States since Superstorm Sandy," in the words of the American Red Cross. Angie and her family, new baby included, were in their trailer when floodwater rushed into their small rural community, bloating houses and cars in a span of minutes. The family was stranded.
"I was just beginning to get settled in, my mind thinking everything was beginning to be okay," says Angie.
Victims of domestic violence are at their most vulnerable immediately after they leave abusive partners. Approximately 75 percent of women who are murdered by their abuser are killed as they are in the process of leaving or just after they depart. This vulnerability is compounded in the wake of natural disasters, when something as simple as evacuating to a relief shelter becomes a heavy threat.
"There are women who have successfully been hiding from an abuser who are now in a very exposed situation," says Beth Meeks, the executive director of the Louisiana Coalition Against Domestic Violence (LCADV). "Offenders have a lot of tentacles, their friends or family will see a victim, and report back to the offender."
This exposure is just one of the concerns at the intersection of disasters and domestic abuse. After disasters occur, there is often an uptick in domestic-violence incidents. Domestic-abuse experts say this is likely because batterers often have more access to their families, because they are not at work. In the initial months following the BP oil spill, southern Louisiana programs showed an increase in the number of crisis hotline calls and people needing shelter, according to LCADV. One parish had an 86 percent increase in people sheltered, and the statewide hotline showed an 81 percent increase in New Orleans from April to June.
"It's very, very tempting when an abuser says, 'Oh my house didn't flood, you can come here and stay,' or 'I told you that you couldn't make it on your own,'" says Meeks. "The woman's family and friends are probably telling her, 'You should just go back to your husband, at least his house is dry.'"
When the flash floods began in her neighborhood, Angie, whose last name has been omitted from this article for her protection, called a 24-hour crisis hotline for Southeast Advocates for Family Empowerment (SAFE) to help her escape. One of the organization's workers tried desperately to reach her, but the water was too high to drive in. The organization eventually sent a Red Cross worker to come evacuate the stranded family.
SAFE's emergency shelter was flooded, so Angie and her family were placed in a traditional disaster-relief shelter in a different neighborhood from her abuser. He called Angie's mother to inquire about her, but was not given information about her location. Once the disaster-relief shelter closed, Angie and her family moved into a family member's living room.
Angie's flooded trailer had been funded by the U.S. Department of Housing and Urban Development and provided by SAFE, a common setup for domestic-abuse survivors once they leave abuse shelters. The shelters themselves help women move into these transitional homes, giving them items like beds and clothing. "Imagine you've taken 6 to 8 months to scrape that together and then the flood takes it all," says Meeks. "Imagine how hard it was for you to ask for [donations and help] in the beginning and now it's not just you asking, it's thousands."
In addition to helping the families they're currently serving rebuild, Louisiana organizations are trying to prepare for the likely uptick in domestic violence incidents around Baton Rouge. But it's challenging. The flood crippled six of the state's 16 shelters with not only damage to facilities, but also staffing disruptions as many employees have lost their own homes and can't work full-time.
To make matters worse, a month before the floods, all domestic violence programs in the state took cuts to operational funding. This is because Louisiana is in its most dire financial situation of the past three decades. State lawmakers had to close a $943 million budget deficit by June 30, and they face a $2 billion shortfall for the 2016-2017 fiscal year. The budget for family violence prevention programs is $6 million for the current fiscal year, a reduction of about 3.5 percent.
A rep for the Louisiana Department of Children and Family Services says the organization was "pleased to have been able to limit the budget reduction" to such a low number, given Louisiana's continued fiscal state. But shelter directors say that even the smallest cuts drastically impact operating cuts and decrease funding for staff. Louisiana ranks fourth in the nation for women being murdered by men. Shelters are already understaffed, and the demand for beds is often greater than the supply. Organizations prepare as much as they can for natural disasters with evacuation training for both staff and survivors, but they don't have extensive reserves to cope financially when disaster hits.
LCADV is trying to help solve for this with a disaster-relief fund, with the goal of helping current and future people who have been doubly victimized by both domestic violence and disasters. SAFE's executive director, Pamela Hutcheson, says that in an ideal world, these survivors would get the safety and protection they need through a combination of funds and designated private spaces.
Meeks agrees, saying disaster-relief shelters are typically untrained and unequipped to provide the privacy and safety of domestic-violence shelters. (Case in point: According to Hutcheson, SAFE was called out to a relief shelter during the Baton Rouge evacuations to assist a woman and her two children after the woman's boyfriend hit her in the mouth with a flashlight.) To control for this, a Baton Rouge shelter partnered with a local church during the flooding to provide a private evacuation center exclusively for domestic-violence victims.
Victims in New York and New Jersey suffered similar problems after Superstorm Sandy, with several domestic-abuse programs suspending services in the wake of the storm. Organizations from both states partnered with the National Domestic Violence Hotline and created a training curriculum with best practices for disaster management in the context of domestic violence. Disaster specialists from multiple states weighed in with tips for how to handle emergencies such as floods, wildfires, tornadoes, and hurricanes. Suggestions included budgeting for disasters, keeping supplies like generators on-site, securing internet access at each shelter, and designating a disaster specialist or team to lead the organization in the event of an emergency.
In Baton Rouge, SAFE received a $3,000 grant from United Way to help Angie find a new home, but even now resources remain in short supply in the area as flooded residents have filled the hotels and available rental units. Angie is struggling to find a safe place to live, and says it is tough to feel like she is starting over for the third time in about a year.
"I'm overcoming everything by knowing that life has a way of throwing all kinds of curveballs and I am still able to stand," she says. "I am able to stay strong and fight."