Have You Ever Tried to Buy an EpiPen?
How pharmaceutical price hikes and high-deductible plans create a perfect storm for people who need life-saving medications.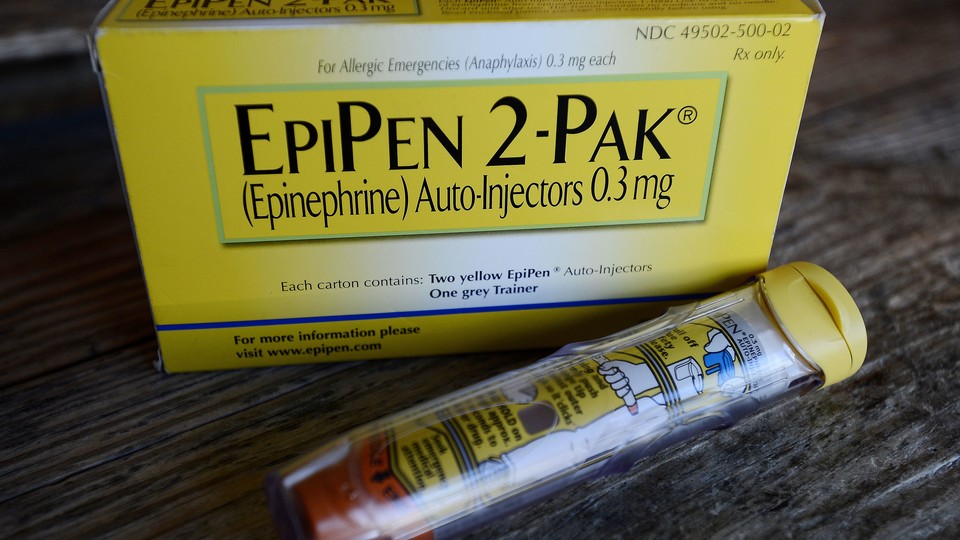 In lieu of spending $1,212 on four EpiPens, one mom in Virginia is planning to ask a doctor to fill some empty syringes with epinephrine, the drug inside the allergy injectors. She will then give the syringes to her 12-year-old son to carry around—the boy is so allergic to milk he has to wear a face mask when he goes outside.
That scenario, reported by Stat News, is perhaps the most extreme example of the many ways parents are struggling to cope with the rising price of EpiPen, a spring-loaded tool that can reverse an allergic reaction when stabbed into the thigh.
Mylan, the company that sells EpiPens, has driven up its price by more than $500 since 2009, from about $100 for a pack of two to $608.61 this year. Because they're so essential, many people with severe allergies have more than one.
Mylan bought the device in 2007 and set out to expand its use, embarking on an aggressive marketing effort that included putting EpiPens on Disney cruise ships, according to a Bloomberg article from last year. By the time that article came out, the price was already soaring. "There is a danger with that," pharmaceutical expert George Sillup told Bloomberg, somewhat presciently. "That could create some backlash."
The EpiPen story may seem shocking, but it fits a pattern. Prescription drug prices are rising across the board. And for various reasons, many medicines are more expensive in the U.S. than they are elsewhere. (In France, EpiPens are sold by a different company, and they cost about $85 a pair.)
Even though EpiPen prices have been going up for years, many customers are only now noticing, as USA Today points out. Partly that's because it's back-to-school season, so parents are stocking up. But also, the price increase was gradual, and many insurance plans might have been picking up much of the cost.
Increasingly, though, people are moving onto high-deductible insurance plans, which might force them to pay full-price for things like EpiPens. Nearly a quarter of American workers are now on high-deductible health plans, up from just 4 percent in 2006. Meanwhile, deductibles—the amount consumers pay out of pocket before insurance kicks in—have doubled in the past five years.
Mylan has defended itself by saying it provides a $100 coupon, but many deductibles far exceed that. The average deductible for an individual worker is now about $1,300—or four EpiPens.
The Virginia mother of the 12-year-old profiled by Stat has a $4,000 deductible. Another woman interviewed by USA Today would have to pay $1,500 for all her son's EpiPens because of a $6,000 deductible.
In fact, while Mylan hasn't commented publicly on its pricing structure, it has blamed high-deductible plans for the struggles consumers are facing.
"This change to the industry is not an easy challenge to address, but we recognize the need and are committed to working with customers and payors to find solutions to meet the needs of the patients and families we serve," the company said in a statement on its website.
Of course, one reason employers are moving to higher-deductible plans is because they're reacting to rising health-insurance costs—which are climbing  in part because companies like Mylan are hiking drug prices.
In any case, it might behoove Mylan to find those "solutions" quickly: Members of Congress are already calling for an investigation.