A Bizarre New Zika Infection in Utah
Public health officials are trying to understand how a person who cared for a patient who died of Zika contracted the virus.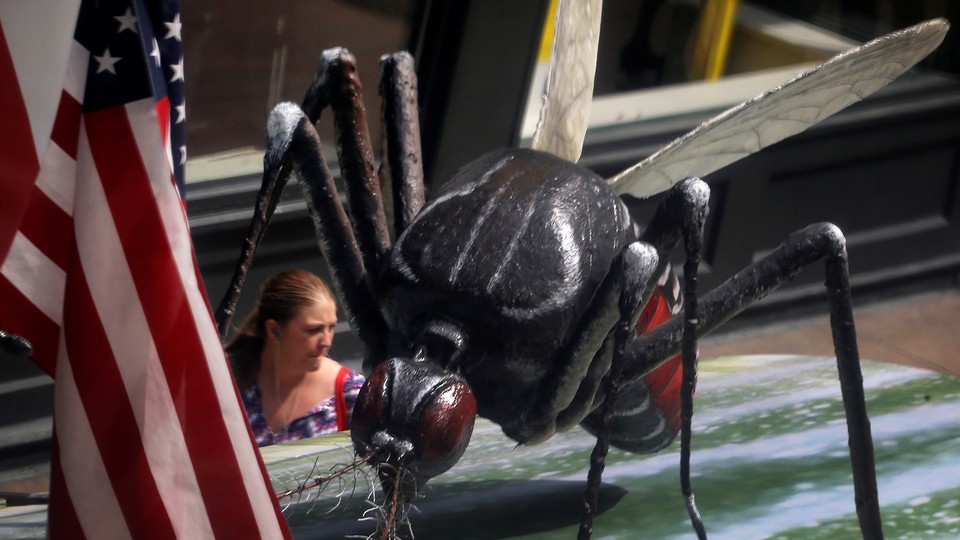 Scientists are bewildered by a new and disturbing development involving the Zika virus in Utah, where a patient who contracted the virus recently died. Officials announced on Monday they're investigating how a person who cared for the patient who died also became infected.
"Based on what is known now, the person has not recently traveled to an area with Zika and has not had sex with someone who is infected with Zika or who has traveled to an area with Zika," the Utah Department of Health wrote in a statement on Monday. "In addition, there is no evidence at this time that mosquitoes that commonly spread Zika virus are in Utah."
The department described the deceased as someone who had "a uniquely high amount of virus in the blood." The death marked the first known Zika fatality in the United States.
"Our knowledge of this virus continues to evolve and our investigation is expected to help us better understand how this individual became infected," said Angela Dunn, the deputy state epidemiologist at the Utah Department of Health. "Based on what we know so far about this case, there is no evidence that there is any risk of Zika virus transmission among the general public in Utah."
So far, the Centers for Disease Control has recorded 1,306 cases of the Zika virus in the United States, including 346 cases among pregnant women. Although the virus can have grave outcomes for children and adults, infection is especially concerning for pregnant women. Zika has been linked to birth defects like microcephaly, in which babies are born with unusually small heads, and other brain abnormalities. Despite the growing number of cases in America, there are no known areas in the United States where mosquitoes are actively transmitting the virus. Though the country has thus far avoided a Zika outbreak, officials warn that such an event is still possible.
In most cases, Zika is not deadly. Symptoms are often mild, if they appear at all. But the virus appears to have evolved in recent years, which may help explain why it has had such devastating effects in Brazil. Paul Farmer, the physician and humanitarian, told me he recently saw a patient in Haiti, a 12-year-old boy who was suffering from acute paralysis. "I just found out he did have Zika," Farmer said. The boy, who remained paralyzed even after medical treatment, had developed Guillain-Barré Syndrome—a serious complication associated with the virus. "We don't know in what fraction of cases those things occur, but it's not trivial at all," Farmer told me.
Gary Edwards, the executive director of the Salt Lake County Health Department, said in a statement that officials are doing what they can to figure out how the unusual transmission in Utah may have occurred. "In the meantime, the public, and especially pregnant women, should continue to take recommended steps to protect themselves from Zika virus."