How Not to Ruin Reality for Others While Catching Pokémon
Tips for safety and dignity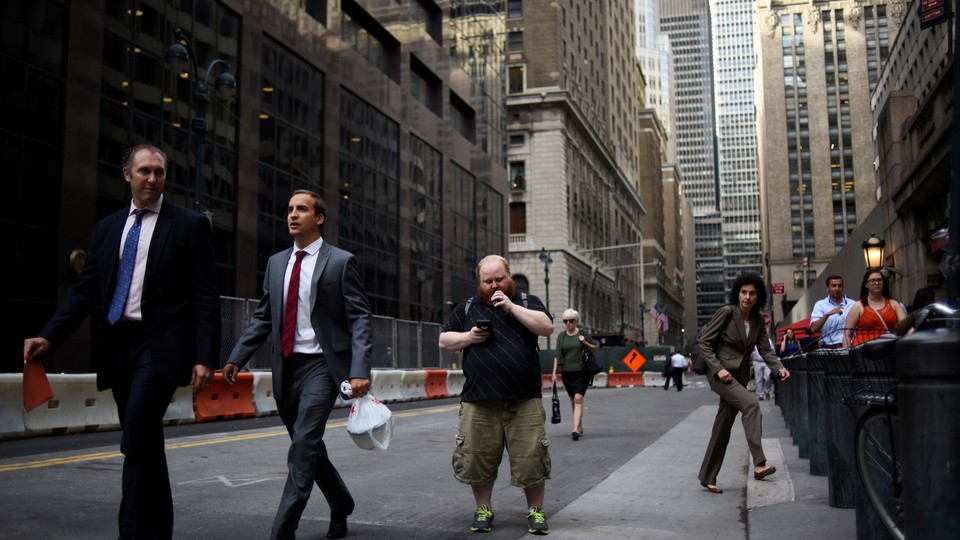 I wasn't that interested in this new "augmented reality" game at first, but once I heard it was dangerous, I had to try it.
Pokémon Go was released only a week ago, drawing millions of people into the streets of the world to hunt for digital beasts visible through the cameras on their phones. I couldn't sleep this morning, and I got up and wandered around Park Slope before dawn, looking for beasts. The game alerted me to a community garden I'd never noticed, and it made me stop at the Old Stone House, the site of the largest battle of the American Revolutionary War. I would've had little other reason today to think of the fallen soldiers in the Battle of Brooklyn who signed our Declaration of Independence in blood.
But then my commute was studded with people playing Pokémon Go in crowded centers of transit. It's easy to tell who's playing. While everyone else was racing across Madison Square Park to work, a tall Starbucks in one hand, typing on their phones with the other, the city is now full of people standing serenely in the pathways, staring at their phones and making an idle upward flicking motion with their fingers. (With a tall Starbucks in the other hand.)
By every projection of the trend, the problem will get worse before it gets better. Public-safety agencies have already begun to raise concerns about augmented reality, as it's being implemented at a scale never before seen. A segment on The Today Show warned "your safety could be at stake," while MarketWatch is asking "Should You Let Your Kids Play Pokémon Go?"
Cutting through the noise, here is what I recommend so far:
Don't play while driving.
The National Highway Traffic Safety Administration is cautioning, "Don't #PokemonGo and drive." This seems obvious, but so does not texting and driving. Anyone who plays while driving should be hunted by other players and trapped in a giant sphere.
Don't block sidewalks.
Remember that some people have "real" places to be. You can disagree with their conception and valuation of reality, but they may not have time to discuss.
Keep your head up.
This "game" may also be a thinly veiled attempt to get people to exercise. You go to Pokéstops around the city where you pick up eggs, and they only hatch if you walk with them for five kilometers. Distracted walking kills and injures more people every year. Staring at your egg that whole time doesn't help it hatch.
Don't be lured by armed robbers.
Police in Missouri arrested four armed-robbery suspects on Sunday, stating in a press release that the suspects targeted their victims through Pokémon Go.
When people asked how the app was used to rob the victims, the Police Department replied on Facebook, saying, "you can add a beacon to a Pokéstop to lure more players."
"If you use this app (or other similar type apps), or have children that do," the police warn, "we ask you to please use caution when alerting strangers of your future location."
Don't log in with Google (for now).
Play it safe with your data. (The issue may now be addressed in an update to the app.)
If you find a corpse, call the police.
This is not part of the game, exactly, just a part of real-reality. In Riverton, Wyoming on Friday, a 19-year-old discovered a corpse by a river. "The Pokémons are all over Riverton," she said. "I was trying to get a Pokémon from a natural water resource."
Don't throw your phone at the Pokémon.
As reality blurs, it's easy to get confused. Especially if you've been walking around staring at your eggs and you get dehydrated.
Stay hydrated.
It's summer out there. Tap water should suffice.
Don't kick other players.
It's Pokémon Go, not soccer. Even if it were soccer, don't kick other players.
Don't play at Auschwitz.
Polish officials at the Auschwitz Memorial have asked the game to remove their site from the locations where players can hunt cartoon creatures, saying it dishonors Holocaust victims.
Talk to strangers.
The game is also reportedly helping chronically depressed people get out of bed and giving socially isolated people an excuse to hang out in parks.
So I don't want to seem like it's a pure menace, at all. At least one New Yorker tweeted that she had never started a conversation with a stranger on the train before this game—which is totally believable since no one ever talks down there, despite that being a way of improving our health. Augmented reality seems to me just like the other kinds of reality, where safety is always relative. Most of the risk in our lives is undertaken in the process of attempting to relate to other people, and it's usually worth the risk.