The Volunteers Who Help People End Their Own Lives
Final Exit Network guides its clients in planning for death and sits with them in their final moments.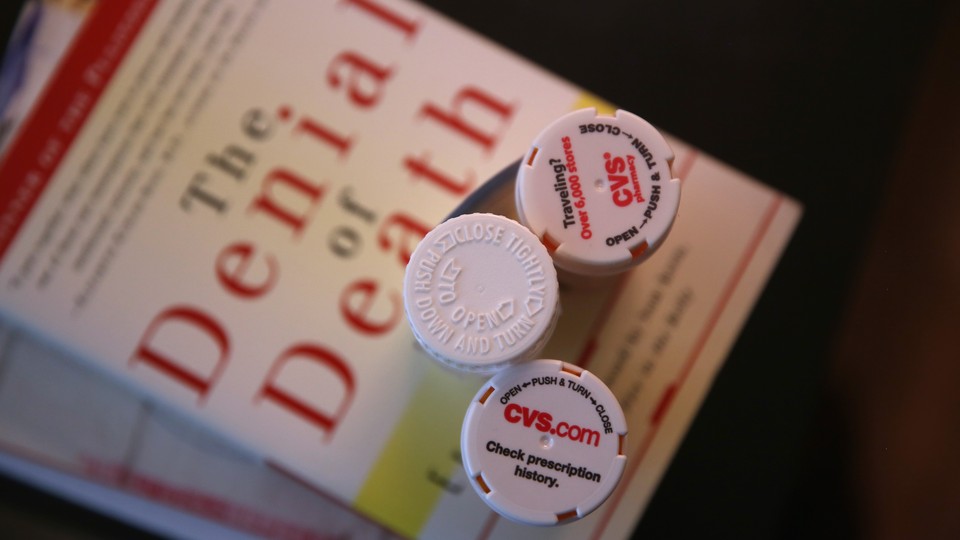 Helpless, Fran Schindler watched her mother forget how to eat, drink, and speak. Her mother had developed dementia, and spent her final months staring at nothing in a nursing home bed, making pucker noises with her mouth.
When her mother finally died, in 2001, Schindler promised her grown children they'd never see their own mother suffer the same way. The experience, she said, had helped her form her views on death. Now she had a plan: Her own death would be swift, painless, on her own terms. And she knew how to get the job done.
For about a decade, Schindler, 77, has been an exit guide—a mentor for suffering people who want to end their own lives—for the controversial right-to-die group Final Exit Network. It's her job to ensure the people she helps die are not alone in their last moments. As more and more states consider death-with-dignity and assisted-suicide laws, exit guides have become caught between a political battle and an ethical one.
"Grandma Fran," Schindler's young granddaughter once asked, "do you kill people?"
*  *  *
When you visit Final Exit Network's website, big, red letters shout at you.
"WE ARE NOT A SUICIDE HOTLINE. IF YOU ARE EXPERIENCING A PERSONAL CRISIS, PLEASE CALL THE NATIONAL SUICIDE HOTLINE NOW."
Exit guides, who tend to travel in pairs, educate their clients about all aspects of their eventual suicides and sit with them as they die. Final Exit Network is the only right-to-die group in the country, the group says, that offers this kind of service. Formed in 2004, the nonprofit was originally dismissed as fringe by its critics. Now, it has swelled to more than 3,000 members across the country, though it doesn't have offices and is run entirely by volunteers. With affiliates in Arizona, Idaho, Illinois, Maine, Missouri, New York, and Oregon, the group boasts about 30 guides, like Schindler, who are determined to help anyone who qualifies. They advise clients to author a discovery plan for someone to find their bodies. They help them talk with family and friends and sometimes pen a note to authorities detailing their motives and methods.
Before Final Exit Network approves someone for its services, an exit guide visits his or her home. The guide conducts interviews with the applicant and family members. Have all other avenues been explored? Do you understand this is completely voluntary? Do you understand you can opt out at any time? Some clients have terminal illnesses; some have dementia; some are physically handicapped. They all are required to affirm to their exit guides that they don't want to be in pain, that they want to die.
"People seem to think that we like to go around snatching people off the street and put them out of their misery," Janis Landis, Final Exit Network's president, said. "People who intrinsically believe that people shouldn't have control over end of life … believe our organization is evil."
But exit guides say they operate under a simple philosophy: Nobody enters this world alone, nor should anybody have to exit alone either.
*  *  *
As the Final Exit Network continues its work, more and more states are vetting right-to-die legislation. Altogether, at least 24 states considered related bills in 2015—10 for the first time—according to the Death with Dignity National Center. Exit guides and Final Exit Network are approaching a crossroads in the midst of a broader legislative debate about who has the right to end their own lives. Generally in the United States, state-level right-to-die laws determine who may end their lives, and when, with the help of a physician. But Final Exit Network wants to break away from this medical model. "Our response is to give people the tools to make their own decisions to end their lives peacefully," Landis said. "Why do you need a doctor?"
The actual legality of exit guides' actions varies state to state. There are 39 states that have laws on the books against assisting a suicide. Except there is no universally accepted definition of "assisted suicide." In some states, there has to be person-to-person physical contact. In others, assisted suicide could mean simply sharing literature or having a conversation about methods or means. Exit guides' primary defense is their First Amendment right to free speech, said the network's general counsel, Robert Rivas, because that's all exit guides do when they sit with a person about to die: They talk.
Assisted-suicide laws show that most states don't consider talking or communicating as a means of assisting a suicide. But there are at least seven that do: California, Louisiana, Minnesota, Mississippi, North Dakota, Oklahoma, and South Dakota. Exit guides don't stray from operating in those states, but they do so at a risk. "I don't think there's all that much law enforcement going on with Final Exit Network," Rivas said.
Some people accuse the network and those with similar attitudes of wanting to play God, with the majority of opposition coming from religious groups, according to Landis. Others opponents include disability-rights groups and hospices. Critics of the right-to-die movement have called Final Exit Network extremist. Some have even called it a death cult. Others have accused the group of glorifying suicide. One such band of critics is Not Dead Yet—essentially the antithesis of Final Exit Network. Not Dead Yet "is a national, grassroots disability rights group that opposes legalization of assisted suicide and euthanasia," according to its website.
Stephen Drake, a Not Dead Yet research analyst—who dubbed Final Exit Network "the Tea Party of the right-to-die movement"—said most people are missing the bigger picture. "The fact of the matter is they have no idea if [exit guides] are following their policy," Drake said. "Lots of people who contemplate suicide change their mind. … Why would people who are old, ill, or disabled not change their minds at the last moment?"
Exit guides say their policies are simple but strict: don't encourage, don't facilitate, don't touch.
Drake's sentiments are well echoed among critics of the network. Stephen Rosenbaum, who has litigated in disability and civil rights law and teaches at the law schools of Golden Gate University and the University of California, Berkeley, characterizes Final Exit Network's tactics as "stark" and "a little too far out there." "I am strongly ambivalent—and maybe even troubled—and see it as overkill in [how the network is] publicizing its mission," he says. "If you really want to take to heart terms like 'death with dignity' … then your approach cannot be a slick, Madison Avenue-style advertisement for death."
In 2012, a Dakota County Minnesota grand jury indicted the group on charges of assisting a suicide and interfering with a death scene. Prosecutors in these proceedings accused exit guides who worked with a woman named Doreen Dunn, who killed herself in 2007, of covering their tracks to make it appear that the woman died of natural causes, according to a 2012 statement from the Dakota County Attorney's Office.
"Once the Exit Guides have determined the member has died, they will proceed to gather equipment used in the suicide. They will also collect all materials referencing any connection with Final Exit Network," the statement reads. "If requested by the member, Exit Guides will also remove all other items indicating a suicide had occurred. Exit Guides subsequently dispose of these materials in a trash bin some distance away from the location of the suicide." (Death by helium asphyxiation, Dunn's method as well as the once-preferred method by most exit guides—is virtually undetectable in medical autopsies. The group has since stopped recommending helium, suggesting nitrogen in its place, because manufacturers started adding oxygen to tanks to make them safer.)
Rivas said the statement was exactly right. "There's no question they did that," he said. "They took the equipment to a dumpster. … We don't have any argument for the charge of interfering with the scene of a death." But now, Rivas continued, Final Exit Network makes more of an effort to involve families in the process and to have them make their own decisions regarding what's to be done with any materials involved in the suicide.
A Minnesota district court convicted the corporation in May 2015 of assisting a suicide, a felony, and interfering with a death scene. Final Exit Network was fined $30,000 and are in the process of appealing the conviction.
*  *  *
Jim Chastain, who was an exit guide for 10 years, still thinks about some of the people who died in front of him. The woman who didn't want to lose her legs to diabetes, the man dying of cancer who wanted to watch one last baseball game, the ailing high school guidance counselor with three kids. "They stay with you," the 89-year-old says. "They're in pain. Medication can't cure everything."
When Chastain joined, he said, it just seemed reasonable that someone suffering at the end of their lives have the choice to end it. By now, he's used to people reaching out to him. "Some people just want a brochure," he said. "Others want us to tell them how to die over the telephone." Last fall, a woman approached him at a dinner party and told him about her husband, who had Lou Gehrig's disease. He was supposed to die weeks ago, she told him. She'd even written his obituary. He didn't want to be alive anymore, she said. Chastain understood. He has coached dozens of people through their own suicides.
One afternoon in his Sarasota condominium, Chastain retreats to his bedroom and returns with a clear, plastic hood. He sits down at the kitchen table and pulls the hood over his head—his worn and tired features visible through the plastic. He smiles. "I'll probably go this way," Chastain said, "when I've lived enough life."
*  *  *
People who yearn for the kind of personal freedom that Chastain claims for himself in determining when he'll die is exactly what Final Exit Network is after. The network, right now, is looking to baby boomers.
"We would very much so like to not be needed," Landis, the network's president, said. "We would fold our tent and go away. But it is our belief that baby boomers being used to autonomy in their lives will increasingly want to take back end-of-life decisions."
Baby boomers are getting older, and high-profile stories in the news have touched off a national conversation—stories like those of Terri Schiavo and Brittany Maynard. Final Exit Guide members say that, as baby boomers begin to approach their final years, they are inquiring to the network more and more.
Last year, California became the fourth state to afford terminally ill persons the right to die. Riding on that momentum, Final Exit Network members say they are helping shape a pivotal cultural moment in the United States and around the world. "We're not the losers if our voice is muffled," Landis said. "It's the people who are suffering. People who are looking to end their lives full of misery and suffering will not be able to do so."
You'd be hard-pressed to find an exit guide who tosses around the term "suicide." They use terms like "self-deliverance" or "death with dignity." "A lot of people in the movement just find it terribly offensive and jump through hoops to keep from using the word," said the group's lawyer, Rivas.
Rivas isn't one of those people. If he's going to be taken seriously defending this group, he says, there's no skirting around it. He channels his bluntness into all of his exit guide training sessions. Before an exit guide sits with a person as they die, they sit in a room with Rivas as he explains the "looming possibility" that they could very well be prosecuted.
Like in 2009, when four exit guides were jailed—then released after two days, when bail was made—and other members' homes were searched amid a Georgia Bureau of Investigation national campaign to prosecute the network. The bureau seized "paperwork, records and computers," from key members in the network, according to GBI. Investigators uncovered 523 names of people who reached out to Final Exit Network "for assistance with their suicide."
"Nobody knows better than I do, sometimes courts make mistakes. Exit guides make mistakes," Rivas said. "It's a looming possibility out there for every exit guide, and I make them say to themselves in training sessions: 'I understand this is possible, and I'm prepared to accept that possibility.'"
*  *  *
The way exit guides see it, it's a person's natural-born right to ultimately decide when they should die—particularly if that person is suffering from illness or disability or pain. There is no big picture, Schindler said, there's only what's right: "[Clients] have the right to choose to end their life on their own. They have the right to choose how, where, where and—most importantly, with who."
Final Exit Network members say they are selective about who they assign an exit guide. Each applicant must undergo a phone and in-home interview, and be cleared by the Medical Evaluation Committee, the in-house group of members who comprise the group's medical evaluation board. If Schindler feels a client is a risk to the network, she said, or if the family is not cooperative, she refuses to take the case. "You have a relationship with them," Schindler said. "You are friendly with them and with their family to a degree, but there is a boundary you cannot cross."
Now and then, Schindler said, come the calls from a person suffering from mental illness, such as depression—someone looking for a quick way out. But those aren't the kind of people Final Exit Network is meant to help, exit guides say. These are people who would never make it through the vetting process.
Except one woman did.
In 2007, Jana Van Voorhis, a 58-year-old woman from Phoenix, told Final Exit Network that she was dying of cancer. But Van Voorhis wasn't dying at all. "She had no terminal illness," says Jared Thomas, Van Voorhis' brother-in-law, who found her body when he and his wife went to check on her at her home. "She was mentally ill. … She was a doctor-shopper." Van Voorhis had asphyxiated herself, inhaling helium until she stopped breathing.
But years before her death, Thomas says, Van Voorhis saw doctor after doctor, inventing illness after illness, until each of them eventually stopped seeing her. Van Voorhis suffered from depression most of her life, Thomas says. She'd tell people that her home was being overtaken by bugs and that rats were eating away at her skin. When Thomas found her body, he says, he thought she overdosed. Van Voorhis never mentioned Final Exit Network to any of her family. Thomas didn't even learn about the group until the GBI sting prompted local authorities to investigate her death.
In 2011, when the case was eventually resolved, none of the four Final Exit Network members, including the group's then-medical director, saw prison time. All four were originally charged with manslaughter-related charges. Two of them pleaded guilty to lesser charges; the medical director was found not guilty, and the remaining member pleaded guilty to a misdemeanor that was eventually expunged, according to Rivas.
Two exit guides accompanied Van Voorhis during her death, while the other two were charged just by their association with the case.
"One of our problems with the organization in this case was their arrogance," Thomas said. He continued: "To be clear, we don't disagree with Final Exit Network's philosophy, but they need to be regulated or held responsible when they make errors like this."
Thomas said an exit guide approached him outside the courtroom one day. "We're so sorry," the woman said, Thomas recalled. "We didn't know."
*  *  *
Just like her mother, Schindler will fade. But unlike her mother, Schindler says, she will feel aware and in control.
If she has it her way, on the night before she dies, she will throw the party of all parties. Guests will wear costumes, and she will don her rhinestone jewelry and sequined dress with a crinoline. Everyone will sip wine or vodka or scotch and eat her baked brie with fig spread and caramelized onions.
After a good night's sleep, she will wake up and kill herself by day's end. By then, she will have imagined her death over and over. It will go something like this: Resting snug in her bed, overcome by age or illness, she will be surrounded by family and close friends in her Chapel Hill home. She will flip on the nitrogen tank attached to a transparent hood she's pulled over her head.
This is the point, she says, where Frank Sinatra's "My Way" will be playing through the room, soulfully delivering some of the last words she'll ever hear.
I planned each charted course
Each careful step along the byway
And more, much more than this
I did it my way