The Complicated Connection Between Football and ALS
The film Gleason explores the heartbreaking toll of Lou Gehrig's disease on a young athlete.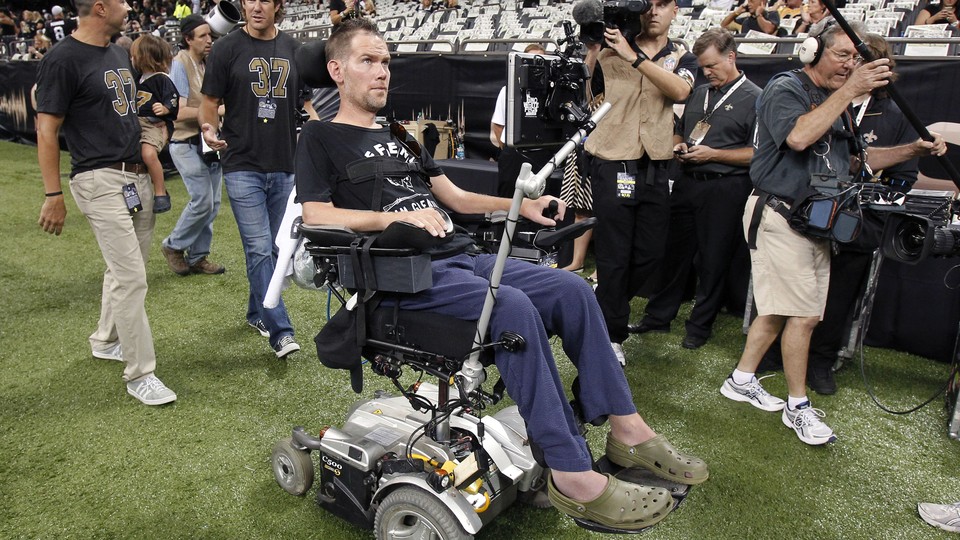 Steve Gleason's powerful body gave him everything, and then it betrayed him. He was a celebrated safety for the New Orleans Saints for seven years before retiring from the NFL in 2008. His blocked punt during a 2006 game propelled him to fame and became a symbol of the city's resilience after Hurricane Katrina.
Then, in 2011, Gleason announced he had amyotrophic lateral sclerosis, otherwise known as ALS or Lou Gehrig's disease. Over the next few years his muscles would cease functioning, first eroding his ability to walk, then to speak, and finally to breathe on his own.
Gleason and his wife, Michel Rae Varisco, decided to document his illness's horrific progression, both as an awareness-raising effort and as a video keepsake for their son, Rivers, with whom Varisco was pregnant when Gleason was diagnosed. For five years, cameras tracked the family's daily struggles. They showed Varisco as she fed her husband with one hand and her newborn with the other. They followed Gleason as he learned to communicate using only his eyes. The resulting film, Gleason, was screened at at Spotlight Health, a conference co-hosted by the Aspen Institute and The Atlantic, and will be released in theaters on July 29.
The screening was followed a conversation with Varisco, producer Kimi Culp, and family friend Blair Casey, who served as a caretaker to Gleason and now leads the family's ALS-related outreach and fundraising.
Gleason's tragic storyline prompted a question from the audience: Do we know what causes ALS?
It's a difficult question for any chronically ill person to confront. News stories about neurological issues among football players have prompted speculation that playing high-impact sports can contribute to the disease, but the family doesn't focus their advocacy around the NFL and head trauma. Causality is an especially hard question when it comes to ALS, which is as baffling as it is heartbreaking.*
Some studies do suggest that football and its attendant concussions might play a role. In 2012, an article in the journal Neurology found that professional football players are four times more likely to die of ALS than the general population. That's in keeping with other research that shows that football players who have endured concussive blows to the head are at a higher risk for a range of neurological disorders, including, potentially, ALS.
Hereditary factors explain only a small percentage of ALS cases. What's more, ALS brought on by head trauma, rather than genetics, would likely have an earlier onset, according to Doug Trout, a deputy director with the National Institute for Occupational Safety and Health. And while most people get ALS between the ages of 40 and 70, and Gleason was only 34. There are several other young football players who have suffered from ALS, such as Tim Shaw and Kevin Turner, who died of the disease in March at 46.
Turner seemed convinced that football caused his condition.
"If they would have come to me and said, 'I've seen the future. This is what happens,' of course, I would stop playing immediately," Turner said in 2011.
The head trauma hypothesis is bolstered by the fact that veterans appear to be more likely to develop ALS, as are soccer players. (With that sport, head-butting might be the culprit.) Other studies have found simply that concussions seem to be a risk factor for ALS, regardless of whether one is a professional athlete.
As tempting as it might be to blame yet another brain ailment on football, though, it's not a perfectly satisfying explanation. For one thing, 40 percent of ALS patients are women. And other studies have found no increased risk of ALS among high-school football players or in rugby players.
Today, Gleason breathes with the help of a machine and has survived longer than many experts predicted. He consults with Microsoft on new technologies for the paralyzed, and Michel and Casey credit this sense of purpose with helping him beat the odds. But what, exactly, causes any given case of ALS remains a mystery.
---
*​ This article has been updated to clarify that speculation about the football-ALS connection comes from the broader sporting world, not the audience member.