The Zika Olympics
The upcoming 2016 games in Rio de Janeiro have sparked a debate about how much risk is too much.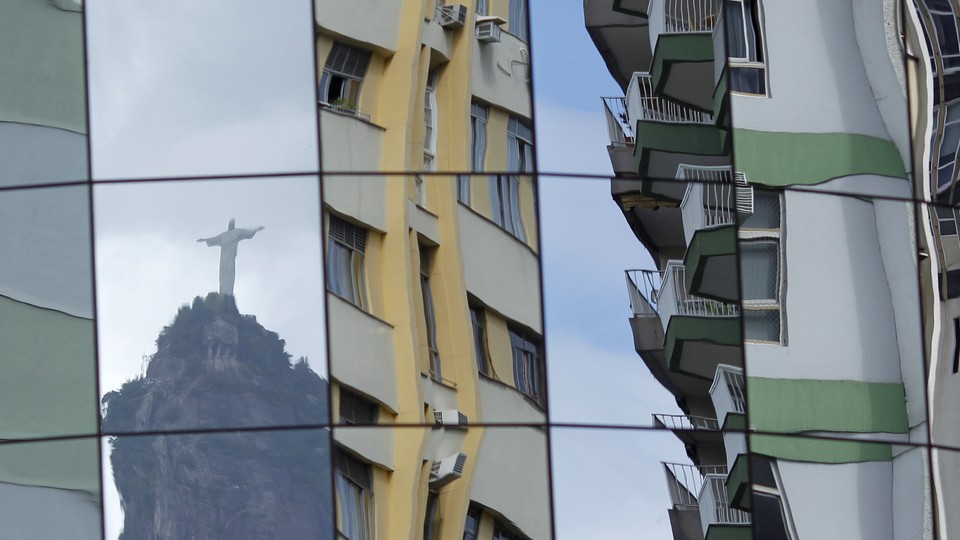 Rio de Janeiro's hostship of the 2016 Summer Olympics has had the unfortunate distinction of becoming a lightning rod for Zika panic. This is not only Olympic Summer—it is Zika Summer, with rising northern hemisphere temperatures bringing the possibility of Zika's mosquito steeds riding north and furthering the spread of the outbreak that is already affecting nearly 50 countries and territories.
For Brazil, the country that's been the seat of much of the outbreak, to host an event as large and global as the Olympics has caused much concern. Senators recently wrote to the U.S. Olympic Committee wanting to know how it plans to protect athletes (it's working with the Centers for Disease Control and Prevention on that). South Korea's team will be wearing special mosquito-proof uniforms. The athletes themselves seem to be of many minds as to whether they're worried about the outbreak—the Jamaican sprinting gold medalist Usain Bolt said he's not bothered, because mosquitoes "can't catch me." Pau Gasol, a Spanish basketball player, said he's considering not attending, and the British tennis star Andy Murray seems to be dithering on that point as well.
Also concerned: a group of more than 200 doctors, bioethicists, and public health specialists, who think that no one should be going. They posted an open letter online calling for the Rio Olympics to be postponed or moved "in the name of public health." They invoke the CDC's recommendation that people "consider delaying travel to areas with active Zika virus transmission."
But the World Health Organization refuted claims that the Olympics were a particular danger for Zika, saying in a statement:
Based on current assessment, canceling or changing the location of the 2016 Olympics will not significantly alter the international spread of Zika virus. Brazil is 1 of almost 60 countries and territories which to date report continuing transmission of Zika by mosquitoes. People continue to travel between these countries and territories for a variety of reasons. The best way to reduce risk of disease is to follow public health travel advice.
While the Olympians themselves, who will be staying in a fully air-conditioned athlete's village, probably have less to worry about than most, really anyone who isn't pregnant has very little to worry about when it comes to Zika. Eighty percent of people who get infected never have any symptoms at all, and for the remaining 20 percent, it's a bummer, but they usually don't even get sick enough to go the hospital, and almost never die.
What everyone's worried about are the possible neurological complications. Guillain-Barré Syndrome, which can cause temporary paralysis, and inflammations of the brain and spinal cord have both been linked to the virus. And then of course, there's the birth defect microcephaly, and other pregnancy problems that have been seen to affect pregnant women infected with Zika.
The likelihood of a fetus getting microcephaly if the mother gets Zika was recently estimated to be between 1 and 13 percent. It's not clear what the chances of Guillain-Barré are for people infected with Zika, but during the 2013-2014 French Polynesia outbreak, when two-thirds of the island's roughly 270,000 inhabitants were infected, there were 42 cases of Guillain-Barré.
A paper published in April calculated the probable number of Zika cases during the Olympics, using dengue transmission during the 2008 outbreak as a model. It found that, on the low end, there would be 1.8 cases per one million tourists, and on the high end, 3.2 cases per 100,000 tourists.
So the concern is not necessarily that tourists will fall ill while they're at the games. (Though everyone seems to agree that pregnant women, at least, should stay away.) But "while Zika's risk to any single individual is low, the risk to a population is undeniably high," the letter reads. The fear is that travelers will bring the virus home, either in their bodies or in the bodies of mosquito stowaways, and it will spread further.
"People talk about that all the time," says Jane Messina, an epidemiologist at the University of Oxford, of the chance of infected mosquitoes hopping on airplanes. "Yeah, they could get on an airplane, I suppose, but I assume any airplane leaving Rio will spray. At the end of the day people move viruses internationally. Mosquitoes don't, really."
Large global gatherings do carry some risk of spreading disease—for example, in 2000 and 2001, the Hajj, the annual Muslim pilgrimage to Mecca, was associated with an outbreak of meningococcus. The CDC has a whole webpage on advice for staying healthy during "mass gatherings." But it's still hard to predict the impact of any one gathering affected by any one disease.
And Zika may have already had another, similar opportunity two years ago. Contrary to a popular theory that the virus arrived in Brazil during the 2014 World Cup, a paper published earlier this year in Science estimated a 2013 arrival date for Zika by tracking genome mutations and using epidemiological data. In that case, Zika was already around for one big global event in Brazil. Whether the World Cup played a role in spreading Zika is unclear, but "there's been a lot of opportunity for Zika to get brought over from Brazil already," says Messina, who has worked on global risk maps of Zika.
But Arthur Caplan, one of the four authors of the letter, and a professor of bioethics at New York University, thinks the nature of the Olympics makes them deserve special consideration. "Others have said there's tons of travel going on there anyway, but it's not coming from every nation in the world," he says. "I don't think there's any event that brings the whole world together like the Olympics."
It might be safer if the people of the world just stayed a little more apart. Or it might be fine. It will be winter in Brazil in August, so the weather won't be quite as mosquito-friendly. On the other hand, a recent report from Reuters says Rio still has a lot of sewage it hasn't cleaned up, which, when it comes to mosquito control "doesn't inspire me," Caplan says.
It's just a very uncertain situation, and uncertainty is pretty much Zika's calling card. "Most of what we thought we knew turned out to be mistaken," says Stephen Morse, a professor of epidemiology at Columbia University, referring to Zika's neurological surprises and the fact that it can be transmitted sexually, neither of which were known before this outbreak. "The great uncertainty that we all feel about this is really underlying a lot of this decision—the arguments about moving or [postponing] the Olympics are largely based on the perception of risk."
The WHO doesn't seem to think the Olympics are a bigger risk than regular international travel. "The problem is not the Olympics, the problem is other travel besides the Olympics, if there is a problem," David Heymann, the chair of the WHO's panel of independent experts on Zika told Reuters recently. "So it's just a false security to say that you'll postpone the Olympics and postpone the globalization of this disease."
"It seems like trying to scare people a little bit," Messina adds.
Quick-spreading emerging diseases are becoming a regular reality in this globalized world, and it's true that a once-every-two-years event probably has only a small role to play in that. And it would be downright gobsmacking if the Olympics were actually delayed over Zika. "Personally, do I think they're gong to postpone or move it? No," Caplan says.
But it's becoming clear that while we can't know what effect, if any, the Olympics will have on Zika's spread, some people see the risk as too high, and in the face of this uncertainty, would prefer to err on the side of caution. And it's possible that things less wieldy than the Olympics could be affected—Major League Baseball has already moved games from Puerto Rico to Miami because of Zika worries.
"If you were really committed to minimizing risk, indeed mass gatherings in general should be restricted or canceled," Morse says.
But how far is it really reasonable to go to protect against an unknown risk? The letter cites Rio's "severely weakened" health system as a reason not to go forward, but removing the Olympics from Brazil would surely have economic consequences for the country.
One could say that it's safest, when trying to manage an uncertain public health situation, to "take every precaution necessary. But I think that's excessive," Messina says. "The WHO has already advised against pregnant people traveling, and against having unprotected sex while you're there. Those are serious recommendations; they're not taking it lightly."
In lieu of fulfilling the admittedly long-shot postponement request, Caplan says he'd be happy if the WHO had an open forum to discuss the risks. "Convene the experts, have a public televised debate," he says. "That would get everybody in the position to make an informed choice. I think that's doable."