How Syphilis Came Roaring Back
The 18th-century ailment was on the brink of elimination before budget cuts helped resurrect it.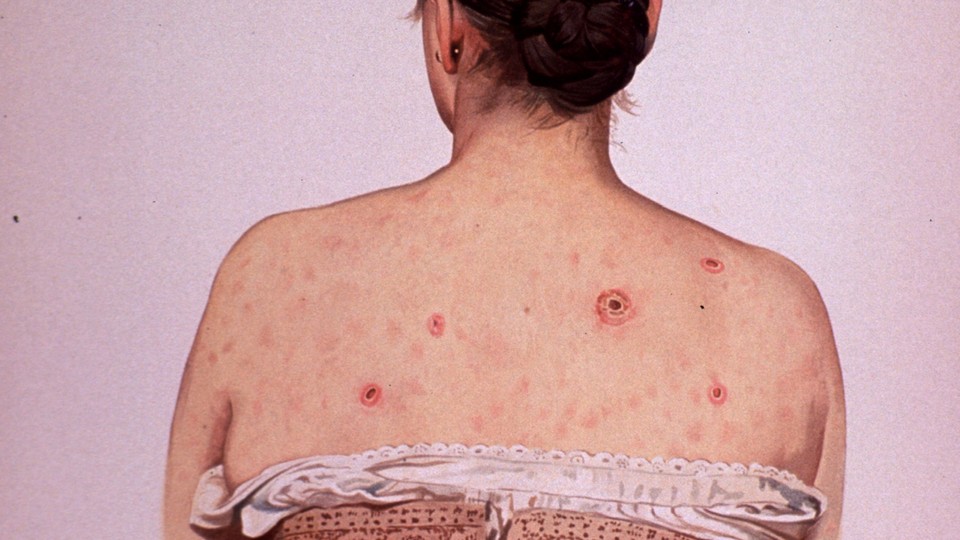 In recent months, newspapers around the country have published stories that sound like they could have been written 100 years ago. Indiana's syphilis cases skyrocketed by 70 percent in a single year. Texas' Lubbock county was under a "syphilis alert." Various counties face shortages of the medication used to treat syphilitic pregnant women.
But the headlines are very much modern—and urgent. Syphilis is back, public-health experts say.
For many years, syphilis was considered a practically ancient ailment—a "Great Pox" that, like tuberculosis or polio, Americans just don't get anymore. There were just 6,000 cases of primary and secondary syphilis in 2000, and the CDC briefly thought the disease's total elimination was within reach.
---
Rate of Reported Syphilis Cases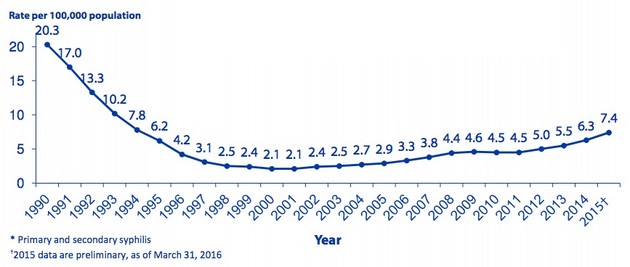 ---
But in November, the CDC reported that there were nearly 20,000 cases in 2014. While the rates  haven't climbed close to the devastating levels of the early 1990s, they're rising at an alarming rate. Perhaps most concerning, the past two years have seen a cluster of cases of syphilis of the eye, and a rise in cases of congenital syphilis—something even developing countries have been able to eliminate.
This year, the U.S. Preventive Services Task Force recommended screening high-risk people for syphilis every three months. The disease is curable with antibiotics, but it's a bit of a secret agent, transmissible through almost every sexual means and erupting as a tiny lesion about a month after exposure. At various stages of the infection, it might cause no symptoms or a puzzling array of them. If gone undiagnosed, it can cause everything from disfigurement to seizures.

As a result, "many people don't know what syphilis is or how it's transmitted," said Darryl Richards, the STD coordinator in Decatur, Georgia, which has one of the highest syphilis rates in the country. "Most people associate sexually transmitted infections with a discharge or a burning sensation. However, syphilis does not cause these symptoms."
Among gay men, the syphilis infection rate has increased to levels not seen since the start of the AIDS epidemic of the 1980s. Some public-health experts we interviewed think the syphilis resurgence might be driven, in part, by the rise of hook-up apps such as Grindr. And with the AIDS crisis now a distant memory, gay men might not be as careful with condoms as they once were. Indeed, those factors help explain why syphilis rates have also spiked in parts of Canada and Europe.
But others say a big reason is federal and state governments' failure to adequately fund local public-health budgets.
"This is a sentinel event—it is a failure of the healthcare system," Gail Bolan, the CDC's director of STD prevention, said at a recent Congressional briefing.
Many cities and counties have dedicated, low-cost STD clinics that are staffed by government health workers who specialize in sexually transmitted infections. They typically allow people to walk in without an appointment and offer many services for free. Each year, these clinics identify a fifth of all syphilis cases in women and a quarter of those in men, but they've been gutted by state, local, and federal budget cuts. The CDC, which helps fund local STD prevention efforts, has lost more than a billion dollars in its budget since 2005.
In 2012, more than half of all STD programs in the country saw budget cuts. Many of them reduced their hours and screening capacity as a result. Since 2008, local health departments shed nearly 44,000 jobs. Syphilis rates have risen more rapidly in states that have underfunded syphilis prevention efforts, according to the CDC. After a wave of clinic closures in the past four years in New York, for example, 50,000 fewer people have visited the clinics for testing.
---
Change in Syphilis Rates and Funding for Syphilis Prevention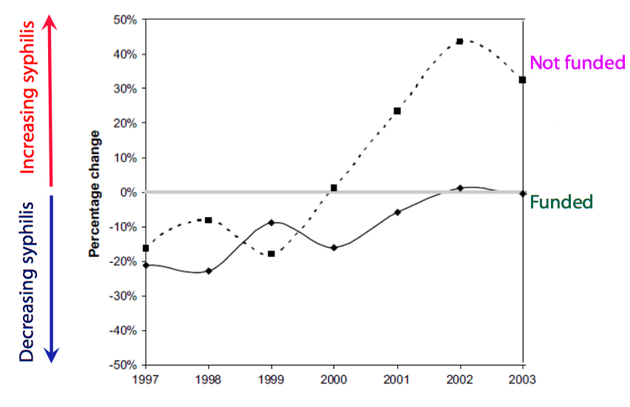 ---
"Our public health infrastructure is at the point of breaking," said Bill Smith, the executive director of the National Coalition of STD Directors. "Our mantra has been to 'do more with less,' but now we're doing less with less. The public's health is in danger."
Congress is now debating the funding level for STD prevention grants in the fiscal year beginning October 1, and the prospects for an increase are not good, Smith said. Syphilis, gonorrhea, and chlamydia are all covered in one block of money sent to states and cities through the CDC, and that line item has remained flat, at around $157 million, for the last several years. In a letter to members of the Senate, Smith wrote that funding for STD prevention had dropped by $21 million since 2003, which he said represented a 40 percent loss in purchasing power for prevention programs.
The Senate has proposed a $5 million cut in funding for STD prevention as part of the appropriations bill covering the CDC, while the National Coalition of STD Directors is seeking an $8.1 million increase. The funding probably won't change at all until the spring of 2017, though, since Congress will likely pass only stopgap bills that maintain current levels of spending until the next president takes office. "The word we got back was that it's a tough budget year and cuts need to be made," Smith said.
That's the same line he's heard on Capitol Hill for the last half-decade of austerity budgets in Congress. In the first years of the Republican majority, lawmakers cited the newly-passed Affordable Care Act as an excuse not to increase sexual health budgets. If more people are gaining insurance and access to care, the reasoning went, why does Congress need to appropriate more money for STD prevention? According to advocates and public-health workers, the answer is that people still turn to publicly funded STD clinics for testing, rather than to family doctors, either because they are uninsured (as half of all STD clinic patients are) or out of embarrassment.
"It's not the flu. It's not 'my wrist hurts,'" Smith explained. "That's not something people are entirely comfortable sharing with their primary care provider." And because syphilis was so rare for so long, Smith says many general practitioners miss clear signs of the disease that STD clinics are trained to notice.
Smith believes local health departments are short-changed financially because "sex is one of those third rails," and STDs don't have the newsy visibility of, say, Ebola or Zika. Few lawmakers—Democrats or Republicans—step up to be champions of STD prevention. While advocates no longer hear the moralizing from conservative lawmakers they might have encountered a generation ago, politicians are still leery of being the public face of syphilis, gonorrhea, or chlamydia.
Instead, the public face of syphilis, which in later stages can cause everything from oozing wounds to disintegrated noses, might eventually belong to unsuspecting, low-income people.