Hell for Abortion Providers
The Supreme Court struck down a law that would force many Texas clinics to close. But for abortion providers in conservative areas, staying open is just the start.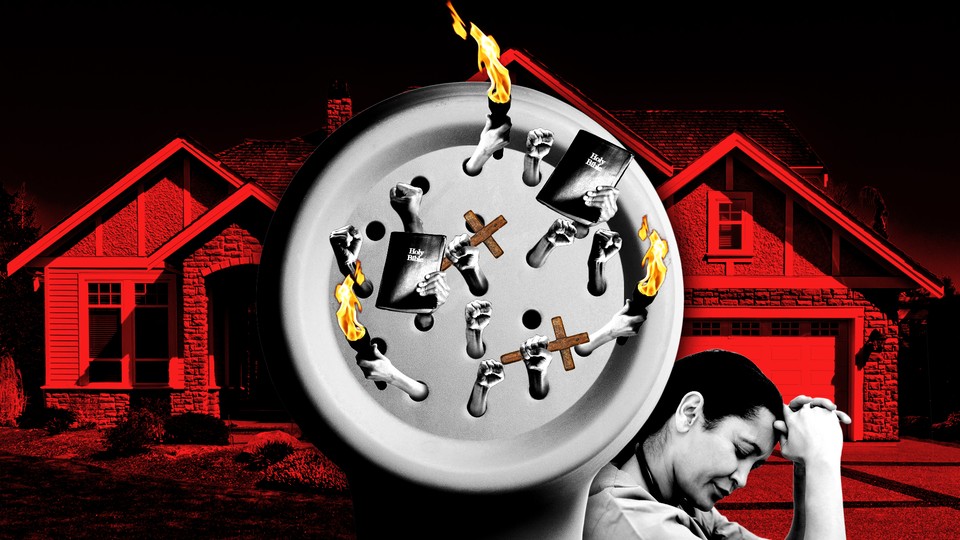 ODESSA, Texas—Karen Hildebrand's death threat came in 1994. She was hosting a birthday party for her 10-year-old son when someone called the house and told her husband to start digging a hole, because he was going to put her in the ground.
Hildebrand knew why. At the time, she was the CEO of Planned Parenthood in West Texas, a deeply conservative area where many fiercely opposed her work. The previous day, a conspiracist named John Salvi killed two receptionists at a Planned Parenthood in Brookline, Massachusetts.
"I couldn't call the police because the other kids' parents would never let them come back to my house, and my child would have no friends," Hildebrand told me recently.
Then there was the time her coworker, Carla Holeva, who handled community affairs for Planned Parenthood, was at the grocery store "minding my own business" when a man and young boy approached her.
"Get a good look at her," she recalls the man telling the boy. "She's a very mean woman. She likes to kill babies."
In their decision in Whole Woman's Health v. Hellerstedt on Monday, the Supreme Court struck down parts of the law that would have closed all but 10 abortion clinics in Texas, a state with nearly 5.5 million women of reproductive age. In a 5-3 decision, the Court ruled that the law's requirement that doctors who perform abortions have admitting privileges at nearby hospitals and that abortion clinics maintain facilities comparable to surgical centers placed a "substantial obstacle" in the path of women.
But the clinics in these two far-flung towns—Odessa and neighboring Midland—were struggling to say open long before HB2, the law that prompted the Supreme Court case, went into effect. Odessa's Planned Parenthood closed in 2012, and the one in Midland followed in 2013, on the heels of cuts to state family-planning dollars.
For Hildebrand and Holeva, HB2 was the final salvo in what had been an uphill battle to provide abortions in an overwhelmingly Christian oil town. Their experience helps explain how lawmakers across the country have been able to pass so many abortion restrictions in recent years. They offered a glimpse at the myriad legal, financial, and cultural obstacles they faced—many of which are still the reality for abortion providers in Texas and elsewhere.
T
he year Midland began offering abortion services, 1995, Hildebrand said she was on the news 52 times. Around town, everyone recognized her.
"You go into a restaurant with your family, and people would hold up their menus and talk about you and point and stare," she said. "And you're just hoping your kids are on their best behavior because people are judging you."
When Hildebrand was pregnant, strangers would say, "I thought you hated babies. Why are you having one?"
At the clinic, pro-life groups waited in the dark for staffers to arrive or tampered with the lock on the clinic door. When the clinic was being remodeled, one of the contractors quit because his life was threatened, the women said.
It was only the Midland clinic that offered abortions, and only on one or two days each week. Because of legal restrictions on funding, the clinic split into two entities. On abortion days, the one that provided abortions would lease the building from the one that didn't. On those days, up to two dozen women streamed in from 50 surrounding counties. Some woke at dawn to drive four hours through the dusty panhandle plains.
The state's legal requirements meant women covered by certain government programs received incomplete information. While privately insured pregnant women could be told about abortion services, women who came in under a government program called Title XX remained in the dark. If those women asked about abortion, Planned Parenthood staffers had to tell them, "you'll have to look it up in the Yellow Pages," Holeva said.
For the first few years after the Midland clinic began providing abortions, there was an "eerie quiet," as Holeva describes it. Then, practically overnight, the protesters materialized. One group wore matching Jesus robes. Another had what Holeva calls "Mary on a surfboard"—a statuette of the virgin mother affixed to a plank. "It was like a three-ring circus," she said.
One group, Pro-Life Midland, bought the land across the street and made a graveyard with dozens of crosses—one for each aborted fetus. They used it as a "prayer garden" for rallies.
Then, Planned Parenthood moved to a newer, nicer building in another part of town.
"It was such a joyful day, when we got to put the for-sale sign on the Midland clinic," Holeva said. "I wanted to have a champagne party in the parking lot."
They moved into the new building. Choose Life Midland bought the building across the street.
Protestors would approach patients at their car windows, the women said, or as they walked up to the clinic doors. Some took their photos. "Then you park your car and now they're next to the fence telling you how bad you are," Hildebrand said, "and that you'll be hurt when you go in those doors, or that an ambulance was just here a little while back taking a woman out of the back."
Gina Aaron, a volunteer with the anti-abortion group Choose Life Midland, said she heard some protesters took photos "in the early days." She said her group was mostly focused on "sidewalk counseling," or attempting to convince abortion patients to change their minds.
The most outrageous, to Hildebrand, were the protesters who would trace patients' license-plate numbers and send mail to their homes. They would write Planned Parenthood's as the return address, off by a digit or two. Mike Banschbach, who has run Pro-Life Midland since 2000, acknowledged sending pro-life brochures to patients, but had "no comment" regarding the return addresses.
"It would have information in there about, 'we know where you've been,'" Hildebrand said. "We had this woman call one time who was absolutely hysterical. She said, 'my husband always gets the mail. Today, I got it, and I got this mail from you guys. If he would have found this, he would have killed me.'"
T
he Midland clinic's demise came soon after the Republican-dominated state legislature slashed public funding for any group associated with an abortion provider in 2011. Without that money, the West Texas clinics and 80 other family-planning clinics in the state couldn't afford to stay open.
"It was a very well-crafted plan," said Holeva, who took the reins from Hildebrand as CEO in 2012. "The larger Planned Parenthoods could hang on. We couldn't survive."
Aaron said when the clinic closed, "we were thrilled." She thinks her group's activities might have helped speed its death, along with "a lot of prayer and God's intervention, and the legislators." (Banschbach and Aaron both said their groups were not responsible for the death threats or the lock-tampering.)
Today, Midland women live five hours from the nearest abortion provider. Hildebrand now works for a domestic-violence organization that's located in the old Planned Parenthood building in Odessa. Women still stop by the building in search of health services. After the two clinics closed, thousands of patients scrambled to squeeze into the remaining low-income health clinics in the area, and waitlists formed.
"[Planned Parenthood] was running two full-time clinics here in the area, and when it goes out of circulation, man, that's a lot for basically one doc to absorb," Midland Community Healthcare Services director Michael Austin told the Midland Reporter-Telegram recently. "We can only do so much."
The two women seem to have processed their experiences differently. Holeva was almost amused: After recounting a particularly bleak anecdote, she would chuckle a bit. "There's a spirit in you if you work for Planned Parenthood," she said. "There has to be."
Hildebrand, meanwhile, seemed drained. She spoke in the tired voice of a do-gooder who many thought did no good at all. Years ago, she attended a local game night. When she introduced herself to a group of women, one made a cross with her fingers and hissed at her. "Like I was Satan," she said.
I asked what kept them devoted to a place where so many antagonized them for so long. They drew strength from their many grateful patients, they said, and even from the late-night phone calls from prominent community members, who quietly asked for "help" for their teenage daughters.
But mostly, the women shared an unshakable conviction that women have the right to an abortion. "If you have forced pregnancies all the time, you can't ever succeed," Hildebrand said. "You can't ever be free."