Repairing Wounded Soldiers' Sex Lives
Creative therapies are teaching veterans with genital injuries alternative ways to be intimate.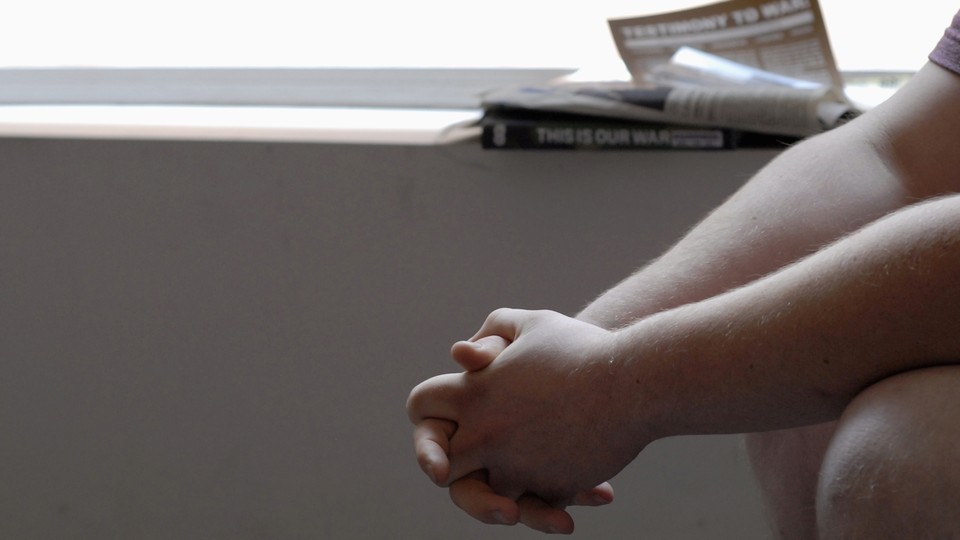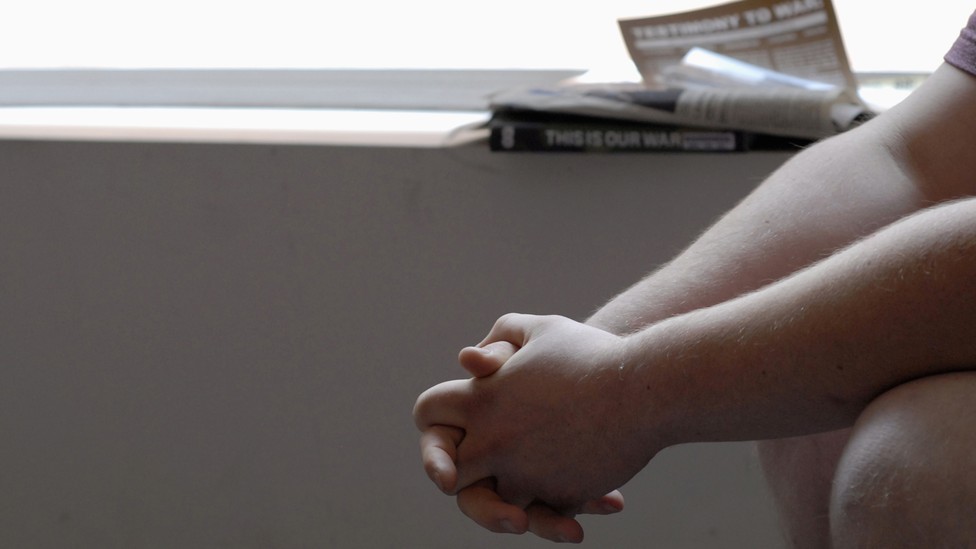 Today, whenever Timothy Brown wants to have sex, he needs to stick a needle in the base of his penis. A former staff sergeant in the U.S. Marine Corps*, Brown was severely injured by an improvised explosive device while serving in Iraq in 2012. The explosion tore off both legs and his right arm as well as his testicles and a portion of his penis. Physicians have since made a reconstruction with tissue from the inside of his mouth and skin from part of his right leg, but Brown can only stay erect for short periods of time. If he wants to have sex, he needs to give himself an injection of Trimix, a blood-flow stimulant.
As part of Brown's recovery, he's had to learn how to have sex all over again. "When your sex drive comes back, it's like being in high school," he says, "I don't know how it's going to work. I don't know what's going to happen." Regaining the ability to engage in intercourse took him two years.
Brown was fortunate to be part of a treatment program in one of two military hospitals across the nation that has specific sexual therapy classes for veterans. While all Veterans Affairs hospitals offer Occupational Therapy, which includes sexual therapy, the VA Long Beach Healthcare System in southern California and Walter Reed Medical Center in Bethesda, Maryland, are unique in that they have introduced courses and counseling focused on this issue. The programs offer guidance as veterans recover from genital wounds, and are part of an increasing effort by the military to both address these injuries and protect soldiers from them in the future.
The development of these initiatives is indicative of an increasing openness from the military and physicians to address veteran health problems related to sex and fertility—topics that had previously been considered taboo and treated as if they were simply ancillary concerns.
In a study conducted by the Department of Veterans Affairs last year and published in The Journal of Sexual Medicine, researchers found that male veterans who suffered from post-traumatic stress disorder were four times more likely to suffer from erectile dysfunction. And for those who have had injuries that resulted in the loss of some genitalia, sex can become nearly impossible without the support of programs like the one that helped Brown at Walter Reed. According to the Department of Defense Trauma Registry, 1,367 military servicemen in Iraq and Afghanistan sustained injuries to their genitals between 2011 and 2013.
Linda Mona, a staff clinical psychologist at the VA Long Beach Healthcare System, has seen scores of veterans for sexual dysfunction and problems with intimacy. She notes that beyond the devastating injuries some troops may have suffered, the psychological effects of war can cause their own strain on intimate relationships. Some of the problems former soldiers may have during intercourse, she says, come from an inability to stay in the moment due to PTSD and other traumas related to combat.
"Memory and attention are the most powerful aphrodisiacs," she says. "It's not uncommon for me to have a patient with a traumatic brain injury and their partner will say to me that they'd be in the middle of love-making and they feel he's off thinking about something else."
Brown attributes the dysfunction he's experienced less to the mental effects of war and more to its physical ones.  "I didn't want to try and hit on a chick with a colostomy bag on," he says.
Post-recovery, Brown has taken a different approach to sex than he had before—shifting the emphasis from his personal satisfaction to insuring that his partner enjoys the experience. "I went from being self-centered to trying to encompass everything for the both of us," he says. "Simple things like feeling [his partner's] body, feeling their muscles when you hit the right spot." While he developed this outlook on his own, he notes that the program enabled him to feel more secure in his sexual life.
Mona says that Brown's situation isn't uncommon—and that those who become disabled tend to find more creative ways to engage in sex. "If you are somebody who loses the ability to have an orgasm, the sequencing of sex changes for you," Mona says. "Whether you have a genital-blast injury or a spinal-cord injury, not having an orgasm is a big deal and it takes time to adapt. And part of adapting may mean going by your partner's arousal and also slowly learning what turns you on in your new body."
Brown's approach is exactly what occupational therapists at Walter Reed have tried to teach other injured soldiers. Within the hospital there is a sexual health and intimacy service that focuses on education and therapy. According to Brown, therapy sessions were de facto sex classes that included sex toys aimed at stimulating different parts of the body. Officials at Walter Reed wouldn't comment on what products were used during the sessions. In addition to funding classes like this one, the Department of Defense spent more than $84 million on erectile dysfunction drugs in 2014.
Alex Calvo, a former army specialist and now the vice president of the California chapter for Paralyzed Veterans of America, had an experience with sexual therapy similar to Brown's at the VA Long Beach Healthcare System. After a decade of living with his disability, he underwent therapy with Mona in search of ways to have oral sex and try different erectile drugs, such as Viagra, with his now-wife, Julie.
When Calvo was 25 years old, he lost use of his hands and legs after falling four stories from a roof. Calvo had never been with another person after his injury until he underwent therapy and relearned how to have sex. "Without the use of my hands, I couldn't even masturbate," he says. "So I just learned to move on and live without it."
"We had to really try things out and be light-hearted about it all," Julie says. "It was about learning new ways that worked for both of us." The couple now has a seven-month-old child.
While Brown remains positive about his recovery, he's concerned that the army didn't shield its soldiers better in the first place. At the time of his injury, Brown and his team were only issued kevlar plates that would hang from the bottom of the vest. There have been concerns that such armor protected soldiers' genitals from bullets but not blasts.
"The plate was basically just a flap that hung down in front. It didn't really help in the event of a blast, it was more there in case you get shot," says Army Sergeant First-Class Aaron Causey, another soldier who suffered amputations and genital injuries after stepping on an IED in Iraq. He didn't wear the gear when he was injured, he says, and also never knew anyone else to wear it. Brown wasn't wearing this armor when he encountered the IED, either.
In 2012, a few months after Brown was hurt, the military began issuing a two-tiered protection system that is aimed at helping protect against both gunfire and explosions, called a pelvic-protection system. It includes Kevlar-woven boxer shorts, similar in style to a pair of biking shorts, and a bulletproof Kevlar plate placed in front of the groin.
"We had so many guys from our deployment suffer really catastrophic injuries, myself and others included," says Brown. "I remember seeing the news that they were sending guys [the pelvic protection system] three months later while I was inpatient at Walter Reed. I got so pissed off I punched the screen."
But the protective gear released after Brown's injury wasn't worn consistently by soldiers either, according to a policy brief released last year by the University of Southern California. Researchers at the university's Center for Innovation and Research couldn't explain why some troops were wearing the gear at the time of their injuries and others weren't.
Investigations conducted in 2013 by the Army Surgeon General's office found that soldiers who didn't wear the pelvic-protection system—charmingly nicknamed by troops as "blast boxers" and "blast diapers"—were twice as likely to suffer from extreme genital wounds. "We have to make sure [troops] know what they're wearing and why they're wearing it," says Lieutenant Colonel Kathy M. Brown, a product manager who heads armor redesign with the Army's Program Executive Office Soldier (PEO). The department helps develop the design and implementation of gear for deployed troops.
"It's like motorcyclists who don't wear their helmets. The law says you should, you know it's going to save you, but we see all the time people not wearing them for comfort reasons," she says. "The same thing happens in the military."
There's been a broad call from soldiers for more comfortable gear that's lightweight and easier to use. Additionally, there's a large demand for armor that would protect ovaries for the growing ranks of women serving in combat. These concerns are among those that forced the military to do an armor redesign. In 2019, a new protective overgarment will be issued to deployed troops.
The new gear, which resembles a set of shortened chaps that clip on the sides of both legs, is being tested at Fort Lewis outside of Tacoma, Washington, and, according to PEO Soldier, is "highly rated" among testers. The armor provides more protection to the abdomen—where women's ovaries sit—as well as in between the legs, up against the genitals.
As the army continues to refine the protection of those who are being deployed, it could learn from the perseverance and creativity of soldiers like Brown, who has been determined to recover and adapt following his injury. Recalling the physical challenges he encountered upon his return, Brown says, "I finally asked: 'Is it that you can't? Or is that you haven't figured out another way?'"
---
* This article originally stated that Timothy Brown was a member of the U.S. Army. We regret the error.