The True Harm of Bathroom Bills
Trans people who are denied access to bathrooms are more likely to attempt suicide.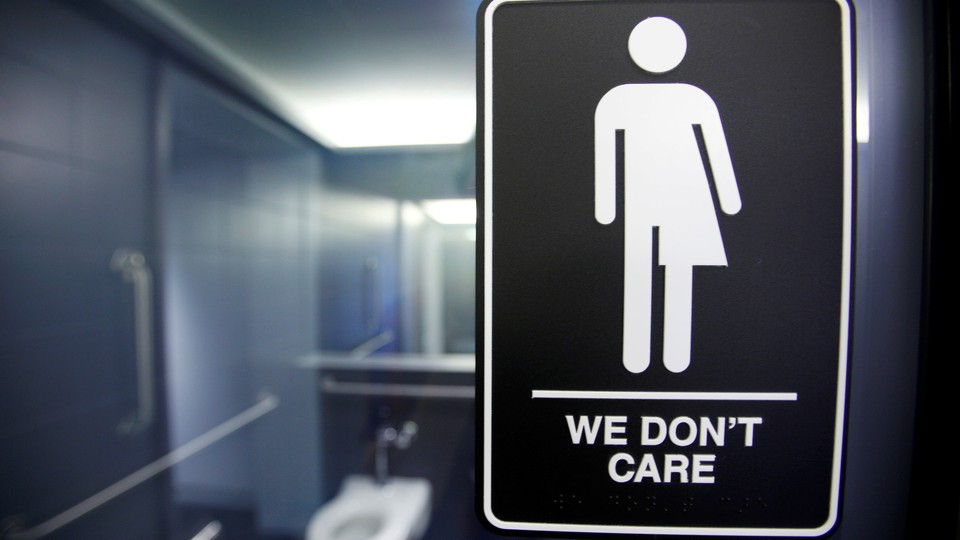 A recent viral video showed a woman wielding a Bible overhead and marching through a Target, ringing out her message through the brightly lit aisles. "I'm a mother of 12 and I'm disgusted by this wicked practice," she cried. "Mothers, get your children out of this store … it's a dangerous place!"
The woman, who has not been identified, is not the only one incensed by Target's announcement that it would allow transgender customers to use the restroom that matches their gender identity. More than 700,000 people have pledged to boycott the store. Target's move, meanwhile, was seen as a response to a new North Carolina law that requires people in government buildings to use the bathroom that corresponds with the sex on their birth certificate—in effect forcing post-transition transgender people to use the bathroom of the opposite sex.
The idea that children, especially girls, will somehow be hurt by relieving themselves alongside transgender women has been one of the main arguments of the law's proponents. In the words of Texas Senator Ted Cruz, "Men should not be going to the bathroom with little girls."
There's no evidence that municipalities that have protected trans people's restroom access have seen a spike in public-safety issues. But according to some studies, not having protected restroom access can be harmful for trans people.
According to a study by Georgia State University's Kristie L. Seelman, being denied bathroom access is correlated with an increased risk of suicide attempts among trans people.
Transgender people have said bathroom access is one of their "most pressing challenges," Seelman writes in the study, which was published in February in the Journal of Homosexuality. Trans people have reported getting stared at or being asked to leave, something that causes them "great stress," according to researchers. Seelman highlights an earlier study of 93 trans people that found 68 percent had been verbally harassed in bathrooms, and 9 percent were physically assaulted.
For her study, Seelman examined a sample of 2,325 transgender college graduates who responded to the National Transgender Discrimination Survey in 2009. A quarter had been denied access to bathrooms in some way or another. Their suicide-attempt rate was also much higher than that of the general U.S. population—47 percent, compared to about 4 percent for all Americans. Those who had been denied access to bathrooms were 45 percent more likely to have tried to kill themselves, even when controlling  for other types of victimization.
"This suggests that there may be a distinct relationship between the stress of not being able to use bathrooms or gender-appropriate campus housing and one's mental health," Seelman writes.
Seelman connects the suicide risk to "minority stress," or the chronically high levels of stress from discrimination that stigmatized groups face.
Last week the Obama administration told school districts across the country to allow transgender students to use the restrooms that match their gender identity, so this is already less of an issue for public-school students in North Carolina. But the broader debate over bathroom access has sparked a series of bizarre incidents involving people who were perceived to be transgender. Last week a short-haired woman in Danbury, Connecticut, said she was washing her hands in a Walmart when a stranger told her, "You're disgusting! You don't belong here!" After a transgender boy attempted to use the boy's bathroom in Vermont, someone complained, then students launched a "straight pride" campaign.
But perhaps nothing compares to the stress of hearing yourself compared to a "pervert" or devil-rapist—words used by the Bible-toting mother—on your weekend shopping trip. As another protester marched, railing against "pedophiles," through a San Francisco Target recently, a trans person approached him and said, "there's a trans person right here in front of you."
"You're gonna go to hell," the man yelled.