Toxic Substances Will Now Be Somewhat Regulated
How the first ever update to the Toxic Substances Control Act of 1976 finally came to pass—and what it lacks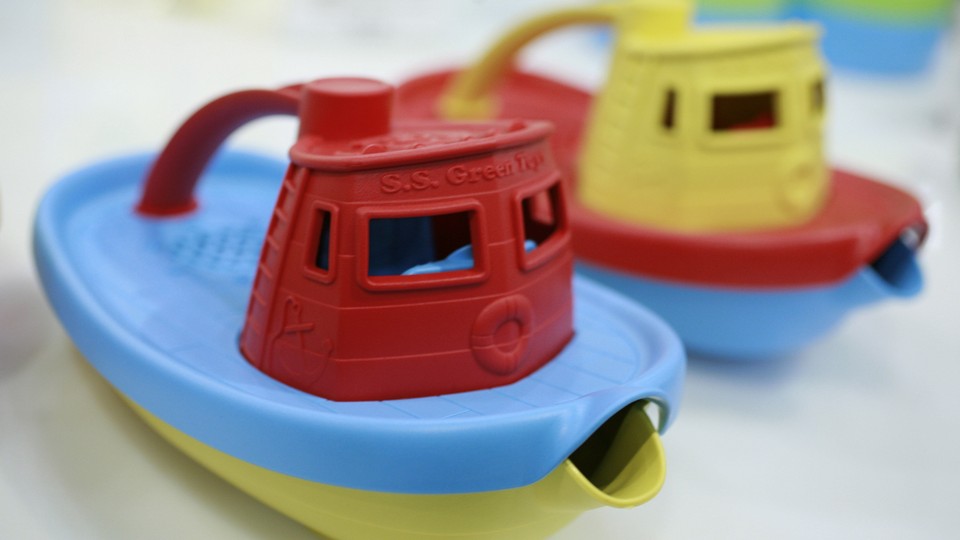 Updated on May 26 at 5:05 p.m. ET
Asbestos is a fiber found in nature, made of six minerals. Its unique structure makes it resistant to fire, a lightweight insulation to keep people warm in their homes. The ethereal quality of the fibers also, unfortunately, makes them easily drawn into our airways.
There they work their way down into our lungs, and our body attacks them. But the fibers are too large for our immune cells to eradicate. Like a sore that won't heal, the scars grow and expand over decades, often until the lungs cease to function. The fibers and scarring can also pierce into the mesothelium, the slippery lining that allows our lungs to slide within our chest cavity, where they cause the aggressive cancer whose name has become synonymous with daytime-television class-action-lawsuit commercials.
While asbestos is illegal in more than 50 countries, the United States is not among them. The Environmental Protection Agency attempted to make asbestos-containing products illegal in 1989—and succeeded temporarily. But the ruling was overturned in 1991 after appeals by manufacturers. The weak point for the regulatory agency was the Toxic Substances Control Act of 1976—the law that ostensibly regulates household and industrial compounds (chemicals in the stuff under the sink or in the garage)—which, when put to the test, did not afford the EPA enough power to ban asbestos.
Since then, many advocates for human health have demanded overhaul of the patently "toothless" law. The Toxic Substances Control Act has simply proven ineffective at banning elements linked to health problems, and many believe its premarket safety testing standards are also inadequate. (Not to mention that the law requires no safety testing for the roughly 60,000 "grandfathered" substances that were already in use as of its passage in 1972.)
So it is of great historical significance that after 40 years, in a Congress so divided, the U.S. House of Representative voted overwhelmingly (403 to 12) this week to pass the first ever update to the law. Even Republicans who have repeatedly voted to downsize the EPA, have in this case supported the measure to expand its power. The Senate is expected to pass the bill in coming weeks, after which President Obama is expected to sign.
The product of years of negotiation, the bill was introduced in 2013 by Senators Frank Lautenberg and David Vitter. It had momentum in the moment, but several days later, Lautenberg died. The bill is named in his honor, the Frank R. Lautenberg Chemical Safety for the 21st Century Act.
"This is an issue that many people assumed was never going to see progress because it had been so politicized, and industry and environmentalists were so diametrically opposed on how it should be handled," said Anne Kolton, vice president of communications for the American Chemistry Council (ACC), a trade group that advocates for industrial chemical manufacturers and suppliers. "It's something that, through the art of compromise, we've settled on with the environmental community and the public health community."
But those communities seem less than settled.
Philip Landrigan, dean for global health in the Icahn School of Medicine at Mount Sinai, has for years been concerned about the cumulative effects of environmental exposures that, he believes, have "subtle but far-reaching impacts on brain development that show up as lifelong impairments in cognition, ability to focus, and ability to exert executive control over impulsive, risk-taking behaviors."
Among his chief concerns are brominated flame retardants used in furniture, organophosphate pesticides, phthalates used in some toys, perfluorinated compounds, which he'd like to see restricted to "essential uses" (where there is no substitute). Nanotechnology, too, is a concern. "Investment has exploded, but the amount of information on hazards is minute," said Landrigan. "It may turn out that there isn't much hazard, but I wouldn't be so sanguine."
He's unsure if the new bill will give enough power to remove substances once they prove harmful. "This could very well fix the problem, but we won't know until the first legal judgment," said Scott Faber, vice president of government affairs for the Environmental Working Group, a self-described non-partisan organization "dedicated to protecting human health and the environment."
"The average reader of The Atlantic would say, you know, chemicals should be safe. And the EPA should get to work reviewing them," said Faber. "Neither of these things are clear from this."
Faber concerned that the bill doesn't provide sufficient funding to the EPA to test even the highest-priority substances in a timely manner. Asbestos exposure became grounds for one of the longest and most expensive mass torts in history; even from a purely financial perspective, it makes sense to preempt similar catastrophes. The agency has testified that about 1,000 substances ought to be quickly reviewed, and Faber estimates the bill provides about half as much money as would be needed to get through those chemicals in one generation.
"This new bill is certainly an improvement on the current Toxic Substances Control Act," said Landrigan, noting that it would increase pre-market safety testing requirements, with a mandatory emphasis on vulnerable populations. The act also removes some "trade secret" loopholes, which allowed companies to hide data on chemical testing. "But it also doesn't go as far as a lot of us in the public health community were hoping it would go."
Probably the most concerning thing to Landrigan and Faber is the bill's pre-emption of the states' ability to regulate toxic chemicals.
"States have been the only cop on the beat—the EPA has been a paper tiger, certainly since 1991," said Faber. "Now this law says that there's a period when the EPA is reviewing a chemical during which states can't act. This freezes state action while EPA is investigating. And that's been the only [regulatory] activity for the last two decades."
If everyone is interested in appropriate safety testing, I asked Faber, then why would the exemption argument exist?
"I'm sure when you call the American Chemistry Council they'll have a good argument for that."
And, they did have an argument. Having different regulations in different states is difficult and costly to industry.
"If industry was writing the bill, the preemption provisions would be stronger," said Anne Kolton. "We certainly are comfortable with where it came out. But the proliferation of state level chemical restrictions—and, in some cases, standalone regulatory programs—was really becoming a major challenge for manufacturers."
The most famous example may be California's Proposition 65, which requires manufacturers to warn consumers if its product contains known carcinogens in its products. As Kolter put it, "That presents a challenge for manufacturers and retailers."
Proposition 65 is among a small number of state-level programs that will remain outside of the new EPA preemption. But the general law is that once the EPA is done with its work, any state-level restrictions or bans that are in conflict with the EPAs findings would be preempted by the agency's finding.
"Why would we throw that resource out the door if Congress and industry aren't able to provide enough money to review all the chemicals that should be previewed?" he posits. "There's no reason to block state action before EPA declares their final rule— other than industry's desire to simply chill any co-regulation."
"I find it kind of ironic," said Landrigan, "that the political party that usually champions states' rights chooses to take those rights away when it's convenient."