One Parent's Twitter Campaign to Get Her Daughter a Wheelchair
With #ellaneedswheels, a mother took on the insurance company that wouldn't cover her mysteriously paralyzed child.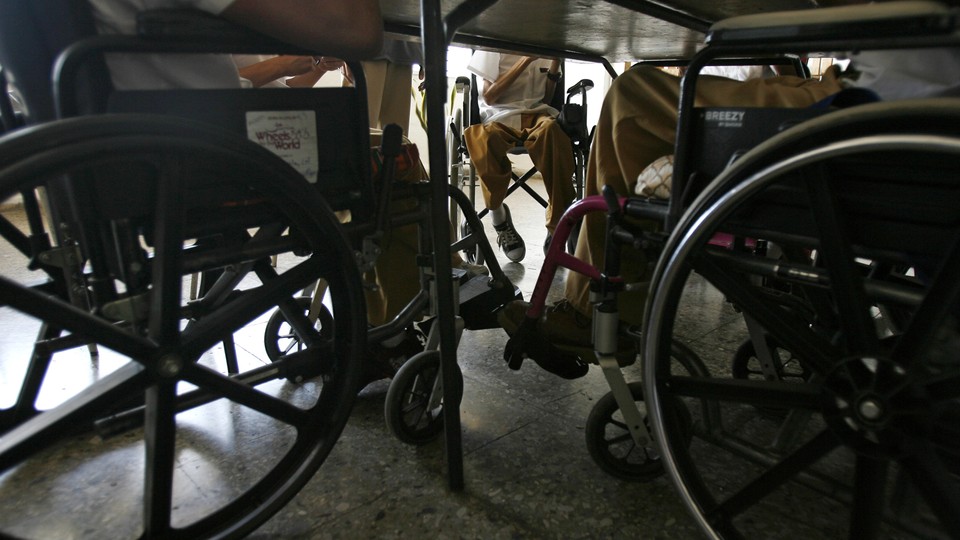 It seemed like a no-brainer to Rebecca Frech: When her 9-year-old daughter Ella suddenly lost the ability to walk, she needed to get her a wheelchair.
Ella stopped walking in March 2014, shortly after she developed a low-grade fever. Just a few hours after the fever's onset, she complained of her legs being tired and, at her mother's insistence, lay down on the couch. She never stood unassisted again. Ella, along with her parents and six siblings, was devastated by her abrupt decline. "There were days I went in my bedroom and sobbed," Rebecca said. "Because I knew she was sitting on the couch sobbing, too."
Ella was eventually diagnosed with enterovirus D68, an infection that closely mimics polio and is known to paralyze people with weakened immune systems. (Ella had previously been diagnosed with rheumatoid arthritis, an immune-system disorder.) But in the months immediately following her paralysis, the Frech family took Ella to neurologists, geneticists, and psychiatrists, all of whom were puzzled about why her legs, which were otherwise healthy and muscular, had quit working. Nobody could agree on the cause, but they did agree that Ella needed a way to move around until she recovered. In May, one doctor wrote the Frechs a prescription for a pre-owned wheelchair.
In order to pay for the chair, which cost more than $5,000, however, the Frech's insurance company needed a diagnosis. With none forthcoming, Frech was overjoyed when her friends raised the money necessary for Ella's temporary wheelchair through an account on the crowdfunding website GoFundMe. In early June, Ella settled into her chair and sighed with relief, laughing at her friends' assertion that she was now "confined" to her wheelchair. "I was confined to the couch!" Ella would say.
But the Frech's struggle was far from over. By November, there was still no specialist who had any idea why Ella wasn't walking, and her condition hadn't improved. Moreover, the chair was uncomfortable. The tires, bald instead of treaded, were unsuitable for Ella's outdoor, active lifestyle. And the wheels, angled slightly inward to accommodate the previous owner, put stress on her shoulders, which already ached from arthritis. In November, realizing the need for a longer-term solution, the Frechs sent in a request to their insurance for a new, custom wheelchair. Within weeks, they were denied.
"None of our doctors had sent the insurance company the diagnostic code for not being able to walk," Frech said, which was a procedural oversight on the doctor's part. So the Frechs tried again.
In December, Ella's neurologist sent in a request for a customized chair, a light-frame, aluminum model. "We needed the chair to be as light as possible," because of Ella's arthritis, Frech said. "And the aluminum frame [we requested] made an 11-pound difference." By this point, Ella was heavily involved in adaptive sports, so the Frechs requested a treaded wheelchair tire to accommodate her activeness. Again, they waited.
On New Year's Eve, the Frechs got the news: Ella's chair had been denied for a second time. The insurance company needed more specific information as to why the chair was medically necessary. So the Frechs sat down with their neurosurgeon and got specific.
"We had to justify every single piece [of the chair] in writing," Frech said. "Like, 'Why do you need the six-inch cushion and not the three-inch?'" The Frechs sent in another request, this time for either a sporty wheelchair called a Box chair or a standard wheelchair model called the Tilite, which they liked less but would happily accept. The medical supply company took Ella's measurements, and their doctor sent almost 40 pages of medical documentation to justify the parts they had requested.
At the end of January, the Frechs were denied for a third time. Their insurance would not pay for either chair.
* * *
The Frechs' story is surprisingly common. Roughly 30.6 million Americans over the age of 15 have some sort of physical disability, according to figures from the 2010 U.S. Census (the most recent year for which data is available). A 2009 report from the National Council on Disability (NCD) found that people with disabilities "tend to be in poorer health and use health-care at a significantly higher rate" compared to those without disabilities. The same NCD report found that disabled people frequently lack coverage for assistive equipment and are more likely to be affected by barriers to health-care services. In other words, disabled individuals are both more likely to need health insurance and less likely to benefit from it.
The lack of adequate health-care coverage has led families in droves to popular fundraising sites like Kickstarter and GoFundMe. In an interview with NPR, GoFundMe's CEO Brad Damphousse, revealed that medical expenses are the site's most popular category, accounting for 17 percent of total fundraising donations. In 2012 alone, Damphousse said, GoFundMe's medical fundraising pages collected more than $6 million.
One such page belonged to Joe and Aubrey Allred, who started a GoFundMe account to raise money for their son's wheelchair. Crue Allred, then two-and-a-half, was born with spina bifida and fully immobile from the waist down. When his parents noticed that he had grown out of his toddler-sized wheelchair, Aubrey sent in a claim to their insurance company for one that would properly fit. Despite a doctor's prescription, three letters of recommendation from Crue's therapists, and some national news coverage, their request was denied three times on the basis that a wheelchair wasn't "medically necessary." Within weeks of signing up for a GoFundMe account, the Allreds had raised enough money via donations to pay for Crue's wheelchair out of pocket, nearly $10,000.
Currently, a search for "wheelchair" on GoFundMe.com yields more than 15,000 results. While there are more adults than kids fundraising for durable medical equipment (DME) such as walkers and wheelchairs on GoFundMe, children with ambulatory difficulties—more than half a million of them in the U.S., according to 2010 census data—are at a unique disadvantage because, unlike adults, they frequently grow out of their equipment. According to Susan Mahoney, a seating specialist and consumer advocate who worked closely with the Allred and Frech families during their appeals, private insurance companies and Medicare programs in many states have a timeframe for durable medical equipment and how long it must last before the company will replace it. But for kids, durable medical equipment can become uncomfortable or ill-fitting quickly, and getting new equipment can be a challenge if it's requested before the pre-approved time limit.
"Some families go through six levels of appeals," said Mahoney, with each appeal taking a minimum of one to two months. "By the time you hit a certain level of appeal, you're looking at six months to a year. It's unethical."
To get the equipment they need, Mahoney advises people to wield the only power they have over their insurance providers: public opinion.
"I tell the families to go to the media, if they can."
* * *
After their third denial, Rebecca Frech got angry. "I sat down and talked to my husband," she said. "I'm going to write about this," she told him. "I'm going to blog. I'm going to tweet this. I'm going to make a big noise."
The Frechs had one more appeal left until their insurance company's decision would be rendered final. For this round, the Frechs would have to go to the Department of Insurance in Dallas, an agency of the state government, and appeal to a committee in person. In January 2015, the insurance company scheduled a date for their final appeal—in June. The Frechs were furious. "By the time we [appealed], we would have to re-measure her," Rebecca said. Even if their final appeal worked, the chances were good that the wheelchair they had fought so hard for would no longer fit their growing daughter by the time they actually got it.
So Frech took to Twitter to vent her frustration. With the hashtag #ellaneedswheels, she lashed out at her insurance company and linked to her blog, which chronicled their journey through Ella's diagnosis and the hassle involved with getting her chair. Mistakenly, her hashtag was re-tweeted by Chevrolet (presumably, the company thought the "wheels" Ella needed referred to a new car.) Chevrolet undid its mistake in a matter of minutes, but the hashtag had already taken off. It quickly went viral.
"People started re-tweeting it, commenting on Facebook," Frech said. Within hours, according to Frech, her blog had 11,000 page views. Two hours after she sent out her first #ellaneedswheels tweet, she received a private message on Twitter from her insurance company's Twitter account, asking her to get in touch. Frech dialed the number and was directed to a woman named Jackie in the Escalation Department.
"I joked with her and said, 'Do you deal with social media nightmares?'" According to Frech, Jackie's answer was: "Exactly."
Jackie, Frech said, told her she was authorized to approve anything Frech needed. So Frech launched into Ella's story: the strange diagnosis, her sudden paralysis, her discomfort with her secondhand chair, and her need for something stable, athletic, dependable. Frech wanted to get a sporty wheelchair for Ella, the Box chair, she told Jackie, but would settle for a Tilite, whatever the company would approve.
The next morning, Frech flew out to California for business. Mid-flight, the #ellaneedswheels hashtag was re-tweeted by three Fox News anchors and the conservative pundit Michelle Malkin. When Frech's plane landed and she checked her voicemail, Jackie's voice was on the other end.
"She told us they were going to review the case immediately and have an answer for us by the end of the day," Frech said. Jackie also asked if Frech would have her medical billing company send over the authorization codes for the Box chair they requested.
When Frech told Mahoney, the medical billing advocate, to send over the authorization codes, Mahoney was stunned.
"She told me that insurance companies never approve the Box chair. And I said, 'I think that's about to change.'"
* * *
Frech got the phone call just two days after her Twitter campaign began. The insurance company was going to pay for everything, Jackie said. Ella would get her Box chair.
"I celebrated for like 20 minutes," Frech said. "And then I just felt so angry on behalf of the other kids." Through Ella's adaptive sports classes, the Frech family sees the same wheelchair problems crop up, again and again. "I know kids with spina bifida where it takes eight or nine months to get these chairs. We hear that kind of thing all the time."
In May 2015, Ella received her wheelchair, hand-delivered to her door by her favorite adaptive sports athlete. Since then, Frech has used her newfound Internet fame to share updates on Ella's condition and how the family has been adjusting to paraplegia. Frech has also decided to continue writing about insurance problems on her personal blog—this time, about other people's.
"I'm willing to loan my soapbox to anyone who needs it," she said. "If they're having trouble with their insurance company, they can come and stand on my mountain and yell."