Why Obesity Is a Growing Problem for City-Dwellers
Urban environments are supposed to be healthier places to live—but according to new research, that advantage may be fading.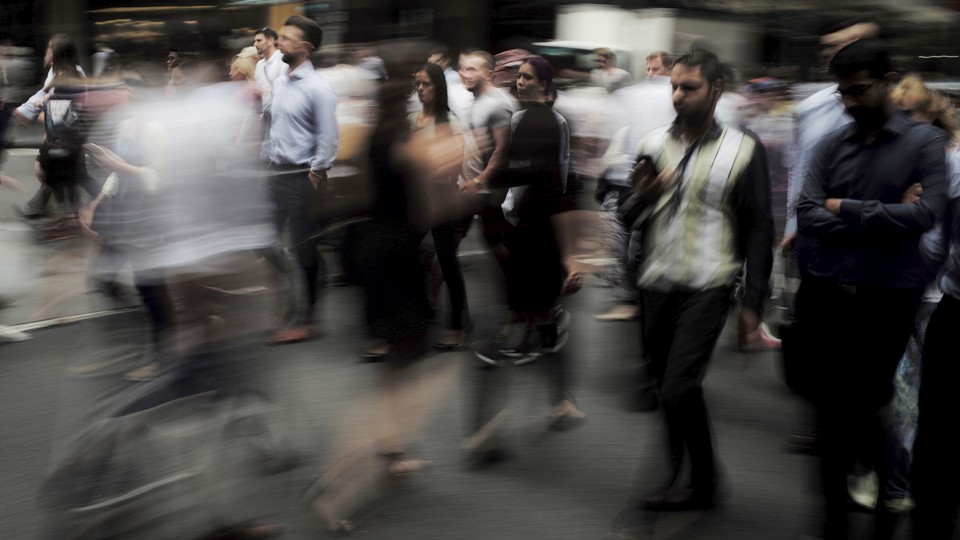 Cities are good for your waistline, or so the argument goes. One prominent study published in 2014 in the Journal of Transport & Health found that places with more compact street networks and intersections—namely, dense cities—are associated with lower levels of obesity, diabetes, high blood pressure, heart disease, and asthma. "It might not be common for people to explicitly contemplate health when selecting a place to live, but this research indicates it is worth considering," the scientists concluded.
But panning out to all cities, and not just the uber-dense ones, the health picture gets a lot more complicated. As CityLab's Aria Bendix pointed out earlier this year, health problems among urban dwellers map pretty tightly with economic class, in part because predominantly poor and minority neighborhoods have been stranded by disastrous urban planning decisions: large roads, major highways that cut through communities, and metro lines far away from the working-class populations that need them.
The implications are wide-reaching. In a paper released this week in conjunction with the International Conference on Urban Health in San Francisco, policymakers from the World Health Organization and UN-Habitat show that the urban health problems are only growing—in part because cities are growing, too. Half of the world's people will live in cities by 2050, the researchers estimate, and 2 billion of those will be in slums. Even so, urban health problems can't just be traced to exploding populations. The report explains:
[I]t is important to underscore how cities contribute to health-harming behavior. Poor transportation and an over-reliance on motorized transport have resulted in people spending longer periods of time commuting, the availability of affordable healthy food is restricted by poor urban planning policies and longer working and commuting hours, [and this,] coupled with increased female participation in the workforce, has contributed to dietary changes in favor of convenience foods. The interaction of these factors is reflected in the rising rates of overweight and obesity, particularly in urban areas and, increasingly, for the urban poor.
How does that look on the ground? Let's look at obesity. In the report, the researchers pull 2015 numbers from the WHO's Global Health Observatory. They find that obesity, particularly among urban women, is rising in a number of African, Asian-Pacific, and Latin American countries.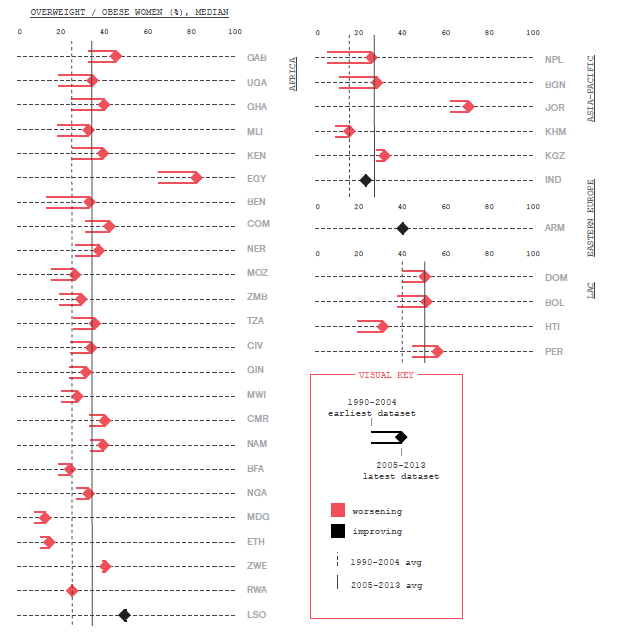 According to Carlos Dora, an epidemiologist by training who now coordinates the WHO's healthy environments efforts, there are a few important reasons that people who live in cities—and women who live in cities, in particular—have seen jumps in obesity since the turn of the millennium. In Beijing, for example, you might see some people taking advantage of the relative density by walking and biking, but air pollution and the threat of injury by motorized vehicles does a number on the body. It's a negative feedback loop: "Once you exercise, you increase your respiratory rate, you breathe more, more air goes to the lungs, you increase your exposure to air pollution." Low-functioning lungs make it hard to exercise; the cycle continues. And of course, the vehicles that cause much of the pollution in the first place make it even more difficult to get around cities.
Women and children in urban places often face added indoor air pollution, especially if they're responsible for the cooking. Cramped urban housing with decidedly bad ventilation doesn't help here, and about 3.8 million deaths due to stroke, heart disease, chronic obstructive pulmonary disease (COPD), and lung cancer are linked to household air pollution each year.
Nutrition is another part of the puzzle. So is education about nutrition. So are clean water and sanitation. "If we are to address health of populations in cities, a holistic approach needs to be applied," the report's writers conclude.
The key to solving all of these urban health issues—as intractable as they may seem—is stepping away from policy approaches that just talk about treatment-oriented healthcare, which acknowledge health issues only after they begin.City makers everywhere need to acknowledge that urban health problems grow out the very marrow of the city, that sickness starts in its (urban planning) bones. The good news is that healing can, too.
---
This article appears courtesy of CityLab.