A Pit Stop for PTSD Therapy
On the Greek island of Lesbos, psychologists have only a few days to help the waves of arriving refugees before they move on.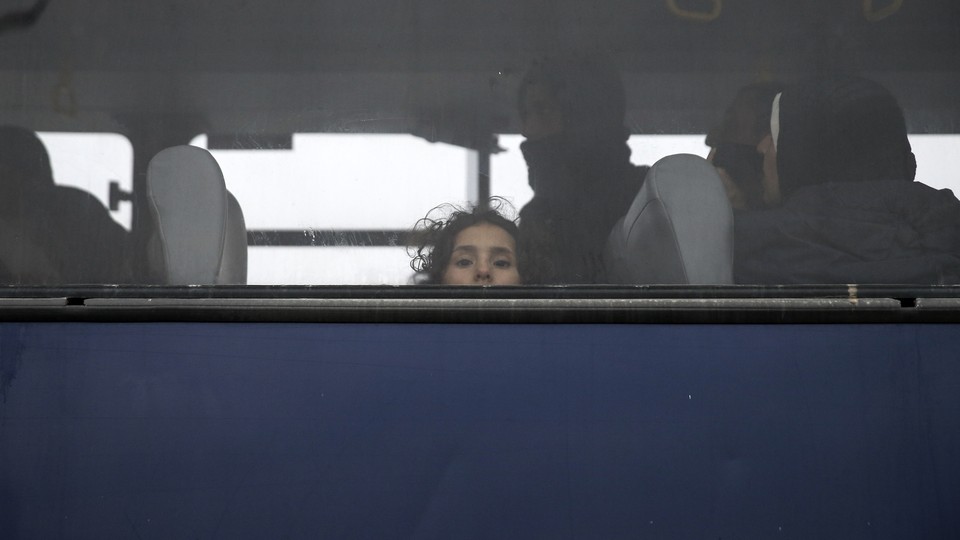 MYTILENE, GREECE—Mira Aztil, a clinical psychologist with the Israeli NGO IsraAid, recalls the traumatic stories she's heard from her refugee patients in Lesbos, Greece: One Iraqi woman described how she had suffered through an encounter with "The Biter," a spiked metal tool used by the Islamic State to clip off the flesh of women deemed to be immodestly dressed. Another woman, a Syrian mother of four, had been racked with guilt since her husband died on the trek across the snow-laden Syrian-Turkish border. She was convinced that her urgency to get the family to safety quickly had caused his heart to fail.
Severe trauma cases are seen on a daily basis on Lesbos, the pastoral Greek island currently serving as the front line to Europe's largest wave of forced migration since the Second World War. Since January, 2015, 1.2 million refugees have entered Europe, almost half of whom (48 percent) are from Syria, according to figures from the United Nations High Commissioner for Refugees (UNHCR). The Guardian recently reported that nearly 450,000 of them have come through Lesbos.
While most humanitarian-aid missions on the island are focused on food, shelter, and other emergency needs, small teams of therapists and social workers are scrambling to provide coping methods to an unknown number of diagnosed trauma victims. In recent months, organizations like the International Rescue Committee (IRC) have begun to devote more of their attention to mental-health care, said Angeliki Kardi, one of three psychologists on the IRC staff.
While there is no reliable data measuring the frequency of psychological disorders among refugee populations in Europe, a study published last September by the German Federal Chamber of Psychotherapists showed that as many as half of the refugees there suffer from conditions like PTSD or depression.
In part, this may be because treating PTSD—a condition that's often eased when the patient can rely on a familiar support network—is especially challenging when the patient has been uprooted. And for most people who arrive in Lesbos, their journeys are far from over. For the thousands who have passed through this Greek island on a daily basis, psychologists typically only have a few days—occasionally a few weeks—with each patient; as a result, they focus on helping refugees manage their symptoms, rather than on the longer-term goal of helping them heal. Every member of IRC's team, from the food distributors to the janitors, is trained in psychological first aid.
"Our role is to hear them so that they can let out their emotions, in the rhythm that they want, not to interrupt them, and to help them with dealing with the reaction rather than the trauma itself," said Kardi.
Because the refugees in Greece face such a daunting road ahead of them, NGO workers say it is critical to fully take advantage of those first hours or days spent on Lesbos. Refugees often arrive on the island experiencing flashbacks, insomnia, hyper-alertness, or even physical symptoms like partial paralysis or chronic pain. If left unaddressed, Kardi said, these symptoms can progress into full-blown PTSD.
"You can't jump through the process of therapy, but we need closure, even if in a short-term way," said Warda Alkrenawy, the head of the psychosocial team from IsraAid, which provides logistical support to the refugees as they prepare to leave the island.
Alkrenawy oversees her organization's program based out of a hotel in one of the island's olive groves, where refugee men, women, and children gather for both group and individual therapy sessions.
For those suffering flashbacks or other symptoms related to PTSD from their journeys, psychologists aim to help their patients distinguish between past events over which they had no control, such as death of loved ones, and their current predicament, which presents an opportunity for taking back control.
Aztil said she worked with one Syrian refugee  who was frightened to realize that her hands were paralyzed, a psychosomatic effect commonly associated with PTSD. But once she learned that doctors' tests found no physiological causes, and that instead her high levels of stress were preventing oxygen from reaching her muscles, the explanation in itself was immediately therapeutic.
"Just to know that, with all the uncertainty around her, there was a cause and solution to this one thing, helped her to realize that she had the control to help herself," Atzil said.
Many refugees feel the need to release stress by telling their stories, said Talya Feldman, a volunteer on the IsraAid psychosocial team.
"A lot of times, the memories get messed up, and even pieces that people believe they know perfectly are not accurate, but that actually doesn't matter. The only thing that matters, generally, is the way you experience it," she said. "We help them to understand that they have experienced something horrible, but it is in the past, and they are currently in the here and now."
Because of the short time frame and limited resources, many therapists on Lesbos rely on conventional PTSD treatments like cognitive behavioral therapy (CBT), a short-term intervention method designed to help patients reframe the way they think about a traumatic experience. But therapists are generally careful to avoid pushing the patients towards dredging up too many painful memories—exposing deep wounds, without the time or resources to help them to properly heal, could cause more harm than good as the refugees leave Lesbos and move forward on their journeys.
"In truth, they're not safe yet," said Feldman.  "Living in denial is not a good coping method, but if you're still in it, and you don't have the resources to really open the wound and treat it, it could be the best way."