Keeping Mosquitoes at Bay in the Age of Zika
The chemicals in most bug sprays—including DEET—are considered safe for pregnant women, as long as they're used as directed, in moderate concentrations.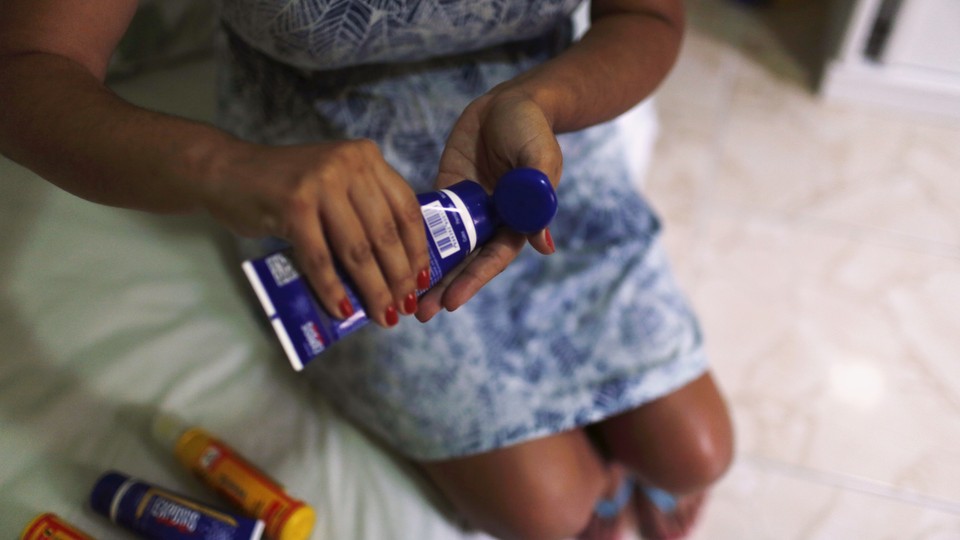 In a best-case scenario, the United States may still avoid a widespread Zika outbreak this summer.
An epidemic of the mosquito-borne illness in Brazil has linked Zika to thousands of cases of microcephaly and sometimes even death for fetuses. Though health officials have identified a wide swath of the United States where the risk of a Zika outbreak is high, there haven't been any locally transmitted cases in the United States—meaning, the roughly 350 cases of Zika across the U.S. were brought from abroad, or through sexual transmission, but not from mosquito bites in the States.
A worst-case scenario in the U.S., however, is not out of the question, either. The more scientists learn about Zika, the "scarier" it gets, Anne Schuchat, the principal deputy director of the Centers for Disease Control and Prevention said in a press conference this week.
"Most of what we've learned is not reassuring," she said.
For example, scientists have found early evidence that Zika can be deadly to a fetus throughout pregnancy—and not just in the first trimester. The disease has also been linked to serious infections of the brain and spinal cord among some children and adults, despite its reputation as being a mild illness for adults. The microbiologist Peter Hotez, who develops vaccines for tropical diseases, says Zika could be as catastrophic a public-health disaster as Hurricane Katrina was.
For now, the message from the experts is urgent but restrained: Don't panic, but do be prepared.
Pregnant women, especially, are being instructed to avoid areas where Zika is transmitted locally, and to take extra precautions to protect themselves from mosquito bites. That means making sure there are screens on open doors and windows; wearing long sleeves, socks, and pants outside; and using insect repellent once mosquito season gets under way.
But which bug sprays are safe for pregnant women?
Research into the use of various chemicals during pregnancy hasn't been robust, but there are several studies that support the safety of chemicals commonly found in insect repellents. One randomized, double-blind trial involving nearly 900 women found that when DEET was applied regularly in the second and third trimesters, it could cross the placenta, but it didn't have any adverse effects on a baby's survival, growth, development at birth, or development at one year old.
That study didn't include any women in early pregnancy, but researchers say the results of a separate animal-based experiment conducted in 1994 offer reassuring evidence that DEET is safe in the first trimester. In that study, with one exception, the offspring of rats and rabbits given massive doses of DEET didn't suffer any ill effects. Because the highest dose was orders of magnitude higher than the normal human dose, researchers wrote in a paper for the Canadian Medical Association Journal in 2003, it appears that DEET is safe when used as recommended.
That's in line with recommendations from the Centers for Disease Control and Prevention, which say it's safe for women at any stage of pregnancy (and nursing moms) to use insect repellents containing DEET (up to 30 percent concentration), the synthetic compound picaridin (20 percent), or the biopesticide IR3535 (20 percent)—as long as they're registered with the Environmental Protection Agency. (You can check the EPA database here.)
Shirts and pants treated with the insect-repellent permethrin are also considered safe. (Permethrin is also the active ingredient in many shampoos used to treat lice; and the U.S. Army has treated its combat uniforms with the chemical since 2013.)
"The evidence is reassuring that DEET, when used as directed, is safe," said Peggy Honein, one of the leaders of the Pregnancy and Birth Defects Team for the CDC's Zika response. "For permethrin-treated clothing, the data is also very reassuring. We would encourage pregnant women to use these methods to prevent mosquito bites, particularly if they're in  a place where there's local transmission, but to use them as intended."
In other words, don't bathe in the stuff. In fact, the CDC recommends using "just enough repellent to cover exposed skin or clothing," and rinsing off once you're back indoors. Those who want to be particularly cautious could opt for insect repellent with lower concentrations of chemicals, which would have to be reapplied more often.
The Environmental Working Group's guidelines for pregnant women reflect the CDC findings, but go a bit farther. Because the CDC says repellents containing lemon eucalyptus oil (or PMD, which is the synthetic version of the oil) shouldn't be used on children under 3 years old, the EWG says pregnant women should avoid it, too.
The bottom line, several medical professionals say, is that EPA-approved insect repellents are safe for pregnant women as long as they're not overused. But pregnant women should pay attention to their exposure to other chemicals being used to deter insects—especially at larger scales, like in agricultural settings.
"For all other chemicals the potential risks outweigh potential benefits," said Hagai Levine, an epidemiologist who runs the environmental health program at Hebrew University-Hadassah's School of Public Health. "Pesticides are intended to harm—hence unless there is clear evidence, they should be suspected as harmful, especially to the sensitive developing fetus ... In addition other insect repellent and mosquito-control sprays will not necessarily be effective in practice for prevention of bites and Zika infection. ​So I suggest precaution regarding using these chemicals."
Even if Zika outbreaks in the United States are minimal or nonexistent, officials say pregnant women should take steps to protect themselves from mosquitoes, which can transmit Dengue fever, West Nile virus, Eastern Equine Encephalitis, Chikungunya virus, among other illnesses.