What Happens When There's Sewage in the Water?
Raw sewage flows into many of Rio's Olympic venues every day. As the prospect of a full clean-up before the Games dims, the world is left wondering, who will get sick, and how?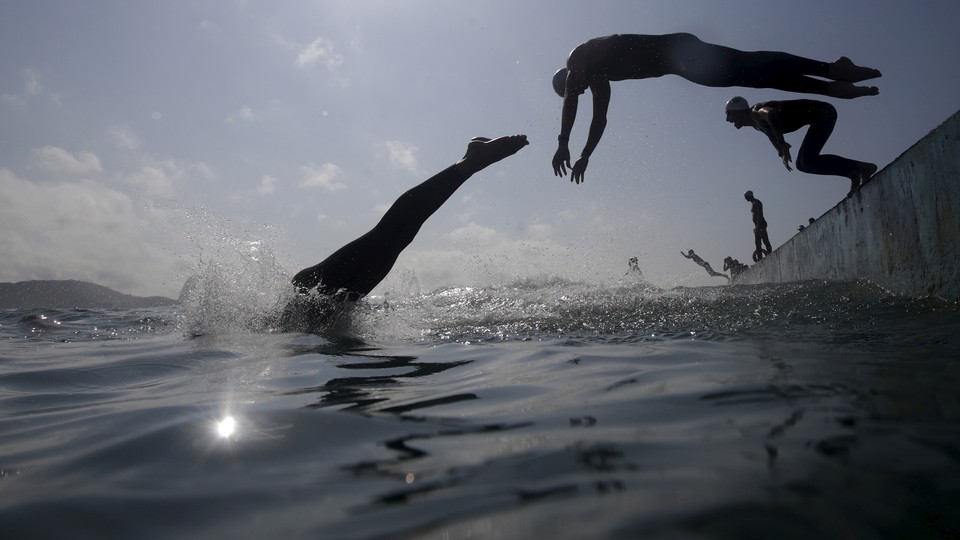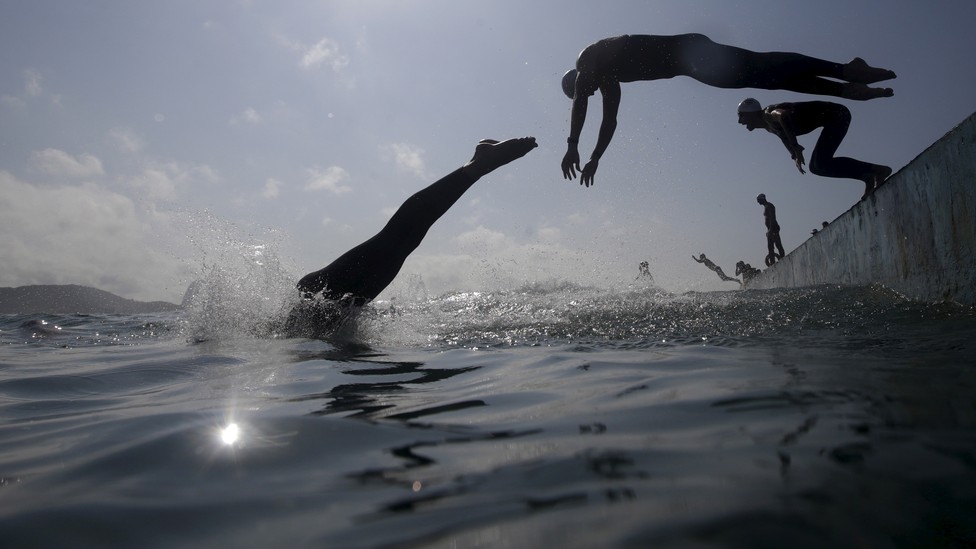 RIO DE JANEIRO—Will Brazil's Olympics be the shittiest ever, as this Fusion article suggests?
That writer isn't taking umbrage at 2016's revised steeplechase qualification times. She, and many others, are referring to actual shit. "2016 Olympians Will Be Competing In Poop Water, And The IOC Doesn't Care," blared Deadspin in August. "Brazil Can't Clean Up its Shit in Time for the Olympics," observed Gawker.
Of course, the "Will they be ready?!" media hand-wringing is the opening band to nearly every Olympic main attraction. Beijing battled suffocating air pollution. Sochi had too much sun, then too few hotel rooms.
But this time, the Olympic Cassandras' warnings seem particularly distressing: Athletes might be sailing and swimming through raw sewage, ruining matches and landing in hospitals as a result.
At first, Rio seemed to possess everything the International Olympic Committee could want: Otherworldly natural beauty and plenty of beaches and lakes for the aquatic sports. A willingness to host in the first place. Brazil also promised to clean up Rio's bays and beaches in its Olympic bid, "setting a new standard of water quality preservation for the next generations."
There have been long-simmering suspicions that the city's water is too dirty for competitions. Like many other fast-growing cities in middle-income countries, Rio only treats a small percentage of its sewage. Activists have for years called for better sanitation services. At one point they even protested by sitting on toilets on the beach.
Olympic excitement has a way of surfacing environmental issues, which in turn trigger earnest reassurances that they'll surely be fixed long before the opening ceremony. Besides, in the eyes of the Western world, Rio is, well, Rio, baby! Co-pa, co-pa-cabana. Soccer and supermodels, not poop.
Surely not poop, right?
The AP lanced that bubble last year with two investigations based on independent water-quality testing. The first, published in July, found that in certain venues, Olympic athletes are "almost certain to come into contact with disease-causing viruses that in some tests measured up to 1.7 million times the level of what would be considered hazardous on a Southern California beach." In December, a second round of tests showed that the Olympic waterways teem with viruses and bacteria even far from land.
Poop, there it is.
The competitors are taking note. Athletes who have fallen in say the water stinks. Coaches are advising sailors to keep their mouths closed or to wash their hands after they touch wet gear. In nearby Rodrigo de Freitas, where Olympic rowers will compete, athletes in test events poured bleach on their water bottles and rinsed with antibacterial mouthwash between events, according to the AP.
Officials have already admitted they won't meet their stated goal of treating 80 percent of the sewage that flows into the bay. It's more like 65 percent, according to the most recent estimate. There have been murmurs about moving the sailing venues further into the open ocean, where the water might be cleaner, but some athletes said they'd rather stick with the water they've trained on. And less than five months out, it's far too late to change the host city.
Of course, water quality is not the only problem threatening Brazil's Olympics. A recent outbreak of the Zika virus has sewage beat as the crisis du jour. Even there, though, water pollution plays a role. Pools of standing water accumulate all around Rio's favelas, or informal settlements, where sanitation systems are aging or inadequate. Public-health experts say standing water, burbling with bacteria and low in oxygen, is prime breeding grounds for mosquitos, the main vectors for the Zika virus.
After visiting Brazil in December and talking with activists, bureaucrats, and everyday people, it became clear to me that this problem won't be entirely solved by summertime. Officials are still scrambling to implement emergency measures that will clean up the water venues ahead of the Games. If they make progress, the Olympic athletes may be spared stomach cramps and infections. But the people who really suffer from Rio's shoddy infrastructure will benefit much less—if at all.
Ipanema
Weekends find Ipanema beach dotted with umbrellas and criss-crossed by vendors selling coconut water and fried cheese. In the distance, small, rounded islands rise up out of the surf. On a 95-degree December day, the crisp, gentle waters beckoned locals and tourists alike.
Yet the AP's water tests found that Ipanema contained fecal coliforms at three times the acceptable level. As recently as 2011, it was unsafe to swim there 40 percent of the year. When I downloaded the Brazilian government's own water quality report on December 7, Ipanema was considered "not clean," as was neighboring Leblon beach and parts of Copacabana, where Olympic marathon swimmers and triathletes will swim. (A spokeswoman for the International Triathlon Union said the organization only permits triathlons to be held if the water meets the European Environment Commission's standards as "excellent." Ahead of the triathlon test event in Rio last August, she added, all of the results met this standard.)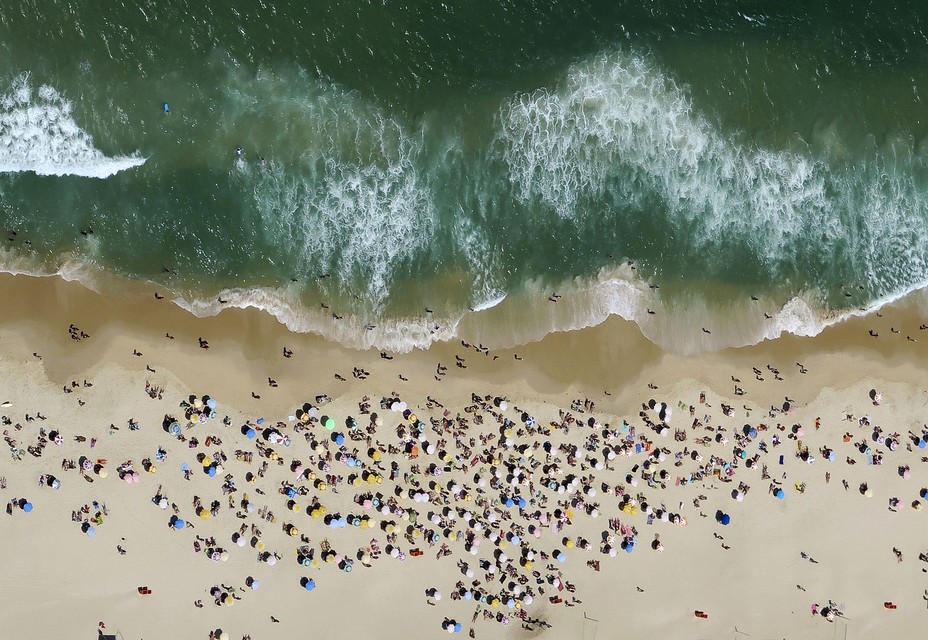 Much is made of the fact that raw sewage flows "directly" into the ocean in Rio. It's true that beneath Ipanema's cerulean surface lies a pipe that siphons all of the untreated sewage for Rio's southern portion out 4,300 meters into the sea, at a depth of 30 meters.
That might sound gross, but it's not unusual. The world over, raw sewage routinely makes its way into bodies of water. Many cities rely on these kinds of pipes, called "marine outfalls," to handle sewage, and 4,300 meters is fairly long, as far as outfalls go. Boston discharged sewage without treatment until 1952, when the city's first sewage treatment plant was built. San Diego also discharges sewage directly into the water only after "primary" treatment—a preliminary step that mainly only filters out the "solids." Sydney, Australia, which hosted the summer games in 2000, also has several outfalls that rely on primary treatment alone. Until the late 1990s, Brussels, Belgium, dumped all of its sewage directly into the river Senne, rendering the water quality "comparable to that of sewage," as the OECD noted at the time. Just a few months ago, Montreal dumped two billion gallons of untreated sewage into the St. Lawrence River so it could repair its old pipes.
According to one 2013 study by the Water Institute at the University of North Carolina, most people in upper-middle-income countries have flush toilets, but only 14 percent have their sewage treated. That same study estimated that half the world's rivers, oceans, and lakes contain untreated wastewater. Between 2009 and 2013, even the waters in Malibu, California, failed to meet public-health safety benchmarks a quarter of the time, according to the Natural Resources Defense Council.
The problem with many of the beaches in Rio is that they are connected to canals and stormwater drains, which are home to more raw sewage than such waterways typically are in more developed countries. Rain sends even more sewage coursing through, so Ipanema and Copacabana, like many of the world's beaches, teem with fecal bacteria after storms.
Tokyo, which is hosting the Olympics in 2020, has had similar issues with its combined sewer overflows. Though the city treats more of its sewage than Rio does, during storms, sewers max out and spew sewage into the ocean without treatment, according to Sarah Dorner, an associate professor of civil engineering at Polytechnique Montreal. "The chances of becoming ill with a waterborne illness increases after the rain," she said.
Some beaches are dirtier than others. But no matter where you are, she added, when considering swimming after a major storm, "I personally would wait."
Guanabara Bay
Far more concerning than Ipanema is Guanabara Bay, a foul inlet that juts into the coastline near Rio like an infected hair follicle. Every second, 8,200 liters of untreated sewage flow into the bay through the city's rivers, Brazilian TV reported last year. Olympic sailors will zoom across its surface in just a few months. The AP found that ingesting just three teaspoons of its waters would result in a "99 percent" chance of infection.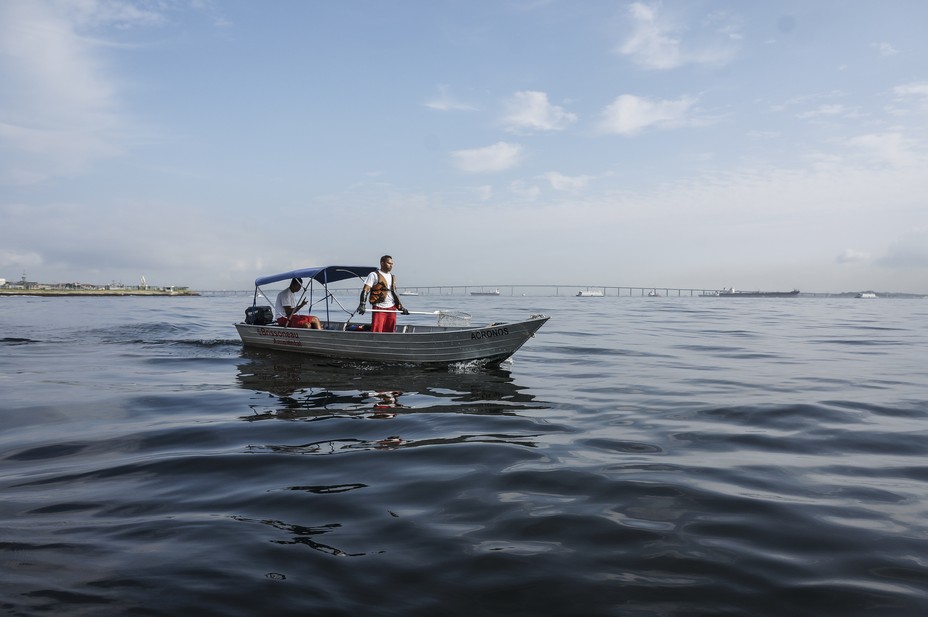 At test events, about 7 to 9 percent of sailors have been getting sick, a rate that the International Sailing Federation deems acceptable, but is still higher than the Environmental Protection Agency's maximum illness rate for swimming, 3.6 percent.
One particularly contentious point between the foreign press, who fear the worst, and Rio authorities, who insist everything will be fine, is the issue of viral testing. The AP's tests picked up viruses from human sewage at levels of  "up to 1.7 million times what would be considered highly alarming in the U.S. or Europe." But in October, Rio de Janeiro's Olympic organizing committee declined to conduct routine viral tests of Guanabara Bay, citing the lack of clear WHO standards on the acceptable level of waterborne viruses.
Mario Moscatelli, a local biologist and outspoken critic of the government, regularly flies over and photographs the bay. He sent me several recent pictures showing grayish-green plumes clouding its dark waters. His photo caption, referring to a nearby once-ritzy beach, says it all: "BOTAFOGO BEACH—ALL SEWAGE."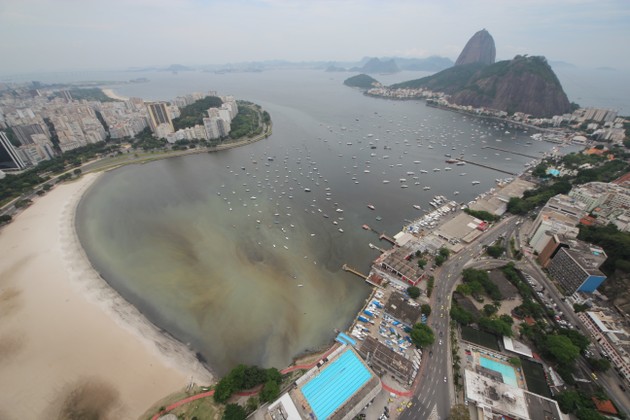 The city is building a sewage-collection pipe near the Marina da Gloria, the key entry-point for much of the sewage that makes its way into the bay. Edes Fernandes de Oliveira, the production and operations director for CEDAE, Rio's sanitation utility, assured me that "we think the water quality will be okay." Last week, a delegation from the World Sailing federation traveled to the marina and said they were satisfied with the progress of the pipe's construction, but its projected completion date has already been delayed by months.
On top of their sewage issues, many of the cities that ring the bay have irregular trash collection. Sofas and old TVs wind up in the rivers and are eventually flushed into Guanabara Bay. Olympic sailors have complained about hitting everything from washing machines to plastic bags.
To beat back the garbage, authorities are erecting 17 barriers that sift out big chunks of debris. They're also sweeping trash-scooping vessels called "eco-boats" across it for eight hours each day.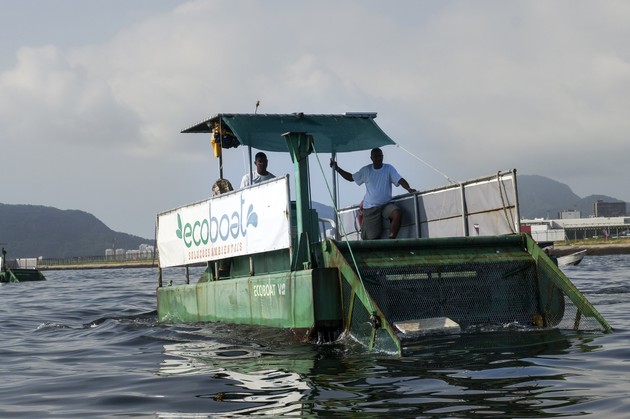 Naturally, I asked to ride along.
I met the eco-boat drivers at Marina da Gloria, where most Olympic sailing events are expected to launch. The Marina's noxious odor was in full force. "This will be solved by the Olympics," Steven McCane, a press assistant with the Secretary of State for the Environment, assured me.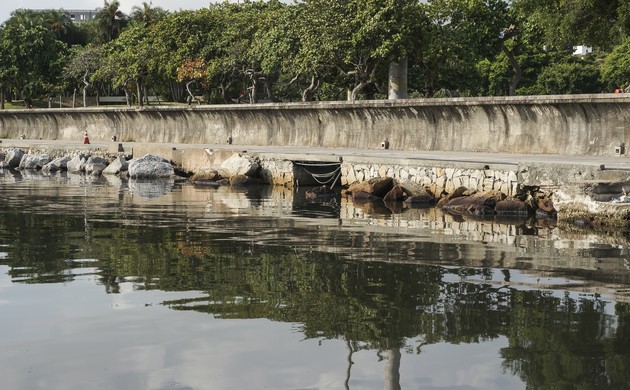 McCane and I climbed into a tiny speedboat to ride alongside the eco-boat. Further from shore, the smell dissipated. Aside from its dingy hue, the water looked okay, too. Maybe that's why no one is in a hurry to clean it.
There are 10 eco-boats in all. Their drivers radio back and forth with a team of engineers, who scout for hot-spots of floating garbage on a large aerial map.
The eco-boat drivers dutifully plunged the boats' enormous metal sieves into the water, but they dredged up just a few sticks and plastic forks. Not much of a haul.
McCane looked a little crestfallen. "Every time we have reporters out there, we don't find any garbage," he said.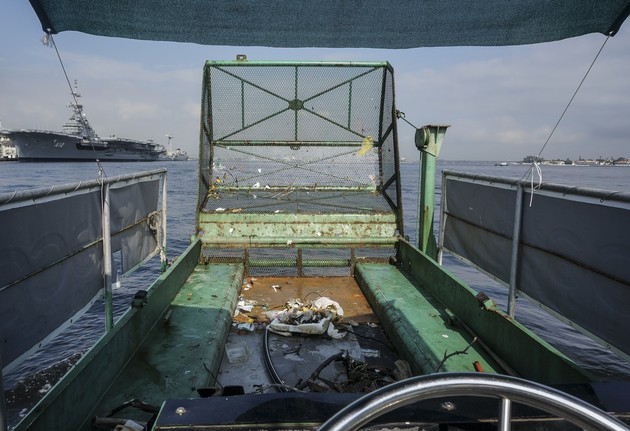 Moscatelli, the biologist, doubts that the garbage situation is as resolved as it seemed that day. "The bay is very big, and the eco-boats are very small," he said. "It's like if you had 10 people street-sweeping all of Rio."
As we sped back toward the marina, the water grew choppier, and sitting in the boat, we were just 18 inches from the water. Before long my arms felt like I ran through sprinklers. Tiny droplets hit my lips. Silently, I wondered if I had swallowed three teaspoons' worth yet.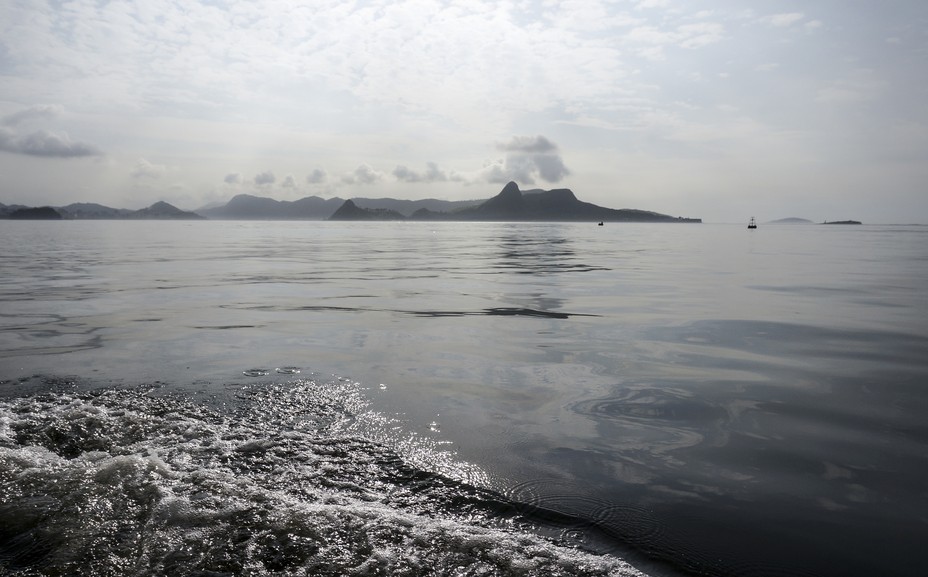 The Pipes
One day, Moscatelli took me to Canal do Fundão, whose waters are the color of dirty cargo pants and run near Rio's airport. As we stood on the grassy banks, a teddy bear, plastic bottles, containers, and rags floated by.
Across the water is a sewage treatment plant called Alegria— "happiness," in Portuguese.
"But I am not happy," Moscatelli said.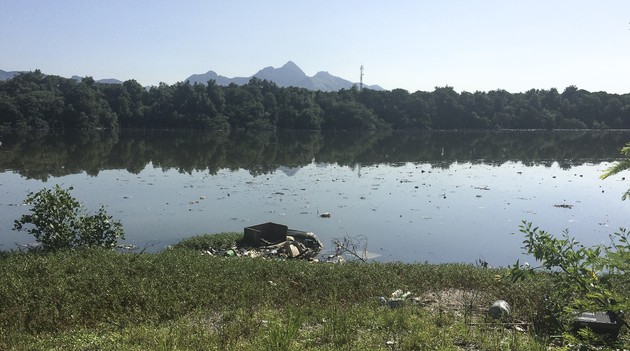 The plant only operates at 50 percent capacity. The city built the treatment plant, but not the pipes that connect it to houses. In the early 90s, the Brazilian government secured funds from Japan to build treatment plants, but none of them operated at full capacity for years.
About a third of Rio is not connected to a formal sanitation system. Instead, their refuse drifts into rivers like this one, and from there, to the bay. Ahead of the Olympics, authorities pledged to install eight treatment stations inside the rivers that flow into Guanabara Bay. But they're not all constructed yet, let alone working.
Rio isn't the only Brazilian city that struggles with its sanitation. A 2015 survey found that 3.6 million people across 100 Brazilian cities didn't have sewage hookups. When it rains in Paraty, a town a few hours down the coast, the effluvia rolls down the picturesque streets. As its mayor, Carlos Miranda, told the Washington Post last year, "When you enter the historic center, you see sometimes that the road is wet," he said. "It's the sewage."
* * *
It's only in the past 50 years or so that most high-income countries have managed to fully separate poop from the people who produce it. Some of today's wealthiest cities didn't have functional sewage until the 20th century. In London in 1858, the "Great Stink" of the River Thames was so strong that people feared they would catch diseases from the odor itself, per the then-popular "miasma" theory of medicine.
Around that time, Rio's sanitation wasn't much better. As Laurentino Gomes writes in 1808, his chronicle of the city's history, 19th-century Rio had a labor-intensive approach to managing human waste:
Because the water table was quite near the surface, the construction of septic tanks was prohibited. The residents' urine and feces, collected during the night, was taken the next morning to be dumped into the sea by slaves, who carried large barrels of sewage on their backs. Along the way, some of the contents, which were full of ammonia and urea, sloshed onto their skin and, over time, left white stripes on their black backs. For this reason, these slaves were known as "tigers."
Some sociologists believe the widespread availability of these "tigers" slowed the development of a sanitation system for decades.
Throughout the 20th century, Rio grew haphazardly. The favelas mushroomed as the rural poor headed to booming cities. Finding no affordable housing, they crafted their own shanties using whatever materials they could find. This inchoate blooming, on one hand, fostered a kind of scrappy coziness that many favela residents appreciate to this day. On the other hand, it deprived them of many modern conveniences.
Oliveira, the CEDAE operations director, blamed the sanitation delays on the favelas' narrow streets. They're practically aisles, in some places. With all the drug trafficking, sometimes it's too dangerous for municipal workers to enter, he said. Elsewhere, people seem to flout rules with impunity. Rio's toniest neighborhoods, Leblon and Ipanema, are rife with so-called "illegal connections," in which condo and hotel managers have hooked up sewage lines directly to stormwater drains.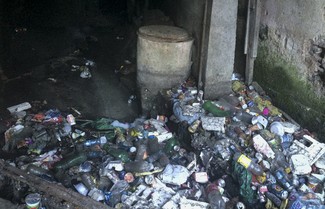 In the city center, "it's difficult for us to lay a new pipeline in a non-destructive manner," Oliveira said. A machine has to make a tunnel and pull an enormous concrete pipe through it—a process that rips up roads and interrupts traffic.
There are other issues that CEDAE has little control over. The other cities around the bay have their own mayors, infrastructure needs, and utility companies. Brazil has been slammed by an economic crisis, and an ongoing corruption scandal has further stymied public works. In March, the head of Odebrecht, a company that has been charged with improving sanitation in part of Rio's West Zone, was sentenced to 19 years in prison on corruption and money laundering charges.
Even when the government does try to improve the sanitation system, it doesn't always work. Because big government projects have failed to deliver in the past, some residents refuse to pay the sewage hookup fees—around $80 in the case of one such project covered by the Post's Dom Phillips.
"It surprises me that the [International] Olympic Committee would have accepted at face value that Rio would provide an elaborate, integrated water and sewage treatment system" before the Olympics, said William Schaffner, a professor of infectious diseases at the Vanderbilt University School of Medicine. "These things take years to build and they're enormously expensive. I think they cast a blind eye … when they made that decision."
What about after the Olympics? Will the projects continue apace? When I posed that question to Breno Herrera, an ecologist from the Federal University of Rio de Janeiro, he said simply, "We cannot be optimistic."
The Games
The Olympics, planned as they might be, take place in nature. And nature, tamed as it might be, has screwed with the athletes at nearly every Olympics.
In 2000, Sydney had its own share of pollution woes. Spectators attending test events at Stadium Australia complained that the area smelled "sewage-like." The site of the Olympic venues, Homebush, was "the dioxin capital of the world," according to The Telegraph. A 1999 report by Sydney's Daily Telegraph found that, due to sewage overflows and other pollution, "the water where triathletes plunge into Sydney Harbour during the Olympics suffers from bacterial pollution levels which exceed national health guidelines."
Beijing in 2008 was Rio, except with air. The city's smog obscured the sun with levels of soot that were triple the amount seen in Sydney or Athens. Scientists feared athletes would suffer asthma attacks, and at test events participants said they hacked up black mucus. The British and American Olympic Committees even distributed masks for athletes to wear—though their uptake was limited.
China also dumped untreated sewage and industrial waste into the sea, causing thick carpets of algae to sprout across the water. One such bloom choked the site of an Olympic sailing regatta with furry, green plantlife just six weeks before the Games were set to begin.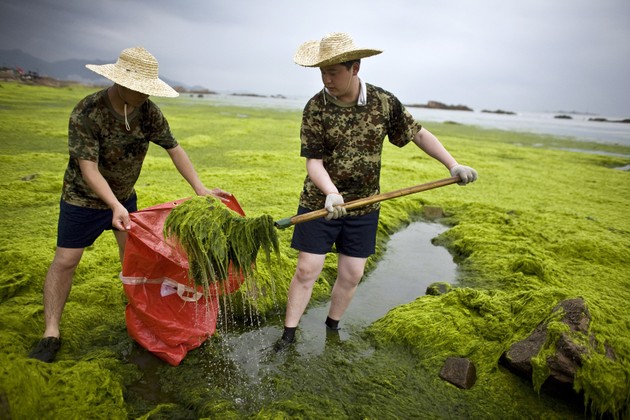 At the time, Beijing's were the most polluted Games ever. But they still turned out fine—in part because of last-ditch cleanup efforts. About 20,000 people "either volunteered or were ordered," as The New York Times put it, to scoop up the algae. And for months before the Games, the Chinese government aggressively restricted traffic, closed down factories, and seeded the clouds to create rainfall. That not only dramatically improved the air quality, it also temporarily boosted the health of the local population.
Will Brazil be able to do the same?
If Rio authorities manage to staunch the flow of sewage to the bay, the microorganisms that dwell in the water now will die off, said Dorner, the civil engineering professor.
Rain would flush more sewage into the bay, so the ideal conditions for competition days, according to Moscatelli, would be high tide and sun.
In its investigations, the AP quoted several experts who projected that athletes would almost certainly fall ill at the events, but others I interviewed were more skeptical. Schaffner, from Vanderbilt, said the risk of illness was "not zero, but very low." He recommends only that anyone planning to wade into Rio's oceans get a Hepatitis A vaccine.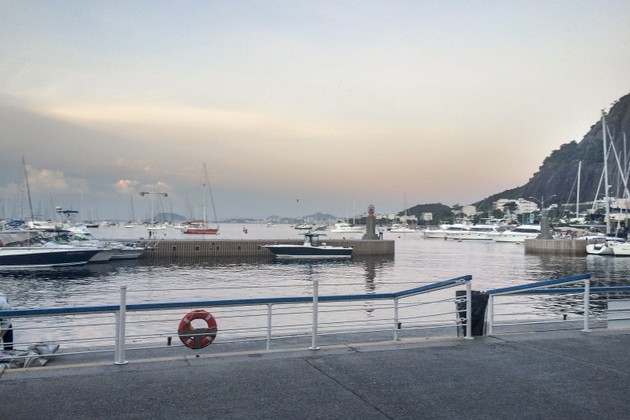 Alex Saldanha, the coach of the Brazilian national sailing team, counts himself among the unruffled. When I meet him at the sailing club near Guanabara Bay, the ambiance couldn't be more different from the sour funk of the Marina da Gloria. Sugarloaf mountain's soft peak framed the docked sailboats, and people sipped wine at white tablecloths.
Saldanha has sailed here all his life, and to him, there's nowhere more beautiful. "There's so much talk about [the sewage], and for nothing," he said.
I looked up, thinking I must have misunderstood him.
"Wait, you don't agree that it's polluted?" I said.
"Oh yeah, definitely," he said. About two-thirds of the time, the water is fine, he said. Other times, the team hits "Coca-Cola-colored" water churning with condoms and plastic bags.
There's a sewage problem, he concedes. And the sailors, who ride almost parallel to the water, hiked out just inches from the surface, get splashed plenty. They don't get sick though—he reckons because of "natural antibodies." Similarly, Olympic athletes might get diarrhea, he thinks, but "you don't die from that."
Trust me, he said, "the shitty water won't affect the competition."
The Favela
But that doesn't mean no one is affected. A few days before I meet Saldanha, my fixer and I took a cab to an open-air market in Rio's rough North Zone. There, we were greeted by Irenaldo Honorio da Silva, the president of the residents' association of the Pica Pau favela, home to about 7,000 people.
Amid a scrawl of graffiti, a cement facade near the community's entrance bears a drawing of Woody Woodpecker, as "Pica Pau" is known in English.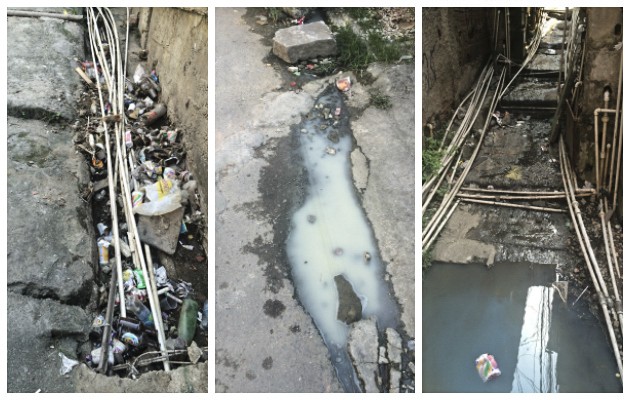 Da Silva took us on a tour of the roots of Rio's sewage problem and introduced us to some of the people who shoulder its burden the most. Here, water is pumped through thin, white pipes that stretch from a central tank, run along street gutters, and plug into individual homes.
The sewage system is aging and no longer supports the number of people living here. About three times a week, sewage overflows and trickles down the streets past the houses, da Silva says. Several times when it has rained, filthy water flooded the streets and filled up the narrow spaces between the houses, like chocolate milk in an ice-cube tray.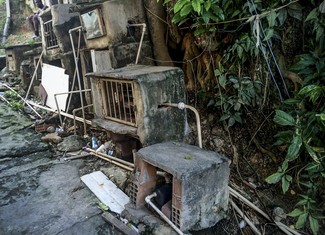 The rain also allows cracks in the water pipes to suck in the leaking sewage, soiling the water supply of dozens of homes at once. Residents said sometimes their showers stink and their skin itches. The elderly get rashes and children get diarrhea, and residents must trek to the nearest shop to buy pricey bottled water.
To get something like this fixed, da Silva has to call his buddy, a liaison for the state deputy, who will send men out to help when he can—usually in about a week. "If we don't have friends," he explains, "we're fried."
The community's sewage flows into the Iraja river, which abuts the neighborhood and gives off an eye-watering odor. A treatment plant sat astride it, but it was not operational yet, and da Silva didn't know when it would be. (Oliveira said it will be done next month.) Still, the plant will only remove the sewage that's already in the river water—it won't keep it from getting there in the first place.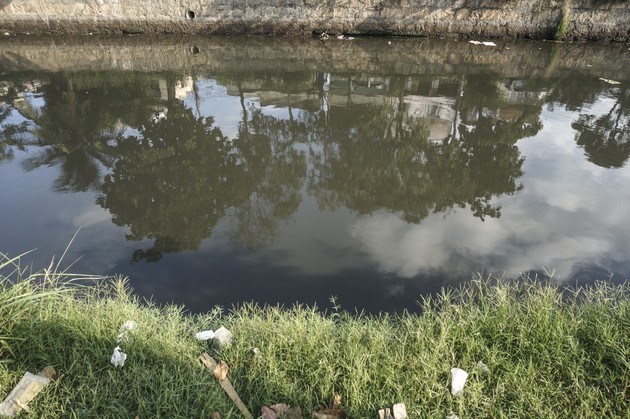 We walked by kids playing ping-pong on makeshift tables and men selling snacks out their windows. In the middle of one road, a puddle had formed of what da Silva suspected was sewage water. Someone had come by and poured detergent in it, turning it blue.
Mosquitoes are drawn to these puddles. Da Silva knows of 10 to 15 people each year who get dengue and chikungunya. He himself had Zika. In 2011, nearly 400,000 Brazilians were hospitalized with intestinal infections presumed to come from contact with raw sewage.
Unlike for tourists and athletes, the sanitation crisis isn't hidden for low-income communities like Pica Pau, said Herrera, the ecologist from the Federal University of Rio de Janeiro. "They see their children playing in fetid waters," Herrera said. "They smell it, they touch it."
Since my visit, the city government announced it will work to upgrade Pica Pau's sanitation and water system. However, the community has been burned before. The city announced a similar program there in 2012, but dropped it in early 2013, according to Theresa Williamson, the director of Catalytic Communities, a nonprofit that works in and advocates for Rio's favelas.
At the end of my visit, I ask da Silva if he's excited about the Olympics.
He said he's glad the Olympics are making Rio more visible, but he doesn't know if the extra attention will benefit Pica Pau. "We've just been forgotten," he said.
---
Olga Khazan reported from Brazil as a fellow with the International Reporting Project (IRP).