What Happens When the Clinics Close?
The Supreme Court arguments in a major abortion case hint at the future that awaits women in Texas and other states with abortion restrictions.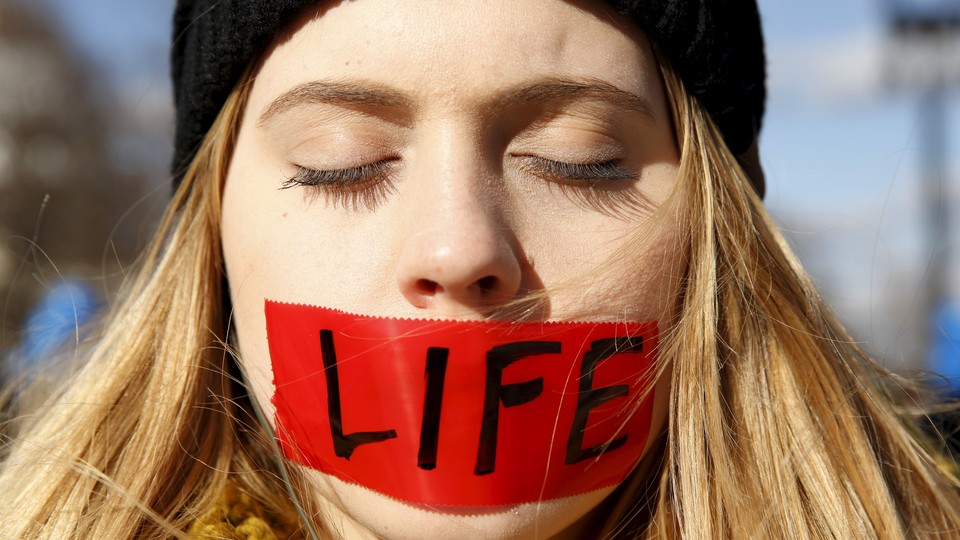 At one point during the Whole Woman's Health v. Hellerstedt oral arguments on Wednesday, Justice Stephen Breyer asked a question that strikes at the heart of the trade-off Texas women and doctors face.
"If you suddenly had at least 10,000 … women who have to travel 150 miles to get their abortions," he said, "are there going to be more women or fewer women who die of complications?"
In other words, Texas can either have state-of-the-art, hospital-like abortion clinics that meet the strict requirements laid out in House Bill 2, the 2013 law that sparked the case, and have fewer of these clinics overall. Or, it can have a greater number of modest facilities—ones providers say are more than adequate—that are easily reachable by most.
The two sides of this case have not just two very different views of abortion, but also different takes on the existing abortion landscape in Texas. The briefs filed for the state suggest that abortion clinics are a lawless frontier in which reckless doctors operate on frightened women and dump them in hospital ERs if anything goes wrong. The plaintiffs, meanwhile, say abortion is already very safe—much safer than childbirth and any number of other procedures. They believe tales of botched abortions are overblown by pro-lifers as a propaganda tactic, that the requirements for their clinics have no medical purpose, and that the real intent of the law is to make abortion more difficult to access.
If HB2 is not struck down, all abortion clinics would have to meet the standards of ambulatory surgical centers. Abortion providers would be required to obtain admitting privileges at a hospital within 30 miles. Proponents say these measures are necessary to protect Texas women. A group of physicians who have experience treating women in rural settings, for example, wrote in a brief that many parts of Texas have either no ERs or no obstetricians. Having abortion providers serve as impromptu ER doctors, if something does go awry, helps ensure continuity of care for patients.
Another brief filed by a group of pro-life doctors points to inspections of Texas abortion facilities that show poor sterilization practices, including employees who were handling bodily fluids without gloves on. A group of 3,348 women gathered together by a conservative group called The Justice Foundation all said they had been "injured by abortion"—though it's not clear where and when all of these injuries occurred. One woman named Cindy said she had four abortions between 1978 and 1980 in West Texas. After the second one, she experienced severe bleeding but didn't call the hospital because her abortion provider told her not to, she said. With stricter rules for abortion clinics, Texas state authorities say, there would be fewer Cindys.
During Wednesday's oral arguments, Justice Samuel Alito said some of the Texas regulations didn't seem that onerous. Meaning, couldn't the clinics comply with them if they really wanted to? "I was surprised by how many are completely innocuous," he said, singling out one rule on doorway widths.
But arguments and evidence from the other side suggest that some of the so-called TRAP laws are not so harmless. Ten other states have admitting privileges requirements, and some two dozen have the ambulatory surgical rules in place.
Already, in Texas, the number of abortion clinics in Texas has shrank from the 40 it had before the law was enacted. If the law is upheld, abortion providers say just 10 clinics would remain. They would all be located in the state's four largest metropolitan areas, with none west of San Antonio.
Ironically, one reason abortion providers have had trouble gaining admitting privileges is that abortion is too safe. Some hospitals require doctors to admit a certain number of patients in order to get admitting privileges. The cost to upgrade to the standards of a surgical center, meanwhile, ranges from $1.7 to $2.6 million.
More women would have to drive for hours, pay for a hotel and childcare so they can wait the mandatory 24 hours, and then drive back, missing out on hundreds of dollars in wages.
In a call with reporters, Amy Hagstrom Miller, the CEO of Whole Woman's Health, said she heard from a working mother in Lubbock who "was eight weeks in, trying to figure out how she was going to drive 350 miles multiple times and pay for the procedure and take time off work."
"After talking with her more than six times," she said, "she was pushed into the second trimester, and inevitably she got far enough that she couldn't get an abortion in Texas."
The state's abortion providers say some women are already waiting three weeks for an appointment, and the delay would only grow longer as more clinics went out of business. Remaining providers would have to increase their patient case-loads four-fold, the clinics say.
Waiting longer for an abortion increases the likelihood of complications. In their brief for the clinics' side, a group of doctors and gynecologists write, "The mortality rate for abortions occurring prior to 13 weeks of gestation, the period during which most abortions are performed, is no more than 0.4 per 100,000. The mortality rate increases significantly, however, throughout the second trimester." Studies have shown that the number of second-trimester abortions have risen in Texas since the law went into effect.
Justice Anthony Kennedy, widely considered to be the crucial deciding vote in the case, said during the arguments, "This law has increased the number of surgical procedures as opposed to medical procedures, and this may not be medically wise."
If clinics become more sparse, some women will likely attempt to induce their own abortions. According to a pair of studies recently released by the Texas Policy Evaluation Project at the University of Texas, between 100,000 and 240,000 Texas women between the ages of 18 and 49 have already tried to end a pregnancy by themselves.
"We've had women who called us and said, 'Can you tell us how to do my own abortion with medication in my cabinet or cleaning supplies I have under my sink?'" Hagstrom Miller said.
Some women in the western half of the state, where there are no abortion clinics, will inevitably travel to New Mexico. In an interview, one 19-year-old El Paso woman named Stephanie said she drove for 12 hours, round-trip, for an abortion in New Mexico when she was 17 weeks pregnant because she struggled to find enough money in time for her procedure. The only Texas clinic near her home would perform abortions only through 15 weeks of pregnancy, she said, and New Mexico clinics were more lenient. When her friends asked what happened, she told them she had a miscarriage. (We found Stephanie through the West Fund, a Texas-based abortion fundraising group.)
When presented with the New Mexico option at the hearing, Justice Ruth Bader Ginsburg said it seemed counter to the spirit of the law. "Texas says, to protect our women, we need these things. But send them off to New Mexico … and that's perfectly alright?"
---
Jaclyn Skurie contributed reporting to this article.