Racial Segregation Is Making Americans Sick
How housing discrimination causes stress and shortens lifespans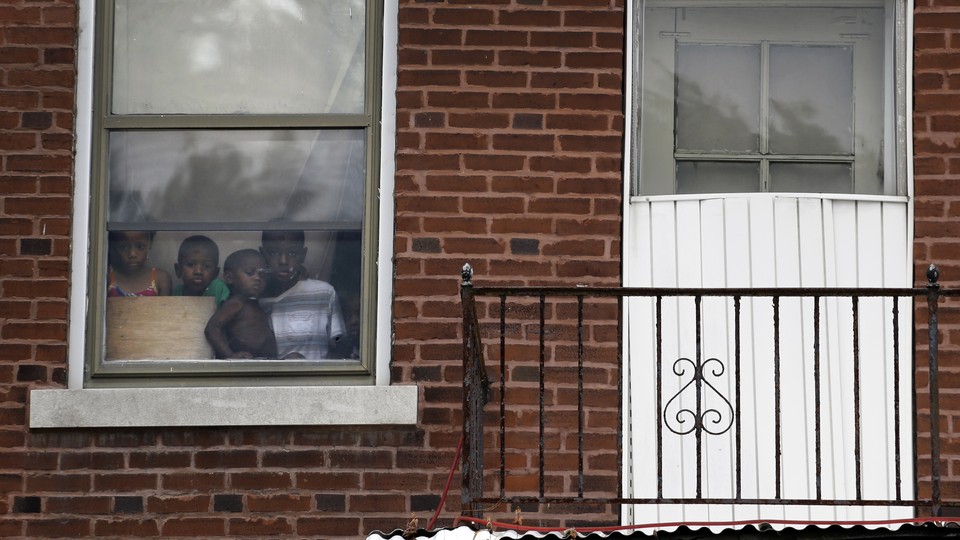 Racial housing segregation is worst in the northeast and Great Lakes regions, according to a new report, and it's making people sick. This year's edition of County Health Rankings, an annual rating of the health of all the nation's counties, added the segregation measure because it has "been linked to poor health outcomes, including greater infant and adult mortality, and a wide variety of reproductive, infectious, and chronic diseases," the report authors write.
---
Black-White Racial Segregation, by County
---
Bridget Catlin, the co-director of the County Health Rankings, said segregation wreaks havoc on the body primarily by stressing it out. In addition to experiencing more violent crime, people in racially segregated pockets might be stranded further from good jobs or the transportation necessary to reach them.
The data might help explain why African Americans fare worse across various health metrics. The average life expectancy for African Americans is still four years shorter than for whites, for example.
"At the root of a lot of this is stress that comes from living conditions in a community that isn't safe and housing isn't adequate," Catlin said. "Stress gets under your skin."
In the most segregated counties, at least 67 percent of either African Americans or whites would have to move into other census tracts in order for the population's demographics to be evenly distributed.
One reason for enduring segregation is the legacy of redlining, or the practice of denying home and business loans to African Americans that was common from the 1930s to the 70s. More recently, gentrification has also played a role, as have the subprime loans that banks were accused of disproportionately pushing on African Americans before the housing collapse.
Beyond stress, there's evidence that segregated neighborhoods might be physically sickening their residents. To this day, communities that have high concentrations of racial and ethnic minorities have fewer doctors, and the doctors there are less likely to accept Medicaid, the government insurance program for the poor. Other studies have found that environmental pollution, which can affect asthma rates and preterm births, is higher in predominantly African-American neighborhoods. Fast food restaurants in segregated African-American neighborhoods are also more likely to market to children.
It's worth noting that racial segregation is not the only, nor the largest, factor influencing health in American counties. In Michigan, one of the states where housing segregation looks to be pronounced, the most segregated county according to the report is Ionia. However, Ionia is also quite healthy overall—ranking eleventh out of the 83 counties in the state—while the lowest-ranked county on overall health, Wayne, is equally segregated.
The report is a collaboration between the Robert Wood Johnson Foundation and the University of Wisconsin Population Health Institute.