The NFL Fumbles a Key Concession on Concussions
A top official has acknowledged a link between football and CTE, the degenerative brain disease.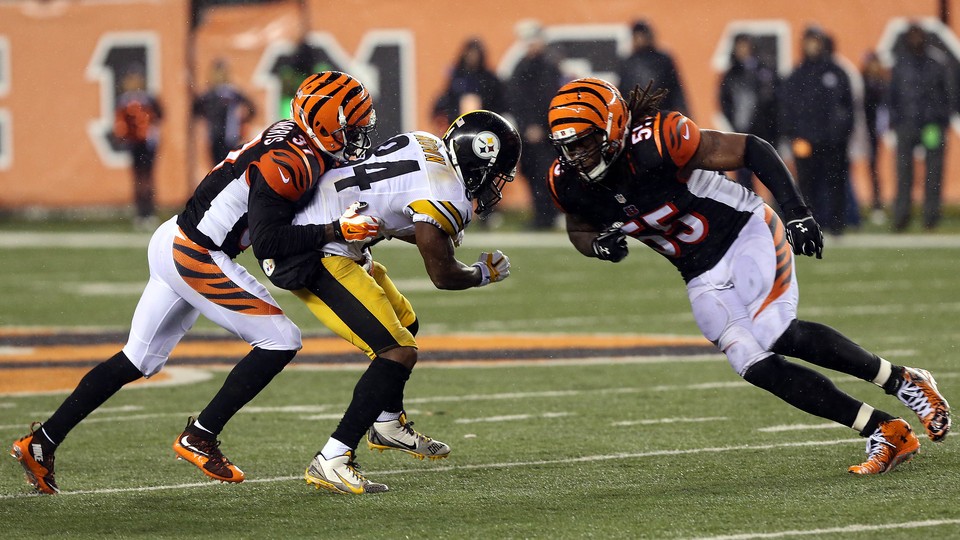 One year ago this week, Chris Borland, a 24-year-old budding defensive star for the San Francisco 49ers, retired after just his rookie season in the NFL. Borland wasn't the first professional football player to retire early, but he was the first to publicly attribute his decision to the ongoing discourse about the dangers of football and its links to brain trauma and the degenerative disease chronic traumatic encephalopathy (CTE).
"I'm concerned that if you wait till you have symptoms, it's too late," he said at the time. "There are a lot of unknowns. I can't claim that X will happen. I just want to live a long healthy life, and I don't want to have any neurological diseases or die younger than I would otherwise."
One outlet that reported Borland's story was NFL.com, pro football's equivalent to Pravda, in an article with the suspiciously vague headline "San Francisco 49ers' Chris Borland retiring from NFL." It included this rebuttal from Jeff Miller, the NFL's senior vice president of health and safety policy:
Playing any sport is a personal decision. By any measure, football has never been safer and we continue to make progress with rule changes, safer tackling techniques at all levels of football, and better equipment, protocols and medical care for players. Concussions in NFL games were down 25 percent last year, continuing a three-year downward trend.
This defensive line of patter was later echoed by Joseph Maroon, the team neurosurgeon for the Pittsburgh Steelers and a consultant for the NFL's sinister-sounding Head, Neck, and Spine Committee. On NFL Total Access, the flagship program on the league-owned NFL Network channel, Maroon offered:
When an athlete is fearful of any injury, it's time to get out. You can't play with apprehension in any sport and be as good as you can [be] and he obviously came to that conclusion by himself.
In other words, all sports are dangerous and Borland was afraid.
Maroon added that, in terms of concussions, the NFL "has never been safer." When asked about former Pittsburgh great Mike Webster, the first player to be linked to CTE and whose case we profiled in December of last year, Maroon ceded that it was a "tragic story," but clarified that Webster "was one of the hardest players in the history of the sport," playing in an era when "to play hurt was a badge of courage."
(Borland, it should be noted, also tells the story of walking away dazed after a heavy hit during a preseason game and continuing to play for fear he wouldn't make the team.)
On Monday, during a congressional roundtable of the House Committee on Energy and Commerce, Jeff Miller, the same NFL executive that first massaged Borland's narrative, became the first pro football official to acknowledge a link between the sport and CTE. Pushed to respond to a question the connection by Representative Jan Schakowsky, Miller affirmed, "The answer to that question is certainly yes."
In the past, NFL officials have preferred to stay vague about its concussion problem and its associations with CTE. The league has been critiqued for sponsoring research that would downplay the concussion risks and attacking those who would argue otherwise.
However, following remarks on Monday by neuropathologist Ann McKee, one of those previously maligned researchers, that cited the extensive study of the brains of former players, Miller conceded that the link was there. Lest anyone unduly charge him with a change of heart, Miller followed, "But there's also a number of questions that come with that."
In the year since Borland retired, the chorus about the sport's brain trauma problem has only grown. Among recent prominent CTE diagnoses were Kenny Stabler and Frank Gifford, two of the game's most famous players and personalities. As we noted in January, Bennet Omalu, the neuropathologist made famous by the film Concussion and who first identified CTE, said he would bet his medical license that O.J. Simpson suffers from the disease.
But despite Monday's development, the NFL doesn't seem quite ready to embrace the science as it stands. In emailed remarks to The Washington Post, an NFL spokesman clarified that Miller "was discussing Dr. McKee's findings and made the additional point that a lot more questions need to be answered. He said that the experts should speak to the state of the science."