Less Than 3 Percent of Americans Live a 'Healthy Lifestyle'
Depressing statistics from a new study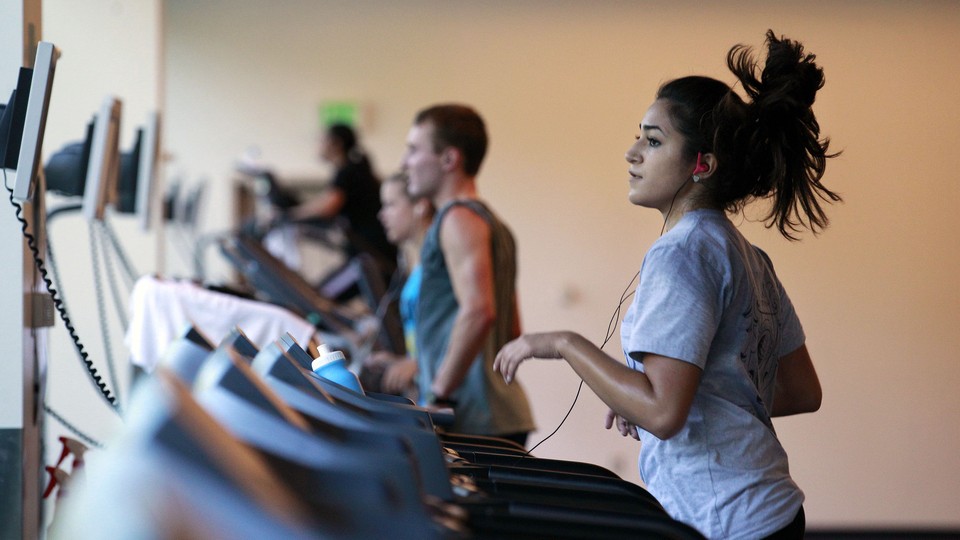 A fun thing about being an American health journalist is constantly reading about how horribly unhealthy your country is. (And subsequently, being reminded about how unhealthy you probably are. And by "you," I mean me.) The unflattering stats mount: More than half of what Americans eat is "ultra-processed." The average American man has a body mass index just barely under the medical definition of obese. In a 2013 ranking of affluent countries' health, the United States came in last.
Here's another bummer of a statistic to toss on the pile: Less than 3 percent of Americans meet the basic qualifications for a "healthy lifestyle," according to a new study published in Mayo Clinic Proceedings.
The study authors defined a "healthy lifestyle" as one that met four qualifications:
Moderate or vigorous exercise for at least 150 minutes a week
A diet score in the top 40 percent on the Healthy Eating Index
A body fat percentage under 20 percent (for men) or 30 percent (for women)
Not smoking
The researchers looked at data from a representative sample of 4,745 people who participated in the 2003-2006 National Health and Nutrition Examination Survey. In this survey, physical activity was measured with an accelerometer that participants wore for a week, and diet was scored based on a 24-hour food diary.
Some of the qualifications were more easily met than others: 71.5 percent of adults were non-smokers (and indeed the smoking rate has been declining in the U.S. for decades), 46.5 percent got enough exercise, 37.9 percent had a healthy diet, but only 9.6 percent had what the study calls "a normal body-fat percentage."( Though considering how few people meet this qualification, perhaps the word "normal" is misused here.) Just 2.7 percent of people met all four.
The healthy body weight seems to be the sticking point, because 13 percent of people were nonsmoking, active, healthy eaters. There were some demographic differences: Men were more likely to be active, while women were more likely to be non-smokers and to eat healthy diets. Older people had higher body-fat percentages and were less active than younger people.
But overall, meeting more of these qualifications was associated with having fewer risk factors for cardiovascular disease—things like high cholesterol, high white blood cell counts, and high blood pressure. The researchers looked at 13 such biomarkers in total. Being active and having a healthy body-fat percentage were associated with favorable outcomes in nine and 10 of the biomarkers, respectively, while not smoking and eating well were associated with just two and one.
"Although multiple healthy lifestyle characteristics are important, specific healthy lifestyle characteristics may explain much of the variation for several of the biomarkers," the researchers write.
This study underscores the difficulty of the obesity problem in the U.S., which persists even as Americans eat more produce and work out more than they used to. There's obviously work to be done across all four healthy-lifestyle qualifications, but once again, fat proves the toughest nut to crack.