The Tampon Tax in the Spotlight
Across the country, periods are getting political.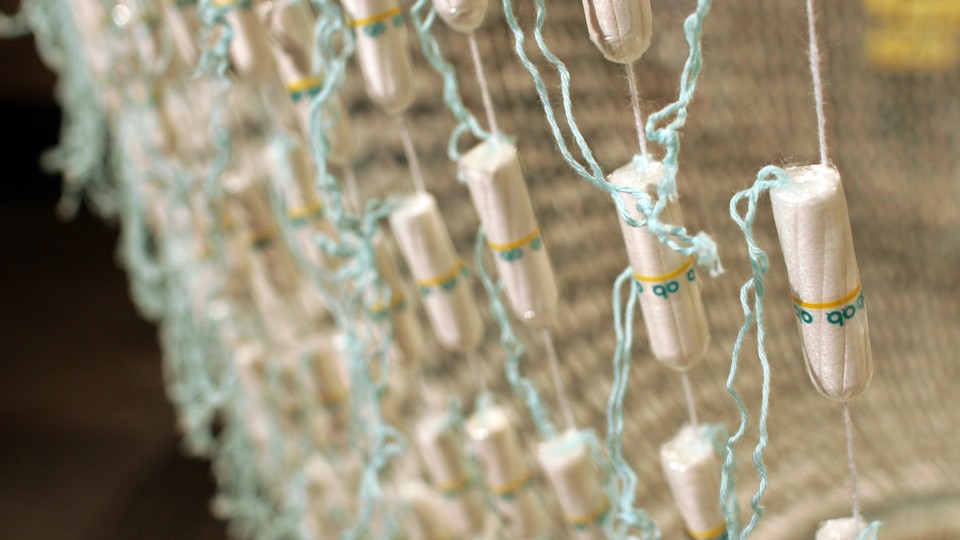 For most of history, periods have been caught in a strange limbo between the universal and the personal. Every woman has one, yet few people talked about it.
That all changed last year. Dubbed "The Year of the Period" by NPR, 2015 saw the subway systems in New York plastered with advertisements for "underwear for women with periods." #PeriodsAreNotAnInsult trended on Twitter. Kiran Gahndi ran the London Marathon without feminine hygiene products.
Periods had officially gone public.
And this year, they're going political. Gotham Gazette reported that members of the New York City Council, led by Julissa Ferreras-Copeland, are drafting a package of legislation designed to ease access to feminine hygiene products. Three bills to be introduced at the city level within the next several weeks will make items like tampons and sanitary pads readily available in public schools, shelters, and correctional facilities; a resolution will call upon the state to eliminate tax on these products.
The "tampon tax" has long been a monetary thorn in women's sides, largely due to the fact that it derives from the classification of feminine hygiene products as "non-essential" items. What constitutes a necessity, though, remains very much open to interpretation: In Vermont, garter belts fly through registers tax-free; in Indiana, it's Pixie Stix and barbeque sunflower seeds.
The "tampon tax" amounts to sizable revenue for states, since women spend an average of $70-$100 annually on menstrual products; California collects over $20 million from such taxes. Yet, like periods themselves, these figures went undiscussed. In a recent live interview with YouTube star Ingrid Nilsen, President Obama copped to the fact that prior to her question about why 40 states impose sales tax on tampons and sanitary pads, he hadn't been aware that they do.
"I suspect it's because men were making the laws," he said.
Now, women are attempting to re-make them. Grace Meng, a Democratic congresswoman from New York, proposed a congressional bill to amend the tax-code classification of tampons, pads, and menstrual cups to include them in Flexible Spending Account allowances. Earlier this month, California assemblywomen Cristina Garcia and Ling Ling Chang introduced a measure that would eradicate the tax on feminine hygiene products by reclassifying them as medical necessities. Ohio has introduced a similar bill, and this week, Utah and Virginia followed suit; if approved, these states would join New Jersey, Maryland, Massachusetts, Pennsylvania, and Minnesota, which have already done away with the tax.
It's a popular move, according to a petition from change.org entitled "No Tax on Tampons: Stop Taxing our Periods! Period." The petition, spearheaded by Cosmopolitan magazine and Jennifer Weiss-Wolf of the Brennan Center for Justice at the NYU School of Law, has collected over 43,000 of its intended 50,000 signatures since going live in October.
The volume of support for the petition comes as no surprise to Weiss-Wolf. "There's so much attention now being paid to what it means to be a person who menstruates without the ability to access or afford the products you need—what it does to your health, what does to your psyche, what it does to your standing as a citizen," she tells CityLab.
It's a recognition, she says, that began at the community level.
Last January, teenage sisters Emma and Quinn Joy of South Orange, New Jersey, launched Girls Helping Girls. Period to collect feminine hygiene products for women in need after learning, while volunteering at a local food pantry, that such items were not covered by the Supplemental Nutrition Assistant Program (SNAP).
Weiss-Wolf read about their drive on Facebook; her own research into the subject subsequently culminated in an article picked up by The New York Times. The column caught the attention of Council Member Ferreras-Copeland, who brought Weiss-Wolf into her Corona, Queens office to discuss the policy reforms that are now forthcoming.
"Last winter, a lot of people said to me, 'listen, this isn't a government problem, and there won't be a government solution,'" Weiss-Wolf said. "I didn't believe them."
Neither did Ferreras-Copeland. Her meeting with Weiss-Wolf led to a roundtable last summer with students, representatives from the Women's Prison Association, Care for the Homeless, and Food Bank for New York. "I couldn't believe I could just go to a lawmaker with an idea, and have her listen and do something about it," Weiss-Wolf says. "That should be how government works."
It came down to responding to the community, Ferreras-Copeland tells CityLab. Her roundtable meeting brought together "groups of women who would normally not think they were linked: There were representatives from the prison group talking to the people from the food bank, talking to students."
What emerged from these discussions was a sense of unification in the face of a challenge, Ferreras-Copeland says. From the food-bank representatives, she learned that feminine hygiene products were always the first things to fly off the shelves, even before the food. "It made everyone think," she says. "Besides all the layers of difficulty that go along with homelessness, there's the fact that they have to deal with biology—the thing that makes us all women."
Access to hygiene in the homeless community has already proven a vital source of empathy. In December, Lava Mae, the company behind San Francisco's mobile health centers, together with Conscious Period and Nilsen—the YouTuber who brought the issue to Obama's attention—donated 50 tampon care packages to homeless women. With the cost of living in the city continuing to skyrocket, the recipients said that such products have become impossible to afford.
Local initiatives like these, Weiss-Wolf says, have driven the movement from the beginning. "It's come together in a really organic way," she says. "There's no suspect force, no specific nonprofit group or corporate agenda driving this—it's just a group of people dedicated to a good idea."
---