What Dying Looks Like in America's Prisons
In many places, inmates who want to go into hospice care have to sign a do-not-resuscitate order first.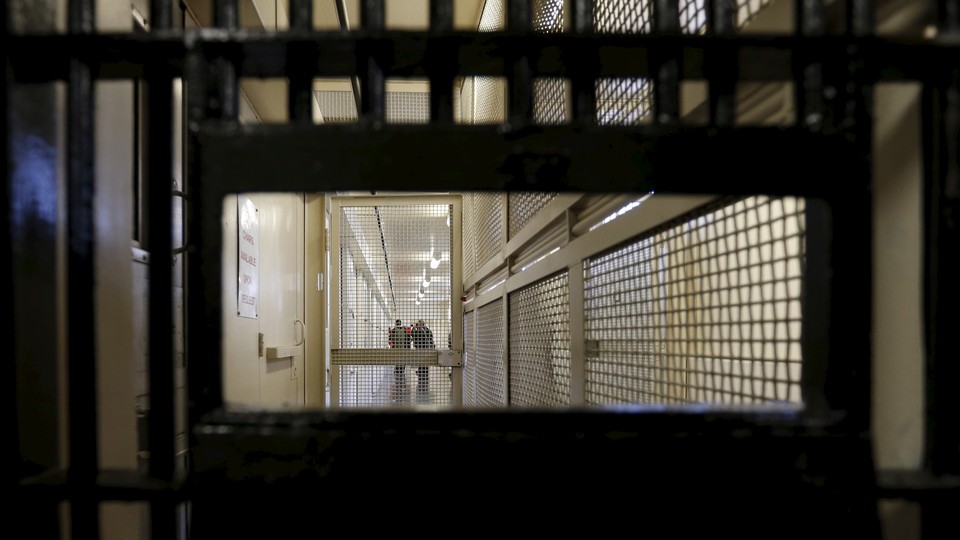 I drove the four and a half hours to Rome, New York, the night before I was scheduled to visit the prison hospice program at Mohawk. The desk clerk at the Quality Inn gave me directions the next morning. "You can't miss it," she said in a raspy voice. Mohawk had once been a residential home for the developmentally disabled. It occupied the southernmost corner of the 150-acre Mohawk-Oneida campus and was converted to a medium-security prison in 1988. Today, it houses about 1,400 inmates, 112 of whom are inside the "skilled nursing facility," Walsh Regional Medical Unit, which takes in prisoners from the central and western parts of New York State.
What the hospice program at Mohawk did was prevent patients from dying alone. Terminal patients, particularly those dying inside prison, need human contact, companionship, and a chance to talk about their lives, the nurses told me. The program also provided healthy prisoners who had good behavior records the chance to train as volunteers, to give back to their fellow inmates. The program provided a real "sense of satisfaction to our guys," according to the daytime hospice nurse. "They're proud of what they're doing. They're putting someone ahead of themselves. They've put themselves first until now." Volunteer training took place once a year (and lasted one week), but applications came in throughout the year.
The nurse called the patients in Walsh "my patients" with a kind of endearment that expressed her commitment to them and the program. Among them, 11 were dying of AIDS and seven had major illnesses, like cancer. Special accommodations were made for dying patients—like private rooms with TVs and radios and special meals—but the staff was prepared  for the "traps" that such accommodations could bring: trading morphine for cigarettes, being alone with female staff. The program, I was told, accepted patients with six months or less to live, although some live longer. "They have the chance to get involved with their own feelings," one of the nurses said.
Because of my time spent as a hospice volunteer, the tone these staff members used caught my attention. They were proud of the jobs they were doing; they felt they were contributing to the betterment of society. They found their work rewarding and fulfilling. I was in awe of them even as I balked at the paternalistic role they played in helping these prisoners—caged, monitored, "employed," removed from the world—to  "give back." The concept of rehabilitation may haunt any conversation about incarceration, but the extent to which anyone believes in it gets lost in the practices of policing, sentencing, and incarcerating. It's easy to suspect that this is in part because of the power dynamic involved. Prisoners are subjected to a particular role inside, one that punishes them for any kind of deviation. They are constantly subject to an unbending authority. When prisoners go into hospice, either as patients or as volunteers, the rhetoric that surrounds their roles is constantly infused with ideas of reform.
Walsh, it seemed, was replicating the hospice model, now decades old, inside its walls. And the old hospice directive—that patients should be helped to think reflectively and reckon with how they've lived their lives—fits surprisingly well in prison. It dovetails with the belief that men were incarcerated because they had not taken responsibility for themselves, because they did not understand compassion, did not follow the rules, and did not make themselves productive and useful members of society. Hospice is a way for them to find forgiveness for their sins and to make peace with their world and themselves.
Since prisons were established in the United States, there have always been prisoners dying inside, but the recent rise in the age of the prison population and the need for prison administrators to find ways to care for the elderly, sick, and dying provided them with a new opportunity for rehabilitation: care for the dying. What better way to help a prisoner face his sins than turn his face toward death?
There are 2.3 million adults in jail or prison in the United States. That's the largest number of incarcerated people in the world. Between 1995 and 2010, the number of prisoners over 55 quadrupled.  By 2030, they will account for an estimated one-third of all incarcerated people, according to a 2014 report, The High Cost  of  Low  Risk: The Crisis  of America's Aging Prison Population, by the Osborne Association, a prison advocacy group based in New York. Behind prison walls, where every social malady is compounded, is the perfect place from which to consider the future of health-care access and end-of-life care in the United States.
According to the National Hospice and Palliative Care Organization's 2012 report, End of Life Care in Corrections, there were more than 75 hospice programs in U.S. prisons in 2012. Fifty percent of them rely on inmates as volunteers. A 2011 paper by Katie Stone, Irena Papadopoulos, and Daniel Kelly in Palliative Medicine suggests that the benefit for inmate volunteers is that "they are able to offer patients a level of empathy that cannot be achieved by free people regardless of intention or training." Inmate volunteers know what it's like to be a prisoner and can better share experiences and understanding with incarcerated hospice patients. The paper suggests that volunteers "gain valuable psychological rehabilitation"  through  a "renewed sense of responsibility and care."
But such programs, according to the study, have two primary challenges: pain and trust. Pain management in a facility where drug use is rampant—and, indeed, a major cause of incarceration—is problematic. Doctors and nurses can find it hard to believe a patient who tells them he's in pain. "A culture of suspicion emerged concerning the illicit drug trafficking of narcotics intended for pain relief," the Palliative Medicine report states. The "macho" prison culture also prevented many in pain from admitting what they felt. But a larger issue, one difficult to measure, exists: "Prison healthcare staff may believe that prisoners deserve their suffering." In other words, pain is punishment. Staff members tend to default on the side of pain over more medication when prescribing narcotics to hospice patients. In church parlance and even in broader society, the belief that pain makes us better people is commonplace. In prison, suffering is part of the centuries-old plan.
It's also hard for prisoners to believe that staff members have their best interests in mind. Can you trust doctors who work for a system that controls every aspect of your life? A system that was established to punish, subjugate, discipline, restrain, subdue? Decisions to limit care (or not pursue every option) can make prisoners even more distrustful of their caregivers. Couple that with the requirement that, in 55 percent of prisons, patients must sign DNR orders before they can enter hospice, and a climate of deprivation, ill will, and doubt about the facility's objectives  can grow. Patient safety is tempered with a paternal "we know what's good for you" attitude; prisoners who feel their lives are less valued think the system doesn't care about them or is invested in getting rid of them. Yet sending prisoners to external hospices, as is done in the United Kingdom, or releasing those who are too ill to violate laws, is also a problem. The saddest sentence of the Palliative Medicine report is: "For some, the prison and its inhabitants  are all that is familiar due to institutionalization."
"The challenge is that we can't lose compassion or cross a line," a nurse told me, her tone warm and professional.
It's just one of the many health challenges unique to prison populations. Prisoners age faster than those of us outside. "Incarceration not only compounds existing health issues and heightens the risk of further health problems," states the Osborne Association's 2014 paper, "but—most alarmingly—has a deteriorating effect on the bodies of incarcerated people." Incarceration may slow down a prisoner's perception of time, but it accelerates his body's. Incarceration takes more years out of a life than just those required by a sentence. Lack of proper mental and physical health care and abnormally high levels of stress and anxiety can make fifty-year-old prisoners' bodies seem 10 to 15 years older. Of prisoners over 50, 40, to 60 percent have mental-health challenges.
Prisons weren't designed for elders, either. They require that prisoners climb into bunks and haul themselves up stairs or across long distances. Meals must be eaten in 12 minutes. Daily routines are strictly timed and regimented; one error—due to dementia, disorientation, physical inability, or pain—and punishment is delivered. The physical discipline of prison, meant to rehabilitate the weak, evil, or selfish mind of a criminal, is a questionable approach to reform, at best. For an elderly population, it looks like abuse. But renovating America's prisons to meet the needs of an aging population isn't in the budget. Dealing with the needs of prison elders will take a variety of approaches, none of which look easy.
The costs of prison health care are, like the costs of public health care, rapidly increasing. The United States currently spends about $16 billion—more than the entire Department of Energy budget—on incarceration of prisoners over the age of fifty. While it costs about
$34,000 a year to keep an able-bodied prisoner locked up, elders can cost as much as twice that amount.
* * *
Compassion is a complicated thing. It's an emotion, both abstract and concrete, shown both in our broad support for groups or issues and in the care that we give those around us. It's easier to care for people when you trust them, but also when you know you have power over them. When you know they need you.
Trust or safety, then, can alter our levels of compassion. I felt guilty for not having more compassion for Moore, a prisoner I met at Mohawk, who later wrote to me, and I didn't know if it was because of him or because of where I met him. I didn't want him to be in pain. I didn't want him to be treated unfairly. But I didn't want anything to do with him, either. That, I realized, was the line that prison medical staff people had to draw. They may use prison rules or state laws or medical ethics to draw the line. And those laws and rules may make their work easier for them. But it was an institutionalized way of grappling with very complicated emotions like trust and safety and even personal chemistry. Their work is made possible by an ethics, not to be confused with a universal set of moral principles. The ethics of the prison medical staff members was unique to their place of work, a prison. We can and will, as a society, argue about what the laws should be, about what our conscience should let us do.
---
This article has been adapted from Ann Neumann's book, The Good Death: An Exploration of Dying in America.