New Fertility Options for Female Soldiers
The U.S. military now covers egg freezing for active-duty servicewomen—but while some celebrate the new benefit, others worry that it will become an expectation.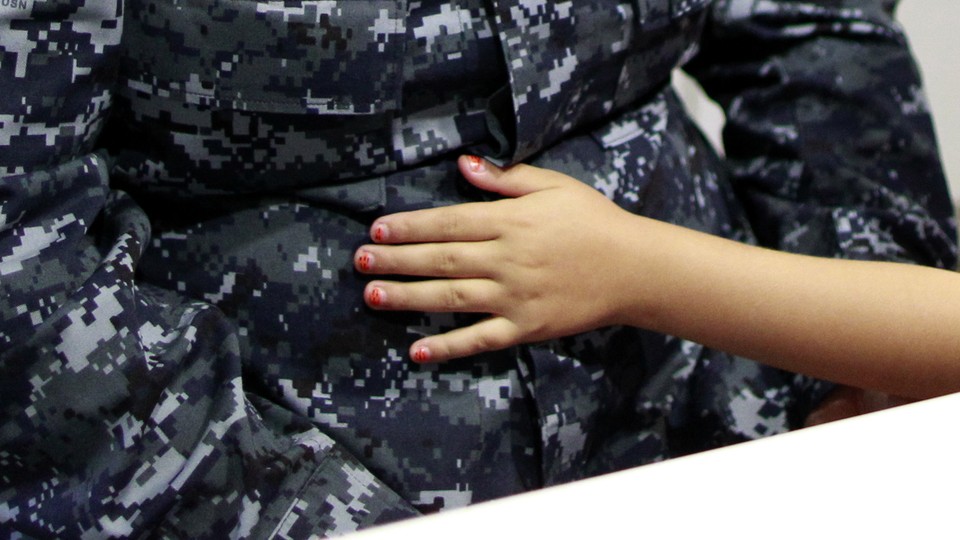 In early 2012, a few weeks before Annie, a captain in the U.S. Air Force, deployed to Afghanistan on a special operations combat mission, she and her husband had their first conversation about egg freezing.
Annie, a former intelligence officer (who asked that her last name be withheld), was one of an extremely select group of women recruited for Army Ranger and Navy SEAL combat missions. This would be her fourth—and by far most dangerous—deployment. Egg freezing seemed like a kind of insurance policy: If Annie suffered an injury that threatened her fertility, she might still be able to one day have biological children using frozen eggs.
But when the couple learned of the procedure's prohibitively high price tag—up to $20,000 in some cases—they immediately stopped discussing it.
"Egg freezing is something I personally would have liked to have had as an option," Annie told me. "If that option had been available, especially when I was deploying, it's something we would have seriously considered."
Hundreds of veterans have sustained injuries to their reproductive organs in Iraq and Afghanistan. Their often grisly stories rarely make headlines, but when they do, they elucidate the stark realities of fertility risks troops face in wartime. With all combat positions now open to women, an increasing number of servicewomen will risk injuries that could compromise their reproductive abilities, making pre-deployment fertility-preservation options especially important.
In January, the Secretary of Defense Ash Carter announced that the Pentagon, as part of its efforts to embrace more family-friendly policies, will cover the costs of egg and sperm freezing for active-duty service members who want to preserve their fertility. The benefit—which came as a surprise to many in both the medical and military communities—is one of several personnel reforms under the Defense Department's Force of the Future Initiative, a series of strategic policies to improve quality of family life in the Armed Forces. Other benefits include increased maternity leave, from six to 12 weeks; increased paternity leave, from 10 to 14 days; extended day-care hours; expanded adoption leave; and lactation rooms to be installed at more than 3,600 bases.
"We want our people to be able to balance two of the most solemn commitments they can ever make: a commitment to serve their country and a commitment to start and support a family," Carter said in a media briefing at the Pentagon.
Nearly half of all military officers are between the ages of 26 and 35, and roughly two-thirds of enlisted personnel are younger than 30, meaning the majority of the Armed Forces are of prime reproductive age. With coverage for egg freezing, in particular, the military hopes to retain servicewomen who would otherwise leave active duty to have children. The military will provide egg and sperm cryopreservation through a two-year pilot program to be offered through Tricare, the military's health-care network.
According to Brad Carson, the principal deputy undersecretary of defense for personnel and readiness, eligible service members will be able to freeze their eggs or sperm at private clinics that have been vetted through Tricare.
"It's about giving women in the force more options to reconcile personal and professional ambitions," Carson, who is leading the Force of the Future program, said in an interview. "Too often, women find those two things to be incompatible."
For fertility advocates, who for years have lobbied the government to cover the cost of reproductive services for military members and veterans with frustratingly little success, the news was especially gratifying.
"This is just huge," said Barbara Collura, the executive director of RESOLVE: The National Infertility Association. "This could be a sea change as it relates to coverage for people who need IVF as well as egg and sperm freezing."
While egg freezing is not yet commonplace, an estimated 76,000 women will electively freeze their eggs by 2018, according to EggBanxx, a fertility marketing company. The procedure was considered "experimental" and came with a cautionary warning until 2012, but it would be a few more years before it took its first big step towards the cultural mainstream—in October 2014, Facebook and Apple announced they would begin offering female employees a health benefit worth up to $20,000 to freeze their eggs, and several other private-sector companies have since followed suit.
This latest development from the Pentagon—one of the world's largest employers—could help to make elective egg freezing more of a routine procedure. And with the Defense Department funding its own pilot program, additional research will mean robust data and a better understanding of egg freezing's success rates, which are sparse. (Because so few women have attempted to thaw and use their frozen eggs, the medical community has been unable to confidently predict egg freezing's live-birth success rates.)
The military began addressing the integration of women in the 1970s, but it has been slow to acknowledge how circumstances like pregnancy—and family-planning decisions in general—play a significant role in a woman's military-career choices. In the 1950s, women were automatically excluded from entering the service if they had children. Until the mid-1970s, women were immediately discharged from the military if they became pregnant. It is telling that of the 6,000 military uniforms in collections of the Smithsonian's National Museum of American History, only three are maternity uniforms.
"If we want the best and the brightest, then we have to relieve the challenges and open the doors," said Rebecca Wriggle, the deputy director of communication and engagement at U.S. European Command, whose 35-year-civilian career with the Army has seen much of this evolution. "We need to make it easier, not harder, for them to serve."
But there is concern, especially among younger servicewomen, that egg freezing in the military could become an expectation instead of just a reproductive option. Considering the military's high operational tempo, it is not difficult to imagine a commanding officer subtly suggesting to a young soldier she freeze her eggs instead of taking time off to start a family.
"I don't want this egg freezing thing to add more fuel to the fire in terms of criticisms toward women's reproductive choices," Annie told me.
Going forward, most will regard the military's enhanced policies with cautious optimism. How the Defense Department decides to more fully present and implement its new benefit will be telling; military leadership will need to thoroughly educate troops and manage expectations. It is too soon to tell how making such novel fertility preservation technologies available to our Armed Forces will influence societal behavior. But the tremors of potential are palpable.