How Levi's 501s Helped Fuel the Heroin Crisis
A new book documents how the demand for the iconic pants among Mexican dealers kept them selling drugs.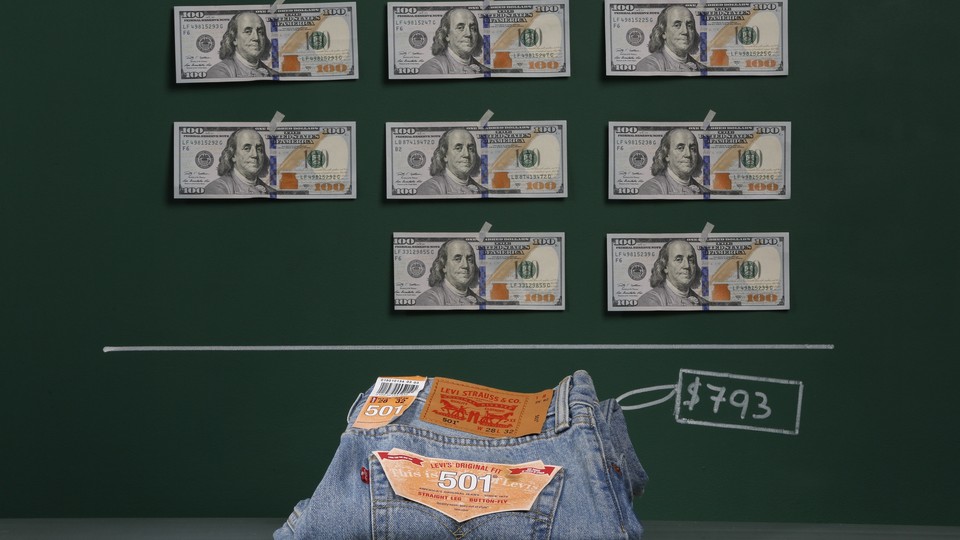 When Enrique, an aspiring heroin dealer from Nayarit, Mexico, arrived at his uncles' home in California in 1989, they led him to a closet full of brand-new Levi's 501 jeans.
"Take what you want," the uncles, who were deep into the heroin trade, told Enrique.
That scene, described by Sam Quinones in his excellent book Dreamland, about America's opioid crisis, marks a strange and important feature of the U.S. heroin market.
Mexican dealers, who peddle much of the black-tar heroin in the United States, valued Levi's 501 jeans almost as much as currency. In fact, they sometimes accepted payment in denim form: One balloon could be had for two pairs. When the dealers came home to their ranchos wearing 501s—or if they brought them as gifts—their families knew they had truly made it.
The story behind why the pants were so valued explains much about foreign heroin dealers' motivation for their work.
Quinones describes how 501s were the "gold standard" for men in the rural parts of Mexico in the 1990s. The pants were expensive there and hard to obtain. Owning a pair implied not only wealth, but likely American connections.
Soon, dealers' families began to expect gifts of 501s upon their return to Mexico, so the dealers couldn't not go back to sell more heroin, Quinones writes.
The Mexican dealers' obsession echoes a broader international fascination with American denim—and Levi's in particular, according to James Sullivan, author of Jeans: A Cultural History of an American Icon.
"Since World War II ended, jeans have been recognized as symbolic of Western ideals around the world," he said. Steeped in Westerns and movies like Rebel Without a Cause, teens saw in jeans the picture of the American cowboy and renegade. Their relative scarcity outside the U.S. only compounded their cache.
Japanese youths' preoccupation with American jeans and leather bomber jackets launched a market for vintage denim in the 1980s.
"In the 70s, it was common knowledge among American backpacking kids doing European travels that if you brought an extra pair of blue jeans, you could sell them to kids behind the Iron Curtain who were desperate to get them," Sullivan said.
Citizens of the former U.S.S.R. regularly handed over their entire paychecks for smuggled Western goods. As the Christian Science Monitor pointed out in 1984, jeans—particularly Levi's—were a hot commodity during the Cold War:
It is not unusual to enter a subway car and see the majority of men and women—and 80 to 90 percent of the young generation—wearing blue jeans. Of those wearing American brands, Levi's seem to be the most in evidence, although just about every label can be seen, from Calvin Klein to Gloria Vanderbilt. In fact, the Russian word for ''jeans'' is dzhinzy, pronounced ''JEANS-ee.''

Such an attraction may reflect the tendency to view goods from abroad as better than domestic items. But wearing clothing that may cost as much as a month's salary (average 160 rubles, or about $200), and is available only under the table, may also be a sign of status-seeking.
Though other brands, such as Wrangler and later Guess, approached a similar status, Levi's "did the best job of selling its own story in the jeans world," Sullivan said. With their riveted reinforcements and iconic red tabs, 501s were hard to imitate. Anyone caught trying faced swift litigation from Levis, according to Sullivan.
That doesn't mean they didn't try. In Italy in the 70s, he said, the top-selling pair of jeans were Levi's 501s. Number two were knock-off 501s.
In the U.S., desperate addicts opted to pilfer the real thing. Quinones interviewed one trafficker from Xalisco who said he once brought home 50 pairs of Levi's in suitcases. "I'd get them from clients," he said, "who would steal them from Sears."