Is 'Epidemic' the Right Metaphor for Gun Violence?
Describing mass shootings in terms of disease can be useful, but the framing also has its limits.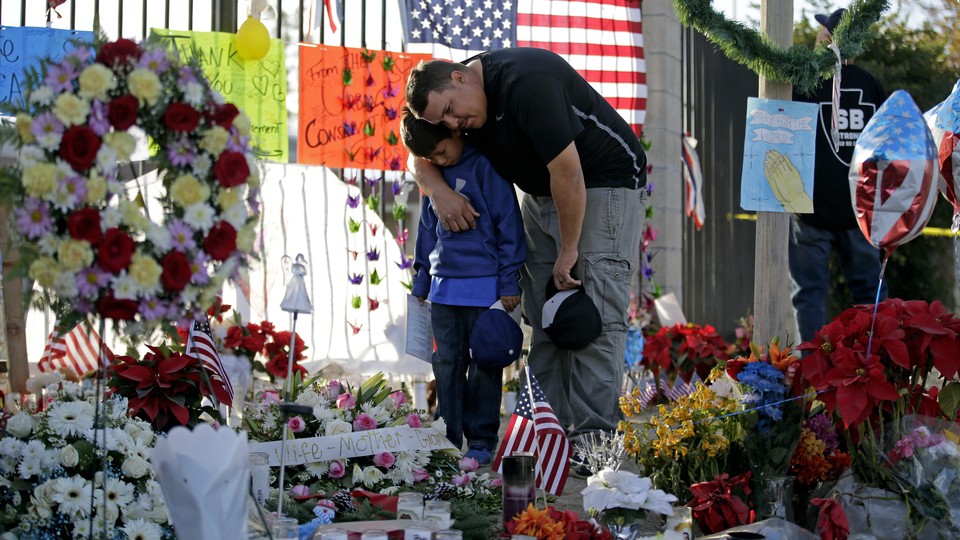 Much could be written, has been written, and still needs to be written about gun violence, the Second Amendment, responsible gun ownership, the gun lobby, and politicians. But here I want to pause and consider a metaphor that's becoming more common as the U.S. struggles over its response to gun violence: the metaphor of epidemic disease and health.
In December, The New York Times published a front-page editorial titled "End the Gun Epidemic in America." Prompted to invoke the word "epidemic" by the latest tragedy of gun violence in San Bernardino, California, the Times called America's elected representatives to task for their unwillingness to tackle legislation that would restrict the sale of the most dangerous firearms. The current state of affairs, the editorial board wrote, is a "moral outrage and a national disgrace."
The Times is not alone in its identification of a gun-violence "epidemic." A December U.S. News and World Report story headlined "America's Deadly Gun Disease" declared: "Gun violence is a public-health epidemic. We must not surrender to it." Rolling Stone recently published a multi-part feature urging its readers to consider "America's Gun-Violence Epidemic." And, in a recent call to Congress to end the ban on gun-violence research, Alice Chen, the executive director of Doctors for America, argued that "Gun violence is a public-health problem."
No matter your opinion on gun legislation, the loss of innocent life occasioned by the senseless actions of violent individuals is overwhelming. It is increasingly difficult not to be somewhat anxious about going to a large public event, sending your child to school, going to the movies, or even attending church.
Identifying gun violence as a disease or epidemic, in this context, is perhaps helpful. Epidemics have long offered evocative narratives of human vulnerability, of the sense of futility, of failures of compassion, of acts of heroism, and of the search for meaning. From Daniel Defoe's 1722 novel A Journal of the Plague Year to the 2011 movie Contagion—and in many stories before and since—we have examples of humans' helplessness when confronted with mass mortality. Narratives of epidemic diseases are laden with themes of sin, repentance, providence, beneficence, charity, and thanksgiving. With gun violence, we're also dealing with issues that relate to these themes—including human failings, individual acts of selflessness, and the breakdown of social institutions.
Like a contagious disease, the problem of gun violence has become difficult to contain, making people fearful of one another and of everyday activities that bind communities together. We're challenged to comprehend our moral responsibility.
But stories of epidemic diseases also offer helpful examples of individuals and communities that have struggled with mortality and survived with their humanity intact. In Defoe's Journal, the plague ends when Londoners finally transcend their differences, come together, and turn to God. In Contagion, the scientist takes off her laboratory gear, injects herself with her brand-new vaccine, and unceremoniously becomes her own test subject, risking her life to save humanity.
Considering gun violence as an epidemic also provides us with the opportunity to transform the terms of the conversation. Framing the issue in terms of public health can be especially useful—it drags the discussion away from the heated rhetoric surrounding gun rights and towards problem-solving.
This framing only works, however, if we use these metaphors carefully, and this isn't always the case. The U.S. News story, for example, cites successful examples of wide-scale mobilizations to contain epidemics like polio, tuberculosis, Ebola, and HIV/AIDS. While the article's optimism is appealing, it also falls back on a rhetoric of violence, urging Americans to "not surrender." The battle trope makes for rousing rhetoric—but, as the article itself acknowledges, an us-versus-them mentality is hardly a good starting point for a public-health initiative.
This is where the metaphor of the epidemic has important limitations: Written retrospectively, epidemic narratives tend to rehash fearful experiences; they are powerful because they take advantage of people's raw emotions. As a result, these stories can be a convenient vehicle for rhetoric that places the blame on "them," enabling people to name enemies by claiming that they introduced or abetted a particularly ruinous epidemic. Jews, for example, were falsely accused of spreading plague in medieval Europe, and African American nurses were said to take advantage of the sick during a yellow-fever outbreak in 1793 Philadelphia.
Do our contemporary accounts of gun violence place blame unduly? For the Times, responsibility for the gun-violence epidemic falls on elected officials and the gun lobby that courts them. While many might agree with such finger-pointing, we nonetheless must be cautious how we frame our narratives.
When The New York Daily News, for example, likewise blames politicians, it focuses particularly on those who "offer prayers—not solutions." Though the Daily News editor later stated that its intent was not to condemn "prayer or religion," the damage was done. Many Americans were offended, news outlets reveled in the controversy, antagonism was heightened, and everyone was distracted from the crisis at hand.
Epidemic narratives can be powerful tools for criticizing the culpable. These metaphors can console and unite, but this ability also means they should be used with care—otherwise, they'll only turn some people away from an effort that needs our collective and sustained attention.
---
This article appears courtesy of Sightings.