The Unregulated Rise of the Medical Scribe
Demand for note-keepers in doctors' offices is booming, but standards and training haven't caught up.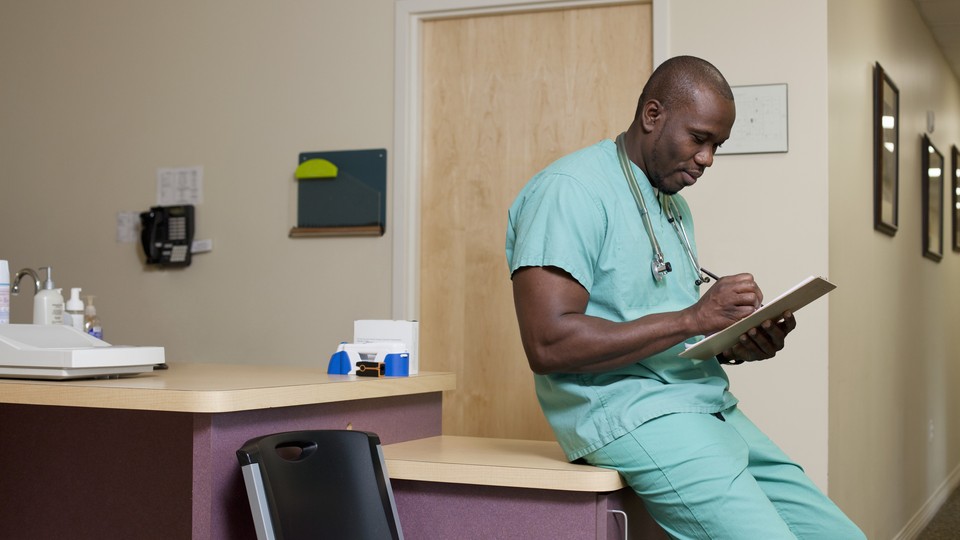 A national campaign for electronic health records is driving business for at least 20 companies with thousands of workers ready to help stressed doctors log the details of their patients' care—for a price. Nearly one in five physicians now employ medical scribes, many provided by a vendor, who join doctors and patients in examination rooms. They enter relevant information about patients' ailments and doctors' advice into a computer, the preferred successor to jotting notes on a clipboard as doctors universally once did.
The U.S. has 15,000 scribes today and their numbers will reach 100,000 by 2020, estimates ScribeAmerica, the largest competitor in the business. After buying three rivals this year, it employs 10,000 scribes working in 1,200 locations.
Regulation and training are not rigorous. Scribes are not licensed. About a third of them are certified and that's voluntary, according to the sole professional body for scribes. The American College of Scribe Specialists was created by ScribeAmerica's founders in 2010.
"This is literally an exploding industry, filling a perceived gap, but there is no regulation or oversight at all," said George Gellert, the regional chief medical informatics officer at Christus Santa Rosa Health System in San Antonio, which uses scribes.
Others suggest that scribes can be a benefit to doctors and patients by shouldering the minutia of recording many of the details on a computer. "They're capturing the story of a patient's encounter—and afterward, doctors make sure everything is accurate. That way, the doctor can focus on interacting with the patient and give them good bedside manner," said Angela Rose, a director at the American Health Information Management Association, a professional group that has published a set of best practices for scribes.
The minimum qualification to be a scribe is generally a high-school diploma, but some pre-med students take the jobs to gain experience from shadowing doctors. One company, SuperScribe says it prefers candidates with at least two years of college and it only hires pre-med, nursing or EMT students. ScribeAmerica provides two weeks of training to new scribes while a large rival, PhysAssist, gives one week. That's followed by close supervision in care settings for one week at ScribeAmerica and 72 hours at PhysAssist.
Vendors stress the potential benefits for doctors when they spend less time on record keeping. "Don't let paperwork stand between you and your patients," PhysAssist tells physicians on its website. "Imagine a doctor not being able to make correct diagnoses because documentation distractions caused her to miss a symptom."
Another selling point involves money. ScribeAmerica says physicians using scribes can gain enough time to see five to eight more patients a day, boosting a primary care practice's annual revenue by $105,000.
Not everyone is sold. Patrick Tempera, a gastroenterologist in Union City, New Jersey, said he uses scribes but does not allow them to come into the exam room with him because patients discuss sensitive health matters with him.
"Patients might not tell the doctor in full disclosure certain personal things if there's someone else in the room," he said.
Federal law limits some of the work that scribes can do. The Health Information Technology for Economic and Clinical Health (HITECH) Act, which was part of the 2009 stimulus package and sent $32 billion to doctors, hospitals and other providers to spur them to move to electronic health records (EHRs), mandated that unlicensed workers, which includes scribes, not enter orders such as those for prescriptions and X-rays. However, sometimes scribes are allowed to enter pending orders, subject to a doctor's review and approval.
A key hospital accreditation group also stresses those limitations. The Joint Commission, which accredits hospitals, said in 2012 guidelines that scribes can enter information such as family history, symptoms and doctors' tentative diagnoses into EHRs. But it said scribes should not put in orders for prescriptions, X-rays or tests.
One concern is that scribes don't have the background to make sure they put the right information in the orders.
Doctors are also responsible for reviewing scribes' entries, making corrections if needed and signing off before leaving the patient-care area, according to the guidelines.
But there is no enforcement mechanism to ensure adherence.
Some health-care experts have raised concerns that sometimes scribes could be pressured to make the entries to save doctors time.
"We're concerned that there will be a situation where inevitably these scribes are used to enter an order," Gellert said.
Lap-Heng Keung, a scribe at MetroSouth Hospital in Blue Island, Illinois, said he's never been asked to enter orders and wouldn't be comfortable doing so.
"We don't have the same expertise as providers … there are so many drugs that sound the same but have one letter difference. It's not within our scope of skill," said Keung, who is studying information technology and taking pre-med courses at the Illinois Institute of Technology.
Even so, some scribes may face pressure to go beyond their training.
"Put yourself in the position of a 21-year-old pre-med student, here's a doctor in the ER, you want a letter of recommendation so you can go to medical school—it's a lot of pressure," said Cameron Cushman, a vice president at PhysAssist. He said company officials work with scribes to help them know how to handle that situation. "We [say] … 'You're going to be starstruck by these doctors, but you have to play your role and if you don't, there will be consequences.'"
Cushman says the company has been fired by clients 10 to 20 times—mostly by smaller emergency-room providers and outpatient clinics—because it refuses to let scribes enter orders into electronic-health records.
The surgeon Richard Armstrong of Newberry, Michigan, said doctors are still coming to grips with the demands of electronic-health records. Armstrong uses a transcriptionist to type his notes, but he enters all EHR information himself. A doctor for 34 years, Armstrong said he doesn't use scribes because he'd have to check their work, and he's more confident in his ability to do the job accurately.
"We're forcing a technology into primetime onto physicians who don't know how to handle it. And they're using scribes because they need assistance," Armstrong said.
---
This article appears courtesy of Kaiser Health News.