Smoke 'Em If You Got 'Em and If You're 21
Cleveland joined New York City, Hawaii, and others to raise the smoking age from 18 to 21. Many more may follow.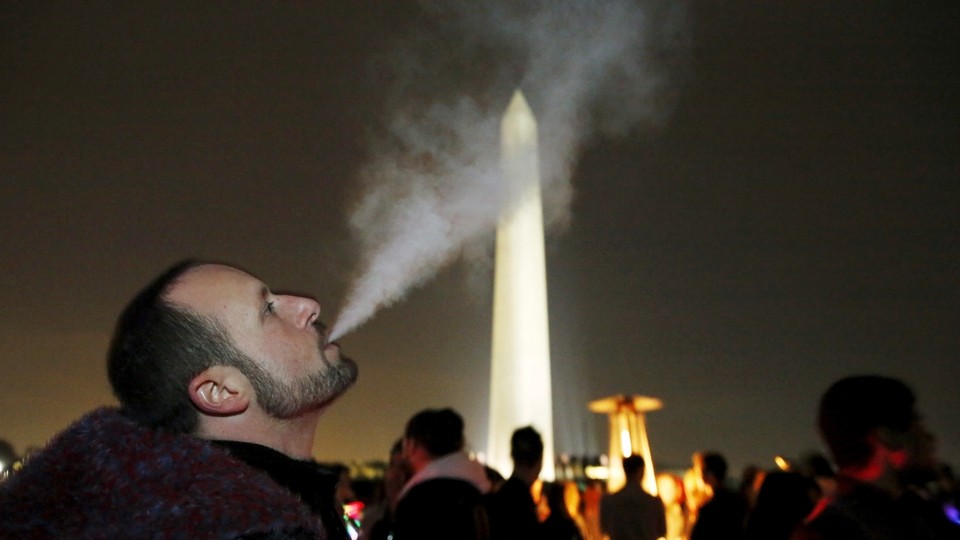 For as long as the uniform drinking age in the United States has been 21—1984, by most accounts— it has been easy to rail against the dynamic where one can be adult enough to go to war, but not to have a drink.

Outlasting that has been the effort to connect the acknowledged dangers of cigarettes with a policy that would keep them out of the hands of younger people. Writing 50 years ago in The Atlantic, Elizabeth Drew noted the extraordinary efforts required to secure a label on packs of cigarettes that simply read Caution: Cigarette Smoking May Be Hazardous to Your Health. That measure came at the expense of more aggressive action planned by the FTC.
But quietly, even as smoking rates have recently declined in the United States, albeit more slowly among lower-income Americans, a movement to raise the legal age to buy cigarettes seems to have caught fire.
On Monday evening, the city council in Cleveland, Ohio, voted to ban the sale of cigarettes (including e-cigarettes) to anyone under 21. The "Metropolis of the Western Reserve" now joins New York City; Paterson, New Jersey; and Hawaii County as places with that age requirement. (A law making 21 the age of sale in all of Hawaii goes into effect next month.)
Cleveland's new law seems to place the onus on the vendors while other measures focus on both smokers and vendors. Elsewhere, statewide regulations have made Alaska, Alabama, Utah, and New Jersey the few places where the legal smoking age is already 19, though only New Jersey's law was passed in the last decade.
The more recent campaigns have been buttressed by the CDC, which offers age-based statistics, "Nearly 9 out of 10 cigarette smokers first tried smoking by age 18," and more specific indictments of tobacco like its status as the leading preventable cause of premature death in the United States. As German Lopez at Vox noted, an Institute of Medicine study earlier this year found that "raising the smoking age to 21 could prevent approximately 223,000 premature deaths among Americans born between 2000 and 2019."
The legislative machinations of a few cities and states may constitute a slow burn, but lawmakers in California and Washington are also pushing for a minimum age increase; Utah and Colorado may join them. In October, Senate Democrats introduced a bill that would lift the age of sale to 21 on the federal level.
Their efforts were echoed this week in Russia of all places, where a senator introduced a bill that would raise the national smoking age to 21. According to the World Health Organization, the United States is No. 51 on the list of most cigarettes smoked per capita in the world; Russia is No. 4 on that list.