Pharma Bro's Latest Move Targets Latinos
The infamous pharmaceutical executive is jacking up the price of a treatment for Chagas disease, which in the U.S. affects mainly Latin American immigrants.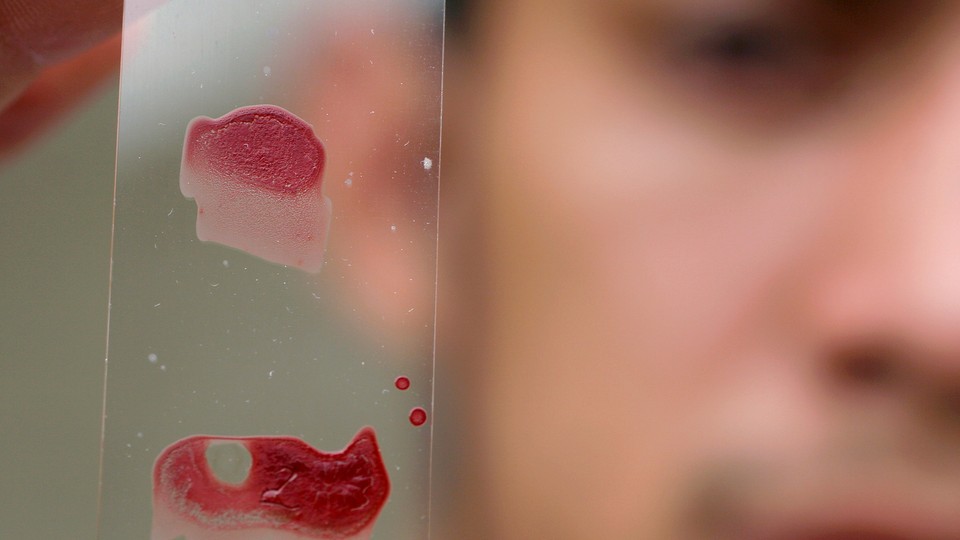 After dropping $2 million on a Wu-Tang Clan album, the pharmaceutical executive Martin Shkreli has found a new project: making an essential treatment unaffordable for poor immigrants from Latin America.
Shkreli, otherwise known as "pharma bro," gained notoriety earlier this year when his company, Turing Pharmaceuticals, increased the price of a drug used to treat AIDS patients from around $13.50 to $750. He's now the CEO of KaloBios Pharmaceuticals, which recently announced its plans to submit benznidazole, a treatment for Chagas disease purchased earlier this month, for Food and Drug Administration approval next year. The Centers for Disease Control and Prevention estimates that about 300,000 people in the United States have the deadly disease. Most of them are immigrants from Latin America, where as many as 8 million people are infected.
The third most common parasite disease in the world, Chagas, also known as the "kissing bug disease," is transmitted via the painless bites of Triatomine insects. Untreated, it can lead to heart failure and death. Last year, researchers at the Baylor College of Medicine identified Chagas in several patients who hadn't traveled outside of the country, positing that they may have come into contact with the bugs through camping and hunting. That said, the risk of contracting the parasite in the U.S. remains small; most people who have the disease in the United States already had it when they arrived.
Right now, doctors in the U.S. obtain benznidazole free of charge through the CDC. According to Rachel Cohen, the regional executive director of the Drugs for Neglected Disease Initiative in North America, the drug sells in Latin America for somewhere between $60 and $100 for each course of treatment. Both of these would change the moment the FDA approved benznidazole from any company—and Shkreli, in particular, seems determined to price this drug out of reach of the people who need it. In filings with the Securities and Exchange Commission, KaloBios wrote that it expects to price the Chagas drug similarly to antivirals for Hepatitis C, which can cost almost $100,000 for a single course of  treatment in the United States.
"You're talking about a 100,000 percent or 150,000 percent price increase" from the current cost in Latin America, Cohen said.
"Chagas is a disease of the poor," said Judit Rius, the U.S. manager and legal-policy advisor for Doctors Without Borders, "so it's not a disease where people have access if prices are high."
KaloBios and Shkreli didn't return calls requesting comment.
The CDC currently purchases benznidazole from a Brazilian company. They used to send less than a dozen treatments a year to physicians across the country, according to Susan Montgomery, who leads the epidemiology team at the CDC's Parasitic Diseases Branch. But after blood banks started testing people for Chagas in 2007, that number spiked.
In theory, FDA approval for benznidazole would make it more accessible to patients: Right now, because benznidazole isn't approved, a patient who needs the drug has to be enrolled in a clinical trial in order to receive it from the CDC. In practice, though, the current plans for pricing will negate any good that could come from removing the drug's "experimental" label.
"I see it as a crisis," said Sheba Meymandi, who runs the only Chagas clinic in the U.S. at the Olive View-UCLA Medical Center in Los Angeles. "You're going to have only a select group of people who will be able to pay." That group likely won't include many of her patients—Meymandi currently manages care for about 200 people, many of them are Latin American immigrants who rely on Medicaid or, if they are undocumented, simply don't have insurance.
Recently, the FDA added Chagas to a special program for neglected diseases. If a pharmaceutical company submits a drug for a disease on the program's list, the FDA gives the company a "priority review voucher." That voucher lets companies bring another drug to the FDA for expedited review, usually around six months between submitting the application and receiving a decision (a process that usually takes years. The hope is that the program will incentivize companies to invest in new treatments for neglected diseases that afflict the poorest regions of the world. But companies aren't required to come up with new drugs to get those fast-track vouchers. The drugs only have to be new to the FDA. (Companies can also sell those vouchers for big money—last August, for example, United Therapeutics sold its voucher for $350 million.)
Last month, Doctors Without Borders, joined by a number of other public-health organizations, asked the Senate Committee on Health, Education, Labor, and Pensions to amend this voucher program. The groups argued that companies should be eligible only if they actually invest in researching and developing new treatments for neglected diseases, and that they should be required to submit a strategy for how they would keep the drugs accessible for patients.
"If this price hike were to happen, it would be a complete disaster for Chagas patients in the United States," Cohen said. "People affected by this disease in the United States are poor, are marginalized, have very limited access to health care to begin with. It would be catastrophic."