Why Pot Has Overtaken Cigarettes Among Teens
For the first time, more high-school seniors smoke marijuana daily than cigarettes.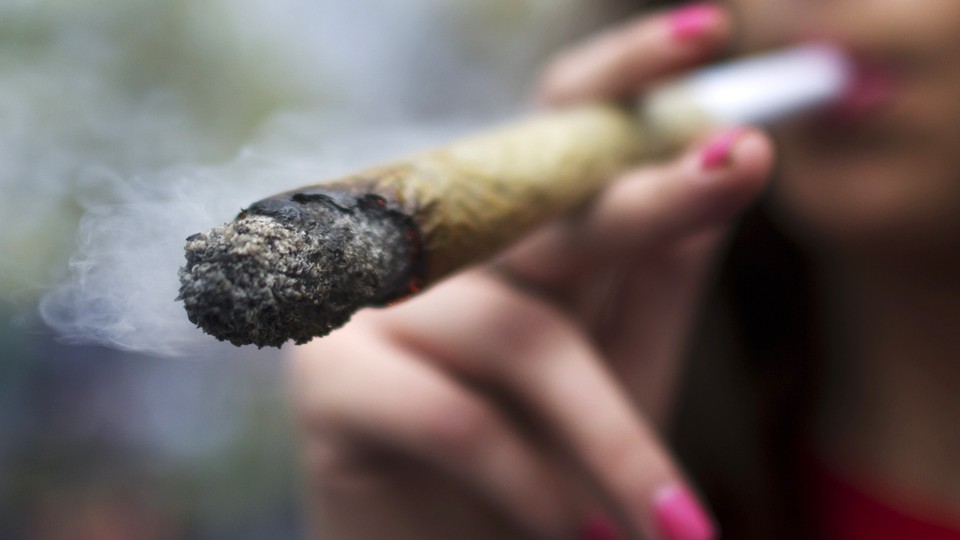 For the first time, more high-school seniors smoke marijuana daily than smoke cigarettes daily, according to a new survey of teen drug use released Wednesday morning by the National Institute on Drug Abuse. An equal number of sophomores—3 percent—use marijuana daily as smoke cigarettes.
---
Percent Who View Regular Marijuana Use as Risky
---
Though each year, fewer high-schoolers perceive regular marijuana use as risky, the number of 12th-grade, daily marijuana smokers has remained relatively stable, hovering near 6 percent since 2012. The reason marijuana use has overtaken cigarettes is because of the rapid decline in cigarette smoking among high schoolers over the past five years. Among 10th graders, for example, there has been a 55 percent drop in the daily smoking rate since 2010.
In an interview, the NIDA director Nora Volkow chalked up the reduction in smoking to "prevention campaigns targeting adolescents specifically."
"There is another factor," she added, "Kids who in the past used cigarettes now use other products." The use of tobacco replacements is stable from last year, but still high, with 20 percent of high-school seniors using hookahs and 16 percent using e-cigarettes.
---
Daily Cigarette and Marijuana Use, by Grade and Year
---
Meanwhile, teens are doing less of almost every drug other than marijuana. Heroin use is at an all-time low for eighth graders, ecstasy use is stable or down, as are prescription opioids, and binge drinking has ticked down 2 percentage points among seniors since last year.
Volkow said that while she was heartened by the declines in cigarettes and drinking, the growing acceptance of pot among teens concerns her because preliminary studies show changes in the brain structure of young people who smoke pot. Volkow and other scientists worry that when teens, whose brains are not yet fully formed, flood their systems with cannabinoids from marijuana, the wiring process between neurons can be disrupted.*
To better understand the impact of marijuana and other drug use on the adolescent brain, the NIH this fall launched a study that will follow 10,000 children as they transition into adulthood. Among those who use substances, researchers will measure the effects on brain structure, academic achievement, and cognition.
"We cannot be complacent," Volkow said. "The rates of drug use, legal and illegal, are still very high."
---
Related Video
A short documentary about the necessity of cannabis for one cancer patient
---
* This article originally stated that marijuana contains synthetic cannabinoids. These are man-made chemicals related to the chemicals found naturally in the marijuana plant. We regret the error.