Kind Bars to U.S. Government: Redefine 'Healthy'
A snack-food company stumbled into a glaring loophole in the federal definition of healthfulness.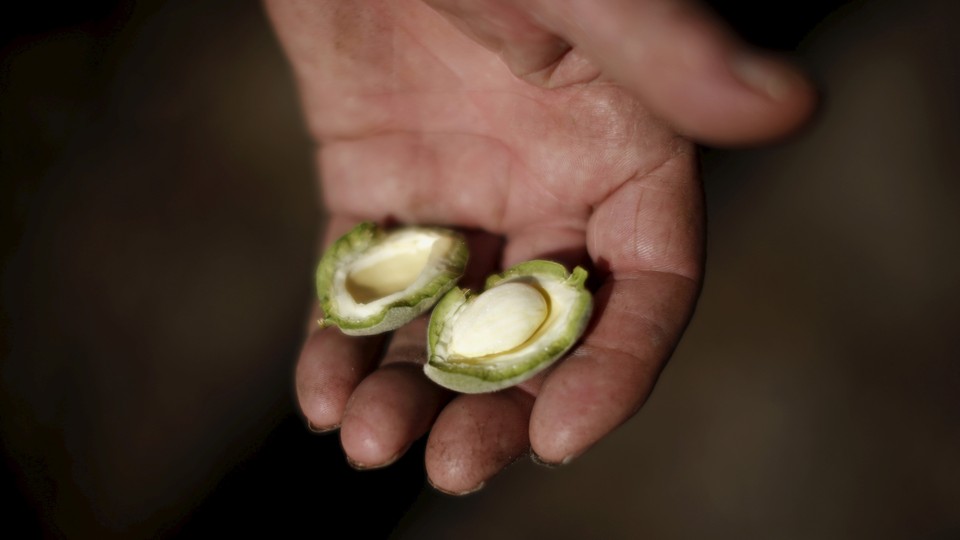 You've probably never bought almonds that said "healthy" on the package. If you did, they were probably illegal almonds.
Because despite the fact that almonds are among the foods most clearly proven to be elements of health-promoting diets, almonds contain too much fat to qualify for the right to bear the label "healthy." That is, according to "the U.S. government."
The government of the United States of America mandates that "the term 'healthy' and related terms ('health,' 'healthful,' 'healthfully,' 'healthfulness,' 'healthier,' 'healthiest,' 'healthily,' and 'healthiness')" may be used only if a food meets certain nutritional requirements, and that among these are sensible things like a not-unreasonable amount of sodium and a modicum of "beneficial nutrients."
Meanwhile, note that "healthtastic," "healthtopian," and "healthish" are completely unregulated words.
Few people know this better than the makers of Kind bars. The ubiquitous checkout-aisle nut-sugar logs made national news this year when, on March 17, the U.S. Food and Drug Administration (FDA) director of compliance William Correll issued a "warning letter" asking the company to remove the term "healthy" from their product labels. Kind did so, only after several public displays of indignation and bewilderment. The company told NPR at the time that it didn't know the word healthy came with a set of rules and regulations, and that the word had been on the labels since 2004.
But revenge is, like almonds, best served at room temperature. Now the company is striking back at the FDA. On December 1, the makers of Kind bars filed a citizen petition—with the support of several prominent nutrition scientists, including the chair of the department of nutrition at Harvard School of Public Health, Walter Willett—imploring the federal agency to redefine "healthy."
The most immediate public-health concern surrounding the current definition of "healthy" is that it requires a food to be low in fat. This is consistent with the prevailing nutritional wisdom of 1985. Any food that contains more than four grams of fat (in the quantity "customarily consumed per eating occasion") cannot, regardless of any other factors, be considered healthy.
The idea that "low fat" means "healthy" expired decades ago. Lumping all fatty acids together into one nutrient bucket and calling them "bad" or "good" is about as useful as doing so with children. Unless you are an immortal magical man with flying reindeer, don't try it. Trans fat is the closest thing to categorically bad that exists in the world of nutrition, while omega-3 fatty acids are integral to the diets of the world's longest-lived, healthiest populations. In addition to "at least seven glasses of wine per week," the Mediterranean Diet makes staples of olives, fish, and nuts—many of which would not qualify as "healthy" by the outdated FDA definition.
At a time when more than four in 10 American adults has a preventable chronic disease related to poor diet, the petition from Kind et al. urges the U.S. Food and Drug Administration to update its policy as an urgent matter of public health. And as a matter of free speech, the group argues that the definition of healthy "prevents the dissemination of truthful and non-misleading information about the role of certain foods in maintaining healthy dietary practices in violation of the First Amendment."
Instead of building a diet based on recommended levels of nutrients, the petition argues, the focus belongs on eating "certain foods, including vegetables, fruits, whole grains, low- or non-fat dairy, seafood, lean meats and poultry, eggs, legumes, and nuts and seeds, in achieving better health and wellness."
That is all in accordance with the recommendations of the 2015 U.S. Dietary Guidelines Advisory Committee, though it contrasts with the popular approach of the 1990s and 2000s. Until recently, experts emphasized levels of macronutrients—fat, carbohydrate, protein—rather than the collective effects of food-consumption patterns on health. They recommended nutrients rather than foods. The ultimate manifestation of this was the 2014 launching of the high-nutrient liquid-parchment Soylent.
The current FDA definition of "healthy" is another relic. "Many current federal labeling regulations are based upon this past thinking," the petition argues, in this case because they "exclude an entire category of foods that is recommended in the dietary guidelines—nuts—from bearing such a claim because nuts are not low in fat."
Meanwhile, products like low-fat pudding and Pop-Tarts meet the criteria for the "healthy" designation. The label on a Pop-Tarts box still today reads "low fat" as well, an homage to the elusive health-conscious Pop-Tart consumer.
And yet none of this does much to recommend Kind bars, except to the person whose only alternative is Haribo, who fears no accusation of being basic, and to whom money is no object. The almonds inside of a Kind bar are possibly the most expensive almond many people will ever eat. The suggested price of the company's flagship product, the three-bite Fruit and Nut bar, is $1.99. But capitalism spurns suggestion, so expect to pay $3.50 or $4.00 in an airport. The bar results from the gluing together of roughly 50 cents-worth of mixed nuts by sugars of various names, and spices totalling some cents in value.
What is more difficult to quantify, though, is the purchase price of virtue. In The New York Times, the director of Columbia University's Center for Pricing and Revenue Management Robert Phillips once called the $2.50 maple-glazed pecan and sea salt Kind bar that he purchased in Soho worthwhile: "$1.50 for the bar. $1.00 for the virtuous healthy feeling I got from buying it."
This is only compounded by the knowledge that his purchase qualifies him as part of a social movement. A feeling of purposefulness in life is likely just as important to health ("healthy") as any nutrient. Without purpose, as without fat, we wither and fade. The "Kind Movement" is "committed to inspiring kindness through acts big and small," though I must imagine that a Kind consumer focuses mostly on the former. More tangibly, Kind Causes doles out $10,000 in grant funding every month to a project voted on by anyone willing to give their email address to Kind, "which helps people bring their socially impactful ideas to life."
If all you do is eat regular old unsweetened almonds and fruit, you actually have to go out into the world and create social impact. Who has the time?